Cocoa
Strong business case creates unprecedented drive for mainstream market transformation.
Global demand for sustainable cocoa is growing annually by 2 to 3%. Production in West Africa, which makes up 70% of global supply, has in recent years been declining by 2% annually. The sector faces increasing pressure to supply the world market and is dealing with complex economic, social and environmental issues.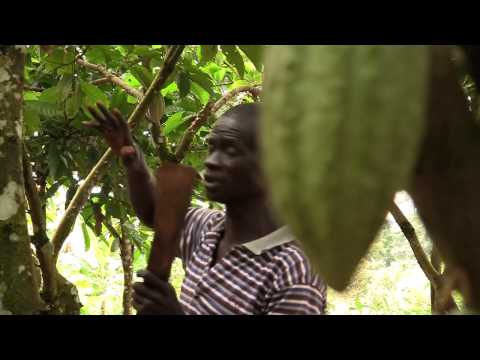 Major players in the cocoa industry are eager to invest in an increasingly efficient and effective cocoa supply chain, resulting in better quality, greater productivity and increased farmers' income in order to secure sufficient future supply.
The IDH cocoa program brings together over 40% of the worldwide cocoa processing industry and 30% of worldwide chocolate manufacturing businesses. It also involves local governments and other stakeholders.
The Dutch market has committed to 100% certified sustainable cocoa by 2025. This has created a strong multiplier effect in the market.
Read more about the IDH cocoa program.
Program at a glance
Impact

on MDGs

Indicators

Increased income for at least 300,000 farmers in West Africa

300,000 ha sustainable land use. Climate change adaption

50% of Dutch import certified sustainable

Sustainable Economic growth

Supporting development of the economies of Côte d'Ivoire, Ghana, Indonesia, Nigeria, Cameroon and Vietnam by stimulating investment by both the private sector and governments will further enable these countries to become strong exporters of sustainable produced cocoa.

Private Sector Development

Development of the financial and management capacity of de various stakeholders in the supply chain to strengthen these groups' market positions.

Economic Empowerment

Double or triple productive capacity of smallholder cocoa farmers at a higher quality will increase their income. The use of market-based certification initiatives will give them better market access.

Importance for Europe

The cocoa sector has an annual turnover of € 25 billion in the Netherlands and provides 10.300 direct FTEs. The processing industry is number 1 in the world and accounts for 25% of the cocoa import in the world.
We are totally committed to sustainable farming practices. We believe that training farmers is the key to building a sustainable supply chain, helping increase farmers' incomes and realising future growth of cocoa farming,
Harold Poelma, managing director cocoa, Cargill Cocoa & Chocolate
Duration:
2008 - 2015
Partners:
Active in:

Côte d'Ivoire

Ghana

Indonesia

Nigeria

Cameroon

Vietnam

Budget

€20 M (IDH € 7 M)