Tea
Major tea brands and packers join forces for sustainable tea sourcing & trade.
The IDH Tea Program promotes sustainable tea production in Africa and Asia, and sustainable procurement in Western Europe and Asia. It is a cooperation of Europe and Asia's largest tea packers, and the most important certifiers and NGO's in the sector.
Drivers for change
An estimated eight million small-scale tea producers in Africa and Asia are working with outdated production methods. Not only do these methods harm the environment, but they result in low yields and product of poor quality. Often working conditions are poor. At the same time in western and Asian markets, there is a growing consumer demand for sustainable tea.
Objectives
The IDH Tea Program aims to upscale and embed sustainable tea production and consumption . The program is targeting both export markets (mainly in East-Africa) and (Asian) domestic markets. It attributes first hand experience with up scaling of both certification and farmer field school extension model in East-Africa. Furhermore it's innovative in having a locally driven sustainability approach in Asian markets with a focus on embedding the initiatives in national governments.
Watch an animated overview of the IDH tea program: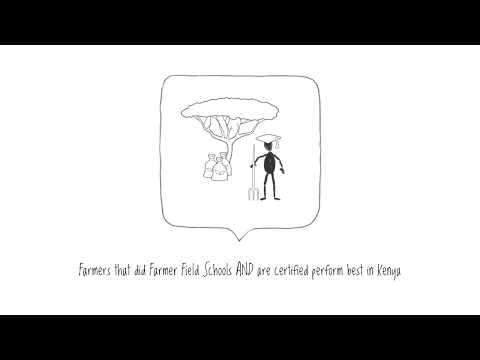 This animation shows the main elements of the IDH tea program, the progress made and some issues that still need to be solved.










Challenges
The IDH Tea Program faces a number of challenges, ranging from the task of connecting thousands of small producers to the supply chains of multinational tea companies, to improving the living and working conditions of small scale tea producers and tea workers.
Among the challenges at farmer level are:
Improving good agricultural practices of small scale tea producers
Improving the relationship between small scale tea producers and processing factories
Increasing farmer net income
Reversing deforestation and forest degradation
Decreasing water usage
Improving working conditions
Analyzing business cases for sustainable tea production
Click
here (860.4 Kb) for the complete Tea Program 2-pager.
Program at a glance
Impact

on MDGs

Increased income for 445.000 farmers

107.500 tons certified tea from smallholders, 390.000 hectares of sustainable land use.

22% world tea export certified.

Sustainable economic growth

Sustainable tea production and certified tea exports will boost the national economies of India, Kenya, Rwanda, Malawi, Uganda, Indonesia, Sri Lanka, China and Vietnam.

Private sector development

Offering tea from certified farms will help to improve access to premium international markets.

Economic empowerment

Joint action will be taken by the consortium to create and improve mechanisms to reduce discrimination and to help disadvantaged groups become part of the mainstream economy.

Importance for Europe

The annual turnover of the tea sector is €1 billion. The Netherlands are number 5 in tea consumption in Europe, and in the top 10 of tea traders in the world.

Duration:
2011 - 2015
Partners:
Unilever
Budget:
€13 million (€5,5 million IDH)

For more information
Contact: Jordy van Honk, IDH senior program manager tea
vanhonk@idhsustainabletrade.com
+31 30 2305674