Diseases have always challenged the aquaculture sector. Outbreaks of diseases are not uncommon and influence aquaculture farmers in other geographies. To tackle diseases, farmers often (mis-) use agrochemicals such as antibiotics which might affect food safety and market access.
To tackle these issues, IDH has transformed its Farmers in Transition Fund to specifically address health and disease management issues in the aquaculture sector. IDH aims to do tackle diseases through adopting a data-driven approach to farming practices, as well as through zonal management.
The IDH FIT Fund provides financial and technical support to tackle health and disease issues in shrimp-, pangasius- and tilapia farming.
Focus countries
The FIT Fund has a focus on Ecuador, Thailand, Vietnam and Indonesia. Other countries can be considered if relevant.
Safeguarding Risks & Reputation
Seafood is one of your private label food items that poses daily risks. Examples of these are basic food safety concerns, such as bacteria, antibiotic residues and therefore reputational risks. Also, disease outbreaks can cause high price volatility.
Health and disease management through a data-driven approach can mitigate most of these potential risks. For example: through collecting data (that might already have been collected through certification schemes), and comparing data of farmers in the same region, overall trends on diseases can be discovered and the sector can learn from these trends: is the disease related to the same water resource? Or does it have to do with the pond structure or does it relate to the feed? Without knowing what causes the disease and knowing what practices work, the sector will always remain acting on outbreaks instead of preventing them.
Sub-sectors that do not have large disease outbreaks problems can improve their volatile survival rates that are most likely also related to management practices or water quality.
A data-driven approach provides transparency that can convince buyers or consumers that bad management practices are not the norm.
Is a data-driven approach expensive?
Farmers are often already collecting data for certification or regular management practices. Sending the data to an expert does not only result in a disease analysis, but also provides feedback on a farm and pond level on how to improve management practices.
The FIT Fund proposition  
Moreover, the FIT Fund can help reduce costs even more. We co-fund investments that suppliers make to move towards a data-driven approach.
From its launch in 2013 the Farmers in Transition (FIT) Fund has initiated 19 field level projects (FLP), investing EUR 5,5 M and triggering EUR 13 M of private sector contributions in 10 countries (Belize, Brazil, China, Ecuador, Egypt, Honduras, India, Indonesia, Malawi, Thailand and Vietnam). These FLPs support over 28,000 farmers and workers to implement better practices and bring a combined 250,000 MT of more responsibly farmed aquaculture products to the market.
Want to know successful improvement practices and get inspired?
Visit our Projects Gallery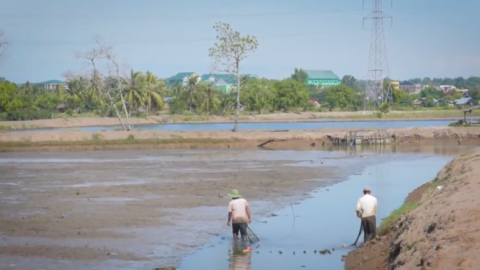 The FIT Fund supports responsible health and disease management in fish farming to create positive impact on five levels:
To improve farm efficiency at the farm level;
To improve disease management among aquaculture producers by developing zonal management regimes ;
To integrate the zonal management of aquaculture producers to other public and private sector actors in the landscape with the aim to improve health and disease management for the area;
These initiatives can be linked to platforms at the national; or
The global level as to strengthen collaborative efforts.
Farm level interventions
Huge amounts of data are being collected e.g. to comply with certification requirements. These data are used at best to manage farms on a day-to-day basis or to monitor farm performance and at worse they are only made available to auditors to grant certification. However, much more can be done with those data if analysed by professionals like aquatic epidemiologists. A data-driven health and feed performance approach is being developed to improve overall farm efficiency through reduced mortality, disease risk and improved feed conversion. This approach will eventually support farmers in implementing better management practices and improving the resilience of the sector.
Zonal management
Diseases and chemical residues often travel through water, hence, aquaculture farmers that share the same (water) publications often influence each other. Zonal management is the cooperation of aquaculture farmers that are sharing the same water publications. If neighbouring farmers cooperate to collective manage critical diseases and to implement biosecurity protocols, this might result in optimized production and more targeted response in case of an emergency. As such, zonal management poses a strong opportunity to improve health & disease management.
Integrated landscape management
In addition to the zonal management approach to aquaculture as described above, fully integrating aquaculture farmers into the wider landscape (including other resource users) brings the greatest impact in terms of mitigating critical production risks related to health and disease management. Activities under this component should include mapping of stakeholders within the landscape (aquaculture producers, other agricultural producers, other industry players, public sector and regulators), identification or production risks through multi-stakeholder engagement, and the development of masterplans at landscape level to manage production risks in collaboration with public authorities and regulators.
National and Global Platforms
Activities at the farm-zone or landscape level, can be linked to National or Global Platforms as to strengthen collaborative efforts between public and private actors towards improved health and disease management. The Fund is not open to proposals which only address this level of interventions but instead IDH incentivizes Applicants to nest field level projects under existing platforms, such as the Global Seafood Initiative, the Seafood Task Force in Thailand, or PPP Fish in Vietnam.
Who can apply for co-funding?
The joint investments of the FIT Fund and the private sector partners are used to improve health and disease management through a data-driven approach of shrimp, pangasius and tilapia.
Trading companies, processors and their supplying farms, other value-chain actors, research institutes and NGOs with links to the private sector can apply for co-funding (maximum ranging to 40% from IDH) for private investments.
The FIT Fund co-funding mechanism requires that the Fund can only invest if private partners in the aquaculture supply chain (either farmers, traders, processors or retailers) are investing too.
For example, when an NGO wants to apply for co-funding for a project to help fish farmers transition towards a data-driven approach to tackle diseases, they need to bring in investments from a private partner, because that is the only investments that the FIT Fund can co-fund.
Apply
Detailed information on how the FIT Fund works and the criteria for co-funding can be found in the IDH FIT Fund Prospectus
A few of the criteria are the following:
You have the expertise to implement the project;
You can account for the IDH contribution and the private sector contribution in the project;
You specify the exact activities and a timeline of the project, as well as a detailed plan for data collection, analysis and feedback, clearly in the proposal;
You report on key performance indicators such as the survival rate of fish or shrimp or the number of persons trained in the project;
You agree to share the lessons learnt and the key recommendations from the data analysis;
You agree to share aggregated information on health and disease if this information does not make the producers involved externally recognizable.
Application process
If you comply with the above and the detailed criteria list in the prospectus, here is how you can apply for co-funding:
Fill in the application templates download
Send in your application to vanWageningen@Idhtrade.org.
The Aquaculture team of IDH will review the quality of your application, and may provide feedback on how your application can be improved to comply with the requirements of the FIT Fund and provide a recommendation to the Investment Committee (IC) of the FIT Fund.
The Investment Committee will decide on approval of the application and contract the project.
For questions regarding project funding please contact our program officer Lisa van Wageningen: vanWageningen@Idhtrade.org
Contact us for more information
Program Director, Aquaculture

Program Officer, Aquaculture