Established under the broader Maharashtra Water Multi-Stakeholder Platform and sitting within the Water and Livelihood Security workstream, the Maharashtra Cotton Water Platform was formed in 2015 under the guidance and leadership of the Department of Agriculture, bringing together representatives from the public sector, global and local cotton supply chain actors, financial institutions, and civil society to deliver innovative solutions to improve water use efficiency, increase the income of the cotton farming communities, and support partnerships with cotton supply chain actors for offtake arrangements and farm-level interventions.
IDH, in collaboration with 2030 Water Resource Group (2030WRG) under an MoU signed in April 2017, leads the development of the initiatives and working groups under the Maharashtra Cotton Water Platform.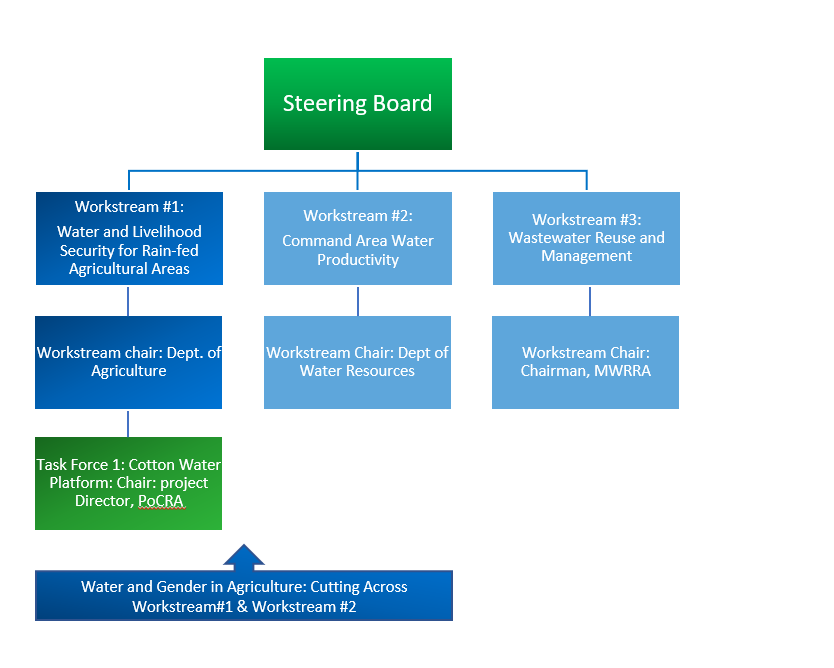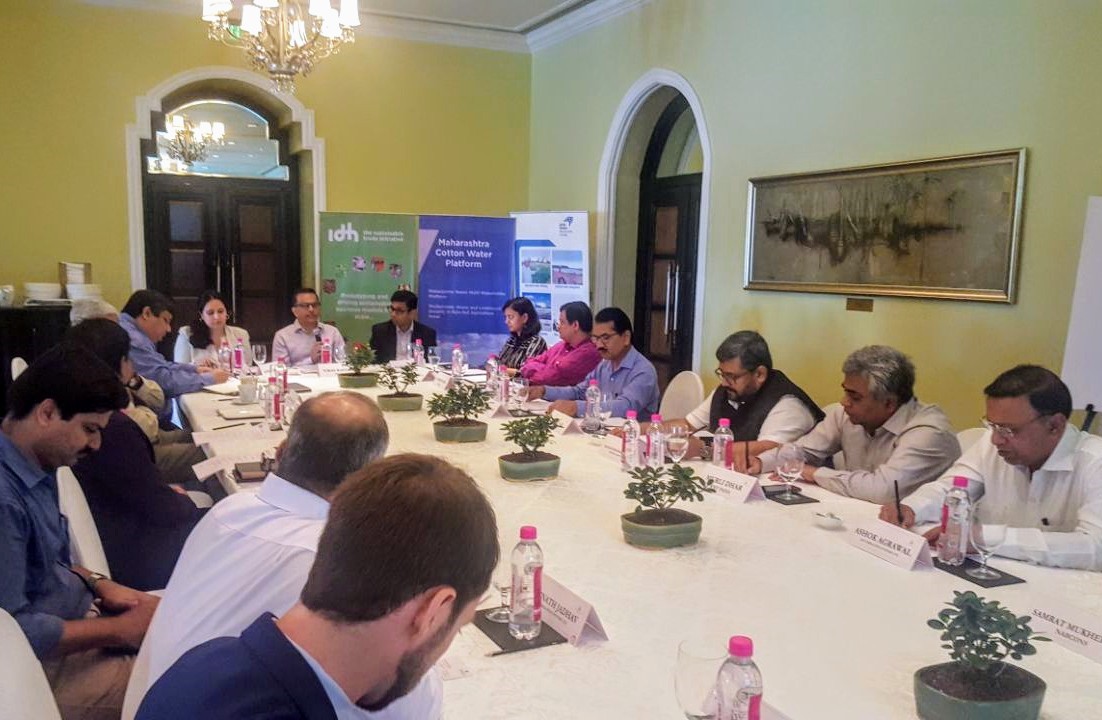 Inaugural Meeting – March 2018
At the inaugural platform meeting, the focus on proposed themes emerged through a moderated discussion which included:
• Sustainability Standards in Cotton
• Diversification of Cotton farmer incomes
• Gender in Agriculture
• Business Modeling for Farmer Services and Engagement
Second Platform Meeting – October 2018
This meeting provided platform members a space to share updates on interesting models including:
• Harmonization of Private Sustainability Standards and Policy
• A Water Entrepreneur Model
• Digitalization of the cotton bale market.
Additionally, on behalf of the Government of Maharashtra, the Platform Chair introduced the 'State of Maharashtra's Agribusiness and Rural Transformation Project' (SMART Project), inviting participation from platform members. 
Establishing the Business Case of Integrating Women Cultivators in Maharashtra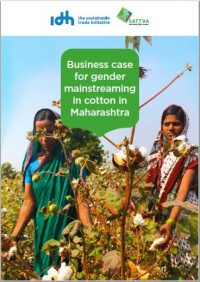 This study assesses the levels and barriers of empowering women engaged in agriculture by analyzing how to access targeted interventions for women farmers. Ultimately, this could lead to better adoption of practices, positive impact for women, as well as better environmental and agronomic outputs.
Establishing the Business Case of Investing in Smallholder Livelihoods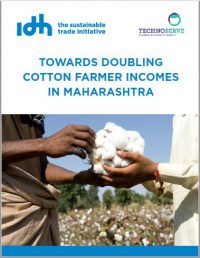 This study assesses a range of intervention strategies (decreased cost of cultivation, increase in yield, adhering to market requirements, moving beyond cotton, and livelihood diversification) that could potentially contribute to increasing cotton farmers' incomes, quantifying the economics of implementation, and the incremental value added.
Securing Smallholder Livelihood in Rainfed Maharashtra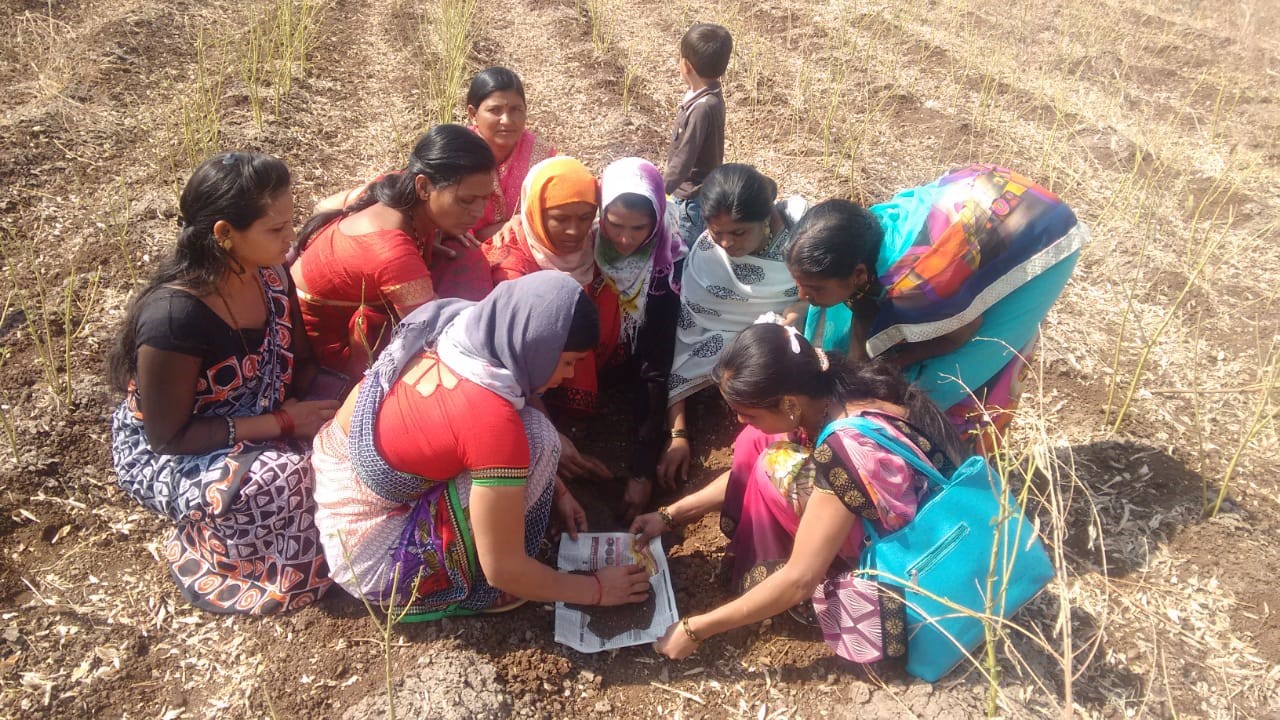 Implementation Partner: Watershed Organization Trust
Location: Jalna, Ambad Block – Maharashtra, India
Main crops: Cotton, Horticulture, Tur, Sorghum
Farmers: 6300
Villages: 30
Period: January 2019- December 2020
The overall objective of the intervention is to enhance and de-risk farmers' livelihood by delivering coordinated solutions to promote water security and integrated livelihood opportunities for cotton farmers in Maharashtra.
Through this project, IDH aims to establish increased access to water (through watershed development and NRM technologies) supplemented by improved crop water efficiency and better management of water as a resource (through community-based
organizations and water budgeting at a community level), are key enabling factors for both improved cotton yields and securing smallholder livelihoods.
State of Maharashtra Agribusiness and Rural Transformation (SMART) Project
IDH in India has signed a Memorandum of Understanding (MoU) with the Maharashtra government under World Bank funded mega project to promote sustainable agriculture – State of Maharashtra Agribusiness and Rural Transformation (SMART). The MoU establishes a framework of cooperation between IDH India and the Government of Maharashtra with the goal of facilitating the connection of farmer groups in the state with Better Cotton Initiative and the Sustainable Spices Initiative – India. 
Contact us for more information
Jasmer Dhingra

Program Manager, Maharashtra

Edel Monteiro

Program Officer Cotton Water Platform