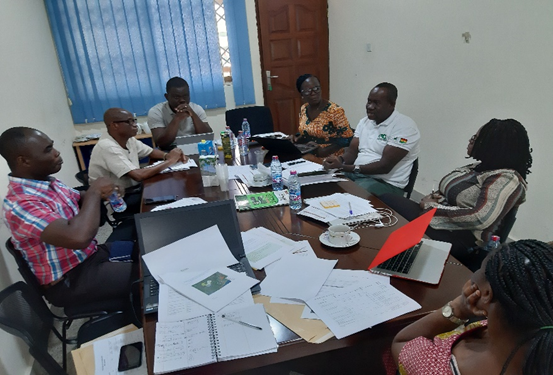 One of the critical components of the National Implementation Plan of the Cocoa & Forest Initiative (CFI) is the value preposition to measure results and monitor progress at the landscape level to promote transparency and accountability, and to be aligned with the country's REDD+ monitoring and evaluation framework.
The Monitoring and Evaluation taskforce consists of several practitioners, with the Executive Director of Tropenbos-Ghana as the Chairperson.
The membership includes representatives from COCOBOD, Forestry Commission, NGOs, civil society organizations, private cocoa companies, the World Cocoa Foundation and IDH.
The task force has met twice in Q2 and the focus has been to develop the CFI monitoring and evaluation framework. The team has since come up with a comprehensive draft framework (milestones and key performance indications for the output and impact indicators) which went through the first review during the recent meeting held on the 21 June.
Next, the taskforce will liaise with the REDD+ Secretariat, other relevant government institutions and cocoa companies signed up to the initiative to provide further details on the baseline and targets of specific deliverables. The next taskforce meeting has been scheduled for 16 July, when the framework will be completed and ready for submission at the next Steering Committee meeting on 18 July.