Starting in 2017, IDH will focus on creating impact in 5 key areas: deforestation mitigation, improved working conditions (including living wages), gender equality, smallholder inclusion and agrochemical management which all directly relate to Sustainable Development Goals. For each of these areas, we have systemic interventions and research plans in place to create change.
In all our programs and landscapes these key interventions (click the images below to enlarge/download the intervention logics) will be pivotal for both creating change and monitoring progress.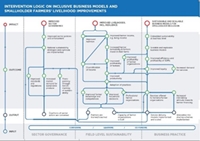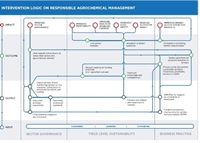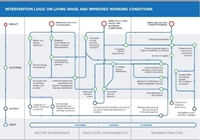 To prove the concepts and demonstrate lasting sustainable change on the Sustainable Development Goals, we gather evidence, based on key performance indicators. Lasting impact will ultimately require  change that occurs on three levels.
Positive impact on forest conservation, working conditions (including living wages), gender equality, smallholder livelihoods and responsible agrochemical management;
Adoption by companies: changes in business practices, like sustainable sourcing practices and sustainable smallholder business models
Sector governance: how is the change embedded in policies, institutions, platforms or any other means of sustainable governance?
In the next editions of this monthly newsletter, we will publish stories about the impact created by a program or learning intervention. The stories will be told through an interview with the impact leader. In the next article, we kick off this series with the theme smallholder inclusion and discuss with Iris van der Velden how IDH is improving smallholder livelihoods through the development and analysis of Service Delivery Models.