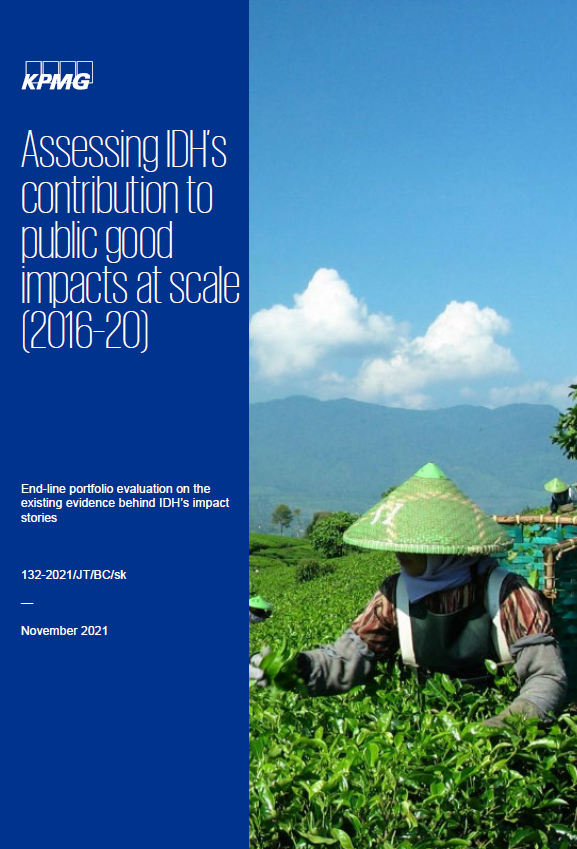 In 2016, IDH selected Wageningen University & Research (WUR) and KPMG Advisory N.V. (hereinafter 'KPMG') to design and deliver a five-year impact evaluation program on the IDH 2016–20 Multi-Year Plan. The goal of the impact evaluation program is to improve IDH's programs and their contribution to sustainable development. In 2017, the consortium partners delivered a well-received first assessment report. After a joint assessment of the partnership, KPMG was appointed to execute the midterm evaluation based on the original methodology, including an academic expert panel to validate the findings. In 2020, KPMG was appointed to execute the end-line evaluation in response to IDH's Terms of Reference 'Portfolio End Evaluation IDH 2016–20' dd July 2020.
The overall objective of this final evaluation is to measure the relevance, coherence, effectiveness, efficiency, impact and sustainability of IDH's program portfolio between 2016 and 2020. This End Evaluation Report provides an understanding of the extent to which changes in business practices, improved sector governance and field-level sustainability with respect to the five impact themes have occurred, and whether IDH's contribution could be measured. Lessons learned from the evaluation should support IDH to improve its future performance.
Download the full report below and read the Executive Summary here.