A public-private partnership active in the Dutch cocoa and chocolate sector working to sustainably improve the livelihoods of current and future cocoa farming families.
Signatories of the Dutch Initiative on Sustainable Cocoa (DISCO) are jointly responsible for reaching the shared vision for a sustainable cocoa sector.
The vision is that in cocoa-production regions important to the Dutch cocoa industry the following will be achieved:
Farming families with cocoa as their main livelihood activity will be enabled to earn a living income by 2030;
Cocoa-related deforestation and forest degradation in producing regions where the Dutch cocoa industry and their trade partners are sourcing from will have ended in their supply chains by 2025;
Effective measures and necessary actions contributing to ending all forms of child labor by 2025 are taken.
DISCO acknowledges the complexity of the root causes behind the critical social, economic, and environmental sustainability issues in the cocoa sector. By working in partnership DISCO signatories are better able to coordinate and initiate efforts and interventions with stakeholders in the cocoa sector outside the Netherlands. This should lead to more efficiency and effectiveness in the national and international efforts aimed at making the cocoa sector more sustainable. In partnership, we can achieve more than the sum of our individual efforts.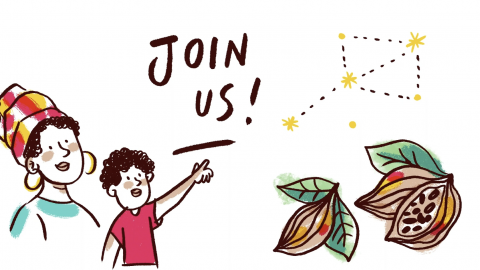 Download the DISCO declaration
Organizations that have joined DISCO
Traders and processors
Barry Callebaut
Cargill Cocoa & Chocolate
Export Trading Group (ETG)
JS Cocoa
Olam Food Ingredients (ofi)
Manufacturers and brands
Friesland Campina
MARS Netherlands
Mondeléz
Nestlé Netherlands
Tony's Chocolonely
Vereniging voor de Bakkerij- en Zoetwarenindustrie (VBZ)*
Retail
Albert Heijn
Jumbo
Superunie
Government
Ministry of Foreign Affairs of The Netherlands
Ministry of Agriculture, Nature and Food Quality of The Netherlands
RVO
Certification
Fairtrade Netherlands
Rainforest Alliance
Civil Society
Care Netherlands
Fairfood
International Cocoa Initiative (ICI)
International Justice Mission
Oxfam Novib
Save the Children
Solidaridad Network
Tropenbos International
UNICEF Netherlands
Service providers & Knowledge institutes
Agriterra
Agro Eco
Equipoise
Koninklijk Instituut voor de Tropen (KIT)
Meridia
Port of Amsterdam
C. Steinweg
Secretariat
IDH
* the sector organization VBZ have signed on their own behalf and not on behalf of all their members.
Watch opening webinar with Sigrid Kaag