IDH's Climate-Smart Agriculture Program in Maharashtra, India addresses smallholder vulnerability to climate change through public/private action. The program builds hard as well as soft resilience within communities to accelerate:
Economic prosperity – improving yields, increase in farmers taking up a second crop and connecting to markets
Environmental protection – improved soil health and restoration
Social impact – enhancing nutritional security through kitchen gardens, securing water for domestic use, and increasing community stewardship
At the field level, the project implemented by Watershed Organization Trust in Maharashtra scaled from four to thirty-seven villages, engaging 6,300 farmers through an integrated, participatory, and gender-inclusive approach of agro-meteorological advisory services, training on good agricultural practices, and community-based watershed management.
Project location: Jalna, Maharashtra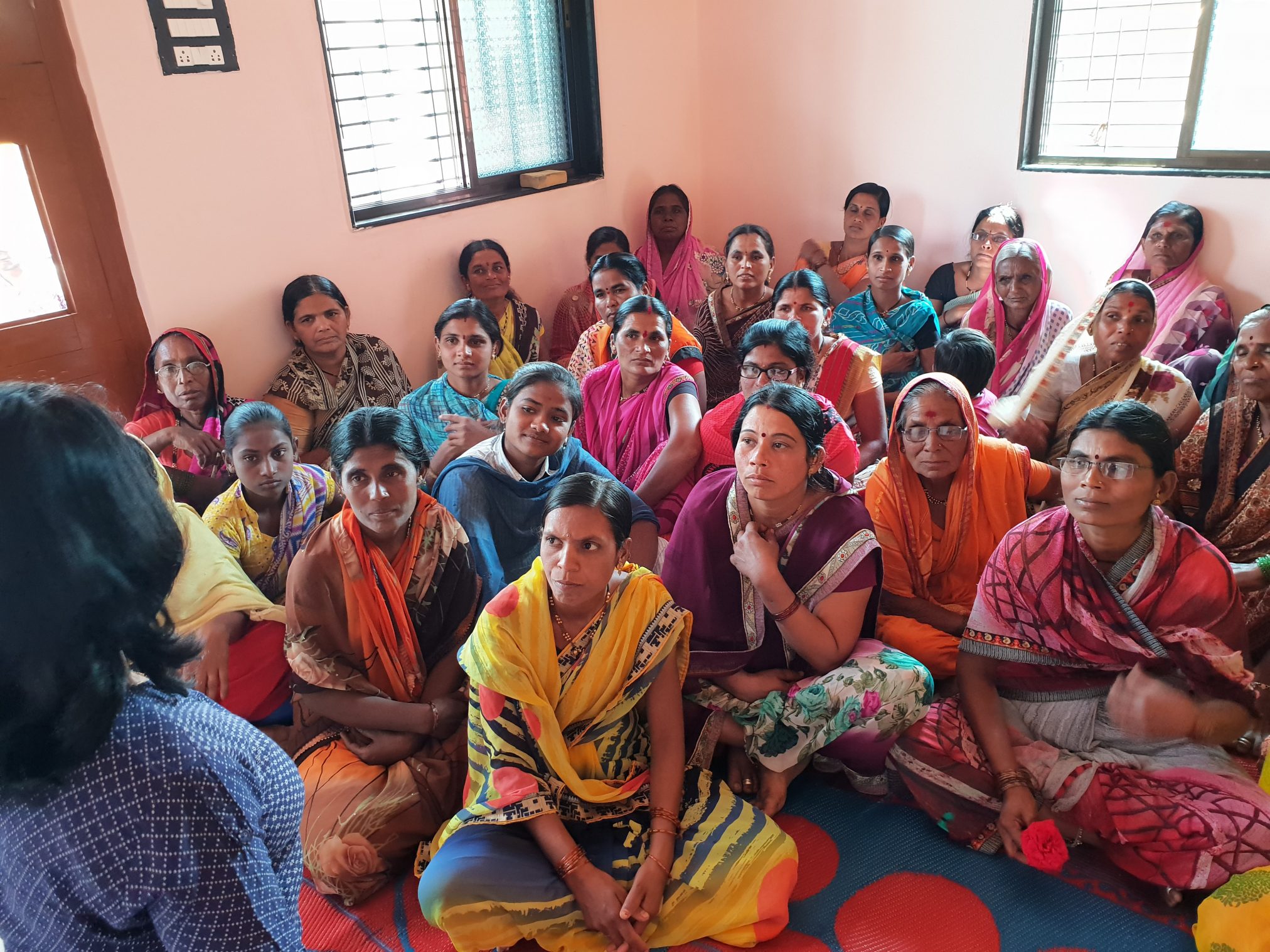 • Gender analysis through FGD at all 37 villages
• Gender sensitization training of all staff of WOTR
• Ensuring at least 40% representation of women in baseline/endline assessments (40%)
• Ensuring at least 40% representation of women in selected para-agronomists/master trainers
• Gender Planning guided by IDH study on the business case for mainstreaming women's roles in cotton cultivation. 
Watershed activities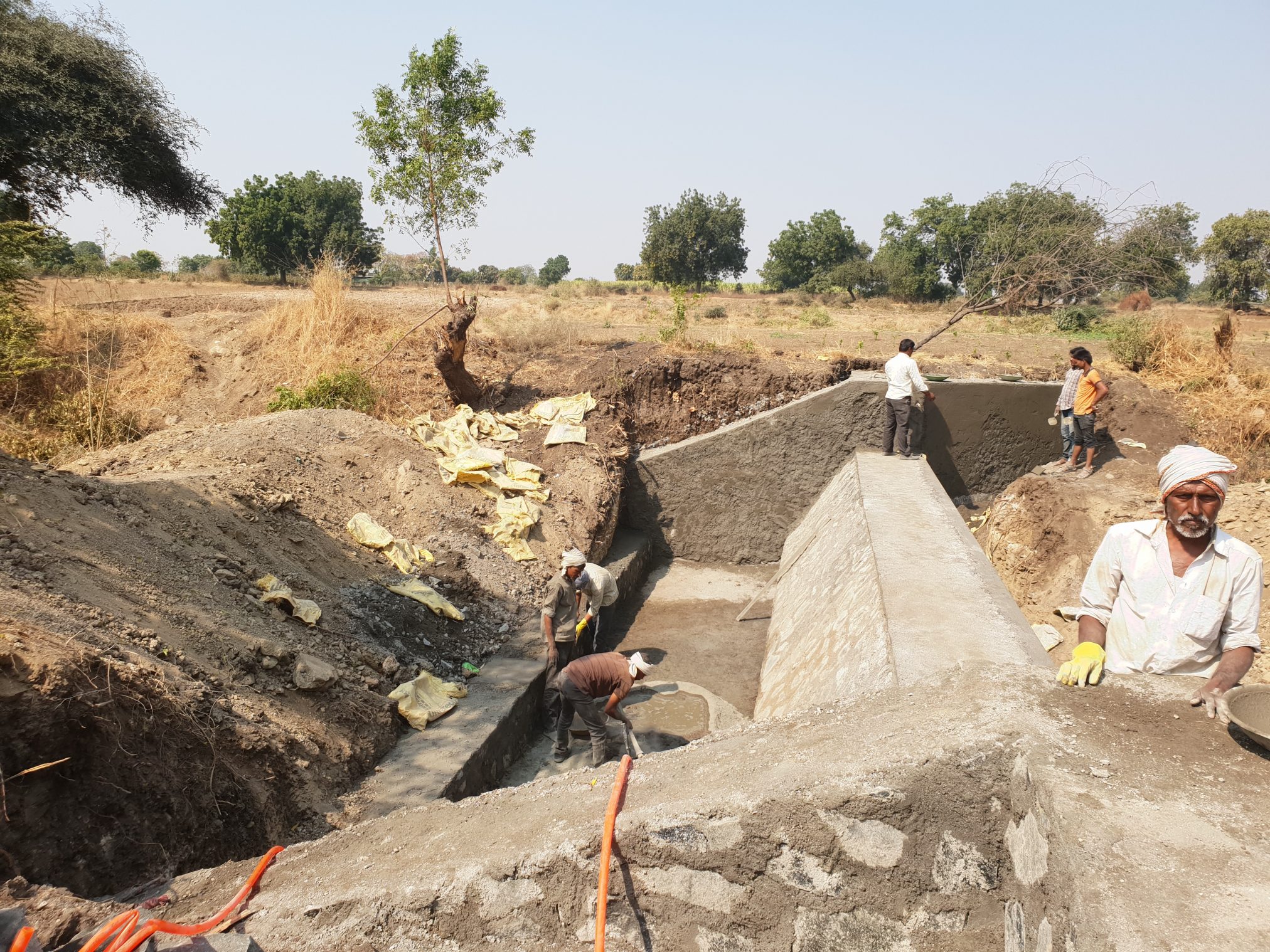 The program attempts to build both hard as well as soft resilience within communities against disasters of slow and sudden onset, including but not limited to droughts, moisture stress, infrequent and highly variable rainfall, intense precipitation, and pests and disease attacks.
Keeping in mind the specificities of climate variability this project emphasizes: digging water-absorption trenches on the upper, middle, and lower portions of hillsides with planting indigenous vegetation to stabilize these and bind soil; designing water impounding structures strong enough to withstand runoff; prioritized soil-conservation structures while dovetailing these with water harvesting structures; and promoting changes in cropping patterns to include water-sipping crops, tree-based and mixed-farming systems as well as conservation irrigation technologies.
Good Agricultural Practices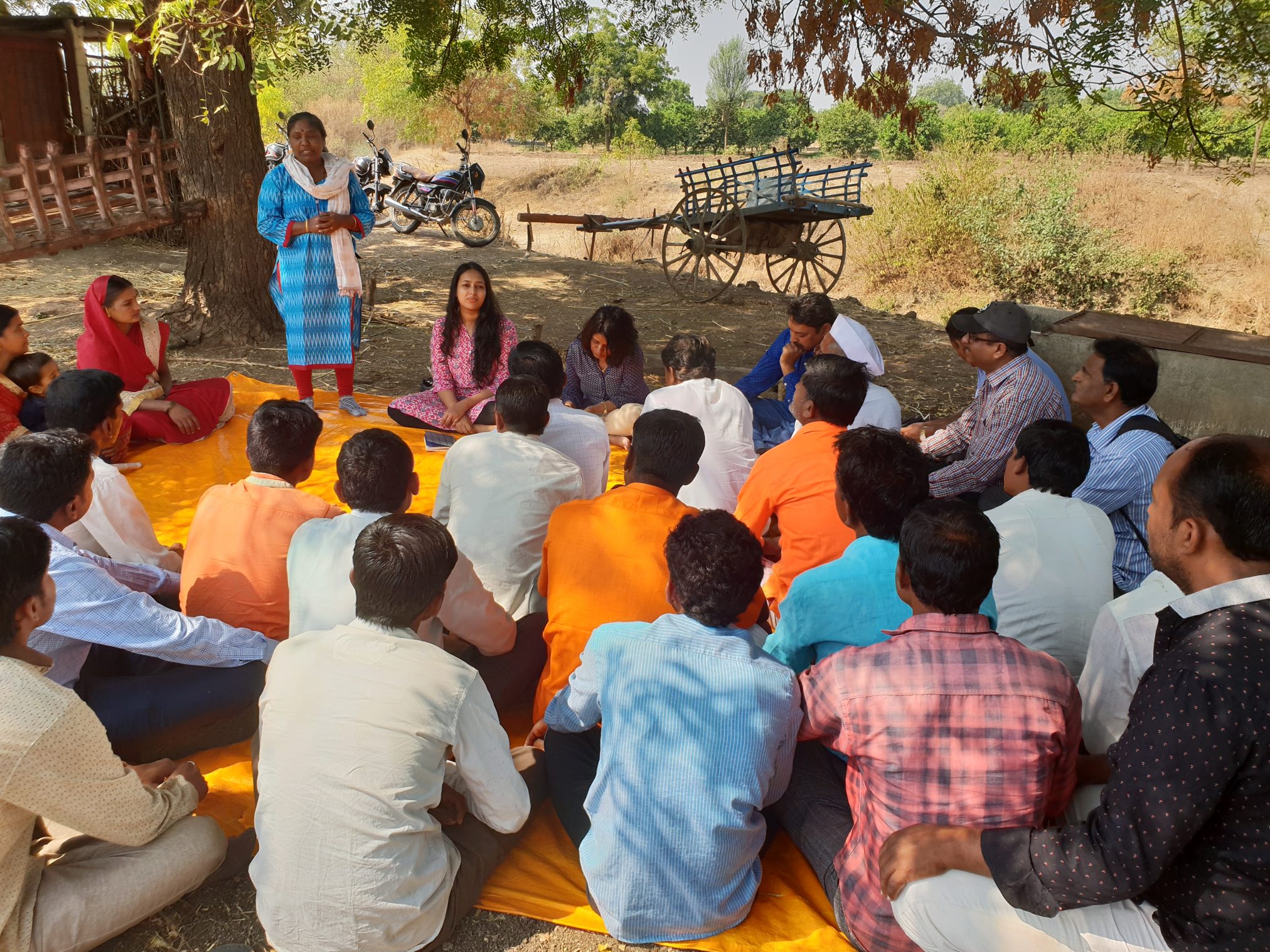 To address soil-quality issues, pest attacks, unscientific use of inputs, etc., farmers were provided training on GAP and supported by village-based para agronomists to make the correct decisions on the farm regarding the use of suitable inputs, appropriate land preparation, nutrient management, proper harvesting, storage, crop demonstrations, experience-sharing workshops, and exposure visits.
Community-Based Water Budgeting
Community-enforced water budgeting is employed to ensure sustainable management of water resources, specifically groundwater, in the post-monsoon season. Communities are taught how to measure the groundwater level using a water-level indicator and collecting data bi-monthly reflecting groundwater fluctuation, which is displayed publicly. Water planning is undertaken considering requirements for crops, livestock, and domestic needs.
The program treats approximately 1,500 ha of catchment area and achieved a 20% increase in water availability in the region through the construction of 15 check dams and canals, the installation of micro-irrigation devices, and by conducting 30 water audits across the project villages.
Agricultural value chain development
The agri value chain is an important element of the project including service providers, agents and traders, first-level processors, and local public markets to ensure better market access for farmers through the knowledge of market demands and requirements across long and short value chains in agriculture and other allied sectors.
IDH works with Agri Entrepreneurship Growth Foundation (AEGF) to incubate a cadre of agri entrepreneur service providers to create last-mile access to service delivery (inputs, market linkages, and finance).
Farm-level results
Farmer cost of cultivation (cotton) declined by 20% from 2018.
Approximately 900 more farmers took up a second crop due to increased water accessibility. 4,496 ha protected from soil erosion (against target of 3,000 ha).
Area under irrigation increased by approximately 300 ha (total 2,125 ha).
Area treatment increased to 2,946 ha (against project target 1,750 ha).
Water harvesting potential of project area increased by 20% (to 10,542 TCM).
Gender-intentional approach in recruitment of field staff and trainings to female farmers.
Market engagements
Twenty agricultural entrepreneurs in Ambad received training on grading/ sorting of cotton from Puneet Enterprises, including a site visit to the ginning mill.
AEGF engaged with local ginners and traders to build awareness of the model and to improve market linkages.
Four active agricultural entrepreneurs were involved in cotton-market linkages in Ambad, connecting with nearby ginners.
AEs delivered transparent payments and assessed cotton-moisture levels, trash content, and weight (using electronic weighing machines) at site.
Bhimrao Tambe, Agri Entrepreneur, Maharashtra, India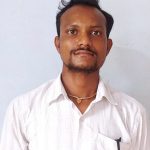 I joined the Agri Entrepreneur Growth Fund program in January 2020 to find new opportunities to provide services to my community in Dudhpuri village in Maharashtra. I noticed a shortage of banking services in the community. Farmers here had to travel up to 15 kms to avail any banking services. I have established a common service center in the village, where I provide all banking and digital services to farmers. So far, about 100 farmers have accessed services through my center, and I have also earned a profit of INR 30,000. I hope to continue growing and providing more services to farmers.
Pratibha Nibude, Agri Entrepreneur, Maharashtra, India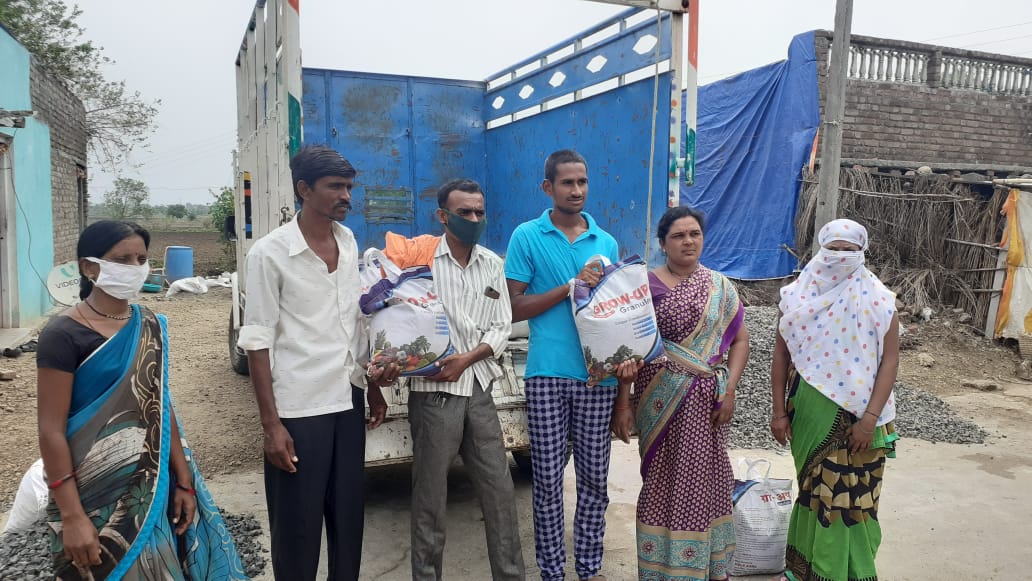 Through the training provided by the Agri Entrepreneur Growth Fund program, I realized that farmers in my district needed a fairer system to sell soybean to the market. Soybean is graded through moisture content, and usually, traders quote a very high moisture content to undercut the price. I used more transparent methods of grading soybean and evaluating moisture, which improved the price by INR 40-45 per quintal to the farmers. I have sold over 200 quintals of soybean this season and helped farmers in my community to improve their income.
Hrishikesh Pagire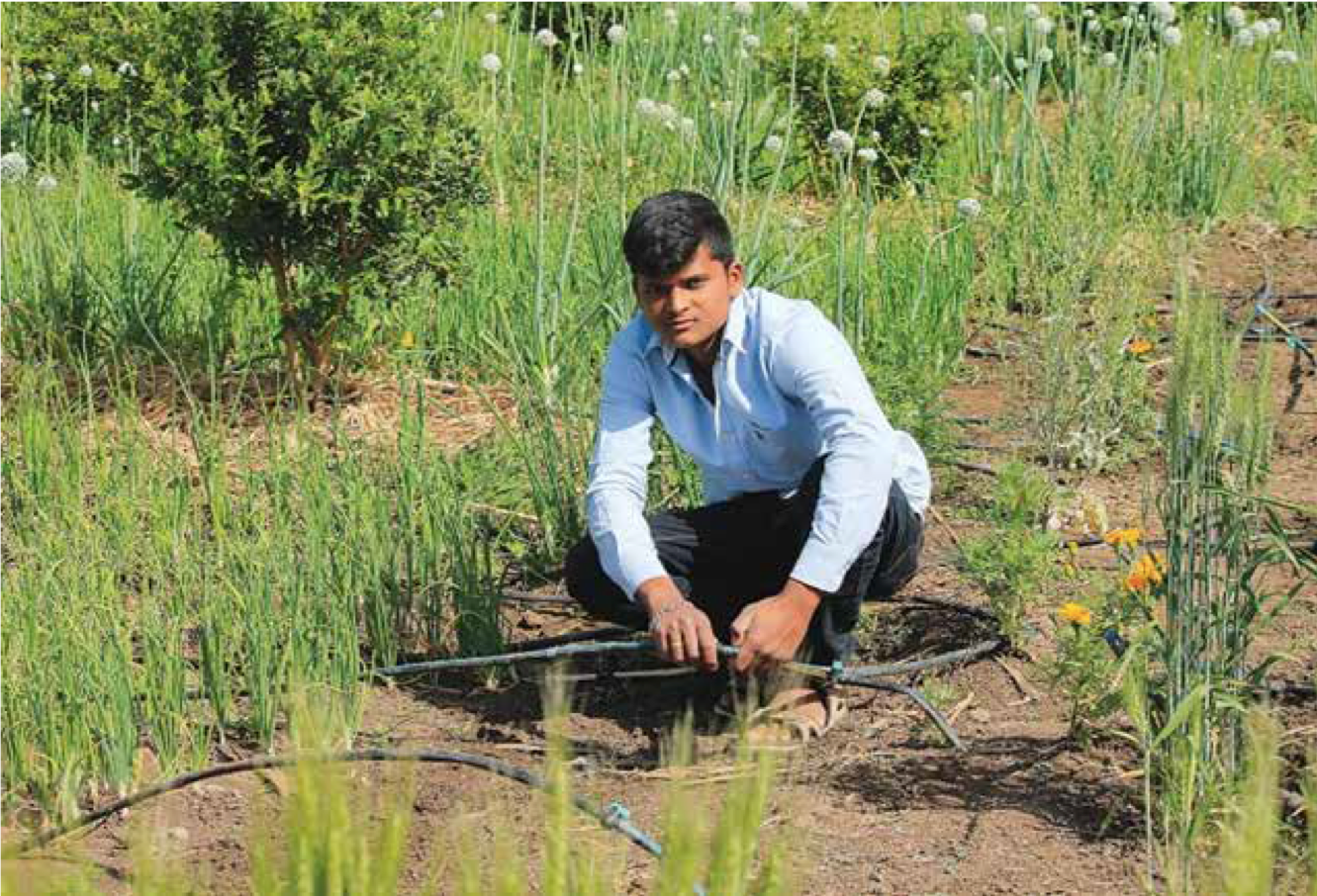 Hrishikesh Pagire of Pagirwadi village shares his experience of how passionate he is about natural farming and how the project initiatives helped him to learn new things about crop diversification in his field with increased productivity and less risk.
Pagirwadi is a small village in Ambad taluka of Jalna district in Maharashtra. The green patch in the village was a surprising element in this parched area of Marathwada.
Hrishikesh Pagire, a second year commerce student, is practicing the organic farming methods on his agriculture land. In his very first attempt, he has earned a profit of Rs. 60,000 on cotton crop against an investment of Rs. 10,000 on two acres of land.
Hrishikesh is very concerned about his farmland and the fertility of soil; this is why he decided to adopt organic farming practices to win the battle against severe drought conditions. His strong desire to learn organic farming methods has finally been realized with the dedicated support from WOTR, which is actively working in the drought prone areas spreading awareness about organic farming. During the agricultural training session, Hrishikesh got detailed information about organic farming practices.
He narrated his experience at the training session with conviction:"It was really worth it staying there for 4 days and learning so many things about agriculture. I successfully completed the session, which motivated me to become a successful farmer."
Hrishikesh has already decided to live in his own village and to take up farming as a full-time career. On organic farming, he says, "Saving water and the environment is the need of the hour. We must protect our own environment and try different methods of organic farming to get more agriculture production by using less water."
Premchand Bhagchand Naglot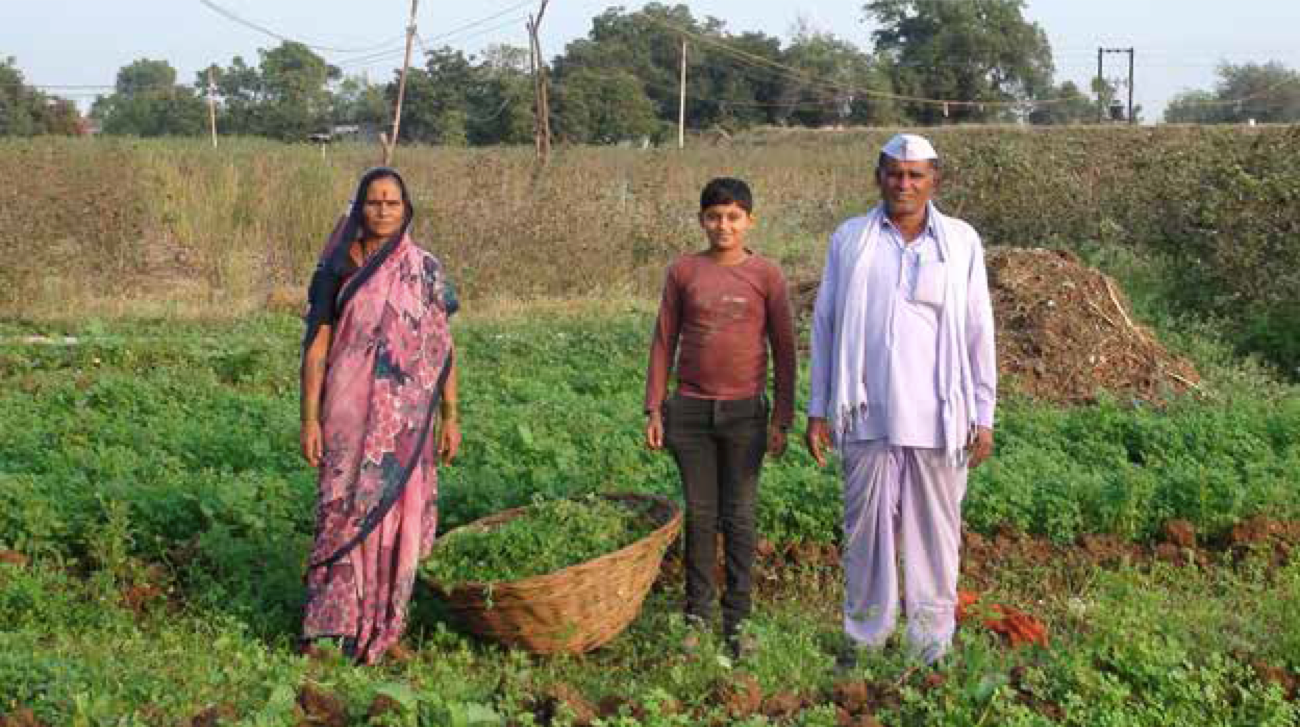 Premchand Bhagchand Naglot is the Sarpanch of the village Dhangar Pimpalgaon in Ambad taluka of Jalna district in Maharashtra. He is also one of the farmers who directly benefitted from the one of the two check dams built in the village. He narrates how the construction of the check dam has helped him.
"Ours is a small village of about 250 families and we have always faced water scarcity in the past. In summer, water tankers used to ply regularly bringing drinking water to the village. For too long we ignored the plight of the cattle in the village due to paucity of fodder and water. Under such conditions, WOTR started a project in our village to increase the water retention capacity of the land through different soil and water conservation measures. In this project, watershed development work was undertaken to harvest rainwater. Various area and drainage line treatments were done following the ridge-to-valley approach that included two check dams and 16 earthen gully plugs. Our village is reaping the benefits of the project by following sustainable agriculture practices that we've been advised to follow to increase our agriculture yield. Farmers in the villages are also applying organic formulations on their crops and trying to reduce the dependence on the use of chemical fertilizers and pesticides."
"Personally, I have immensely benefited from the check dam built on the stream near my farm. Thanks to the check dam, I have water available in my both bore well and well. Agricultural yield has improved. The important thing is that we have green fodder available for my animals; I am cultivating fodder for animal feed. I am growing maize in the rabi season because of the water availability. I am also growing pigeon pea and cotton. With the water available, I am growing vegetables all year round, which was not the case earlier," he concludes.
Securing Smallholder Livelihoods in Rainfed Maharashtra
A case study on de-risking farmer's livelihood from the impact of climate change in Maharashtra through coordinated solutions promoting water security and integrated livelihood opportunities.
A gender-inclusive approach
In Jalna, Maharashtra, 85% of the geographical area is under agricultural use, with over 40% of cultivable land under cotton cultivation; however, agricultural productivity in the region has been in decline. Recent changes in climate conditions have led to increased temperatures, erratic rainfall, and made the region severely drought-prone, with rainfall recorded as low as 400-450mm annually. With only 8% of the region under irrigation, smallholder farmers face high water scarcity – just 15% of farmers take up a second crop, leading to low production and income. Farmers in this region typically have a yield of 400kg/Ha, compared to 500-700 kg/Ha in other states.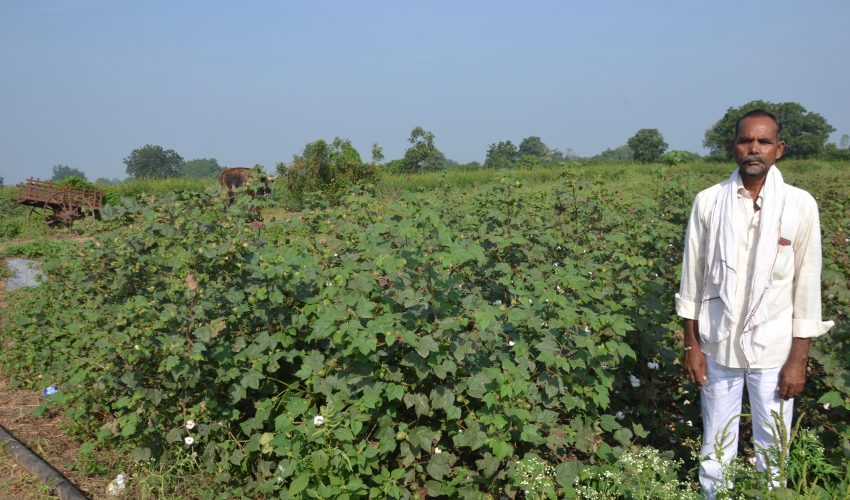 IDH has partnered with Watershed Organisation Trust (WOTR) to create access to water in 30 villages in Ambad block in Jalna, impacting 6300 farmers. The intervention works toward improving three key areas: access to water, building self-reliant governance in villages in terms of water management, and increasing smallholders' resilience to climate change (through increased productivity leading to improvement in income).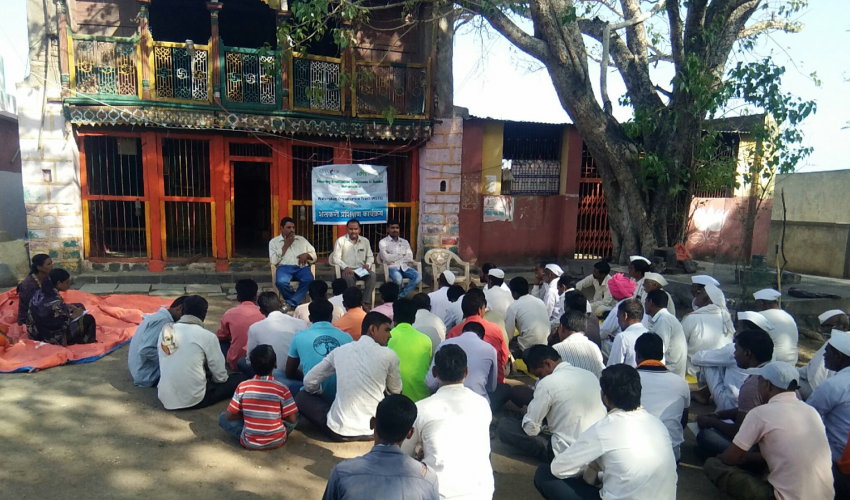 To improve access to water, WOTR set up check dams and micro-irrigation devices (water absorption trenches, water impounding, and harvesting structures) to conserve rainfall. To invest the community in water management, we conducted water budgeting trainings, and instructed the communities on how to measure groundwater levels. Farmers also received supplementary trainings on good agricultural practices and hyper-local agro-met advisories to inform farm activities, reducing the cost of production, and improving productivity.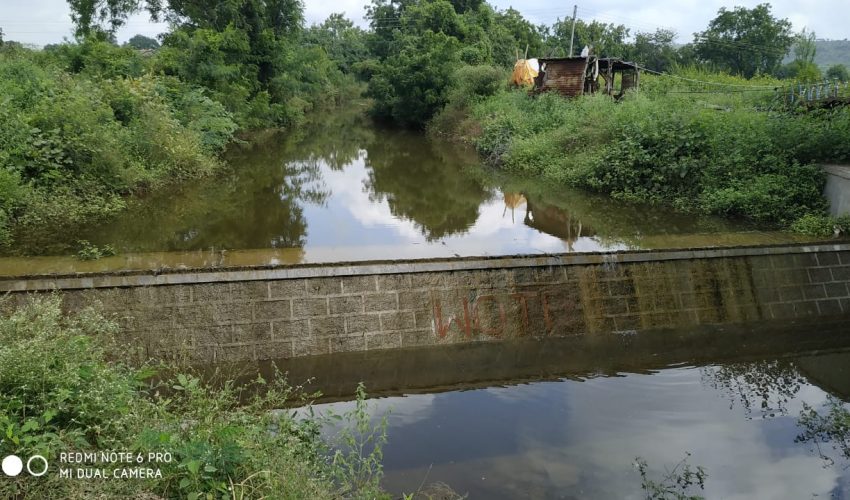 Since inception, the program has seen a high level of community contribution towards watershed development work (creating wage employment of over 75000 man-days) and delivering on results that exceeded set targets for 2019. The region has seen an increase in watershed infrastructure facilities (check dams, micro-irrigation devices), resulting in a 9% increase in access to water so far. Farmers have reported a 20% reduction in the cost of production, and over one-third of farmers have taken up a second crop.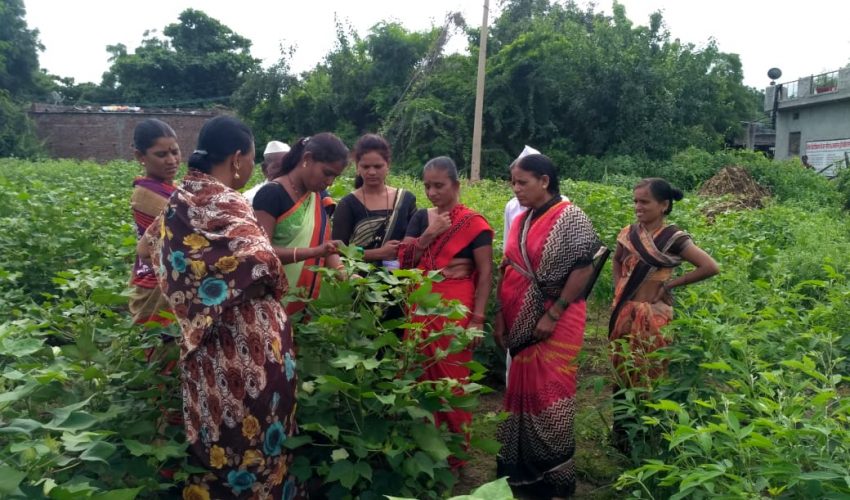 Gender sensitization training and analysis were conducted in all villages, resulting in an unprecedented 2:3 female-male ratio in the para agronomist recruitment, and increased involvement of women in GAP trainings as well as water management and governance at community levels.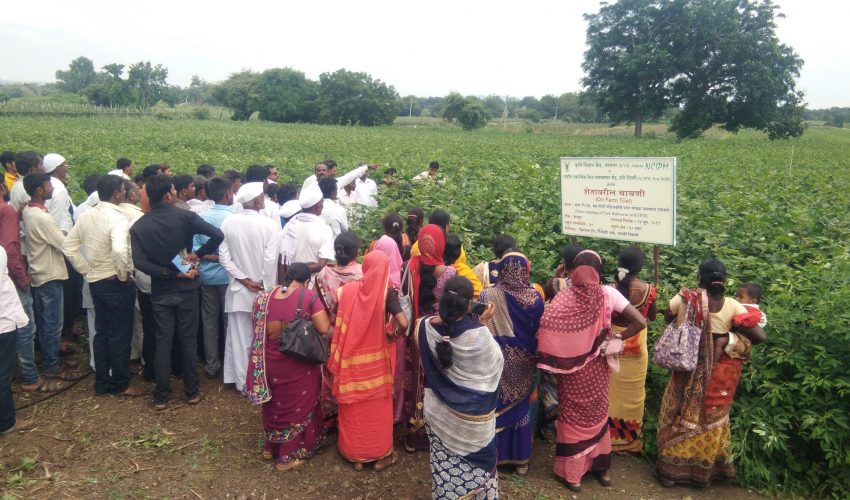 Going forward, IDH will continue watershed development and farmer trainings in Ambad with WOTR to promote accelerated improvement in smallholder farmers' livelihood through improvement in access to water and hopes to expand its impact to other blocks in the Jalna district with the support of private sector funding.