Key Achievements in 2022
Ghana Cocoa and Forests Initiative 2022 Annual Report
In Ghana, cocoa production is the major source of income for many smallholder farmers and their households. Cocoa exports earned Ghana a total of $2.07 billion from January to September 2021, contributing about 23.9% to the country's total export earnings (Bank of Ghana, 2021). Ghana's cocoa sector contributes 3% to the country's Gross Domestic Product (GDP) (GSS, 2015). Expansion of cocoa farms however, may contribute to the loss of Ghana's forest cover with undesirable consequences for the country's economy, environment, and people. To address this, the governments of Ghana and Côte d'Ivoire, together with the cocoa and chocolate industry, launched the Cocoa and Forests Initiative (CFI) in
November 2017.
The CFI is a unique public-private partnership that aims to achieve zero deforestation and restore degraded forests in the cocoa supply chain. It seeks to address the main drivers of deforestation in Ghana's cocoa sector, such as forest degradation and expansion of cocoa farms into protected areas. The CFI targets at eliminating illegal deforestation from Ghana's cocoa supply chain and restoring degraded forests.
The CFI's activities are focused to align with existing national forest protection plans and policies, promoting sustainable land use practices, supporting the implementation of cocoa agroforestry systems, and increasing transparency and traceability in the cocoa supply chain through the three thematic pillars of i) Forest protection and restoration, ii) Agroforestry and sustainable production and iii) Social inclusion and community engagement.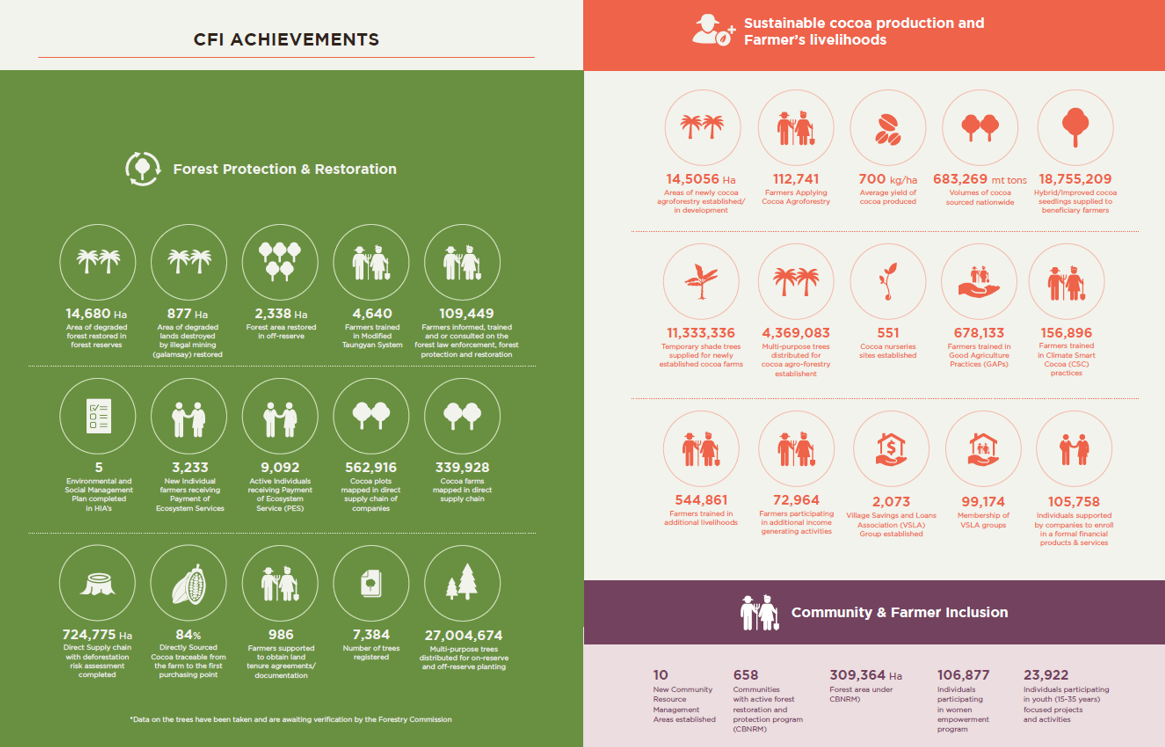 This report covers the results from the transition year 2022. You will find the pdf versionGhana Cocoa & Forests Initiative 2022 Annual Report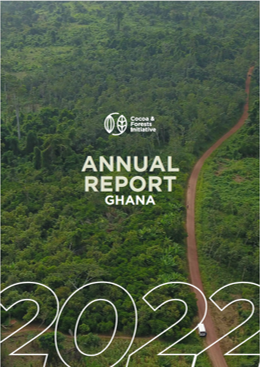 Download file here.
Interested in the CFI Côte d'Ivoire report? Find it here.