Regenerative Production Landscape (RPL) Collaborative is an innovative jurisdictional model being implemented in Madhya Pradesh, India to foster agricultural ecosystems that conserve and enhance natural resources and build community resilience whilst enabling businesses to source responsibly.
Originally founded by Laudes Foundation, IDH The Sustainable Trade Initiative and WWF India, the Collaborative aims to invite other organizations to catalyze and scale a model where:
Producers grow agri-commodities using natural and regenerative farming principles that restore natural resources and reduce emissions from farming systems.
Smallholder farmers and communities thrive through improved economic stability, enhanced livelihoods and greater participation in decision-making
Businesses can source responsibly while creating inclusive supply chain relationships
To achieve this, the Collaborative will support locally-driven, multi-stakeholder governance structures that drive market transformation – bringing together government institutions that enable sustainable and green growth, companies that commit to sourcing responsibly, community and producer organizations for more inclusive decision-making, and impact investors and funders who seek scalable solutions that deliver on the Sustainable Development Goals.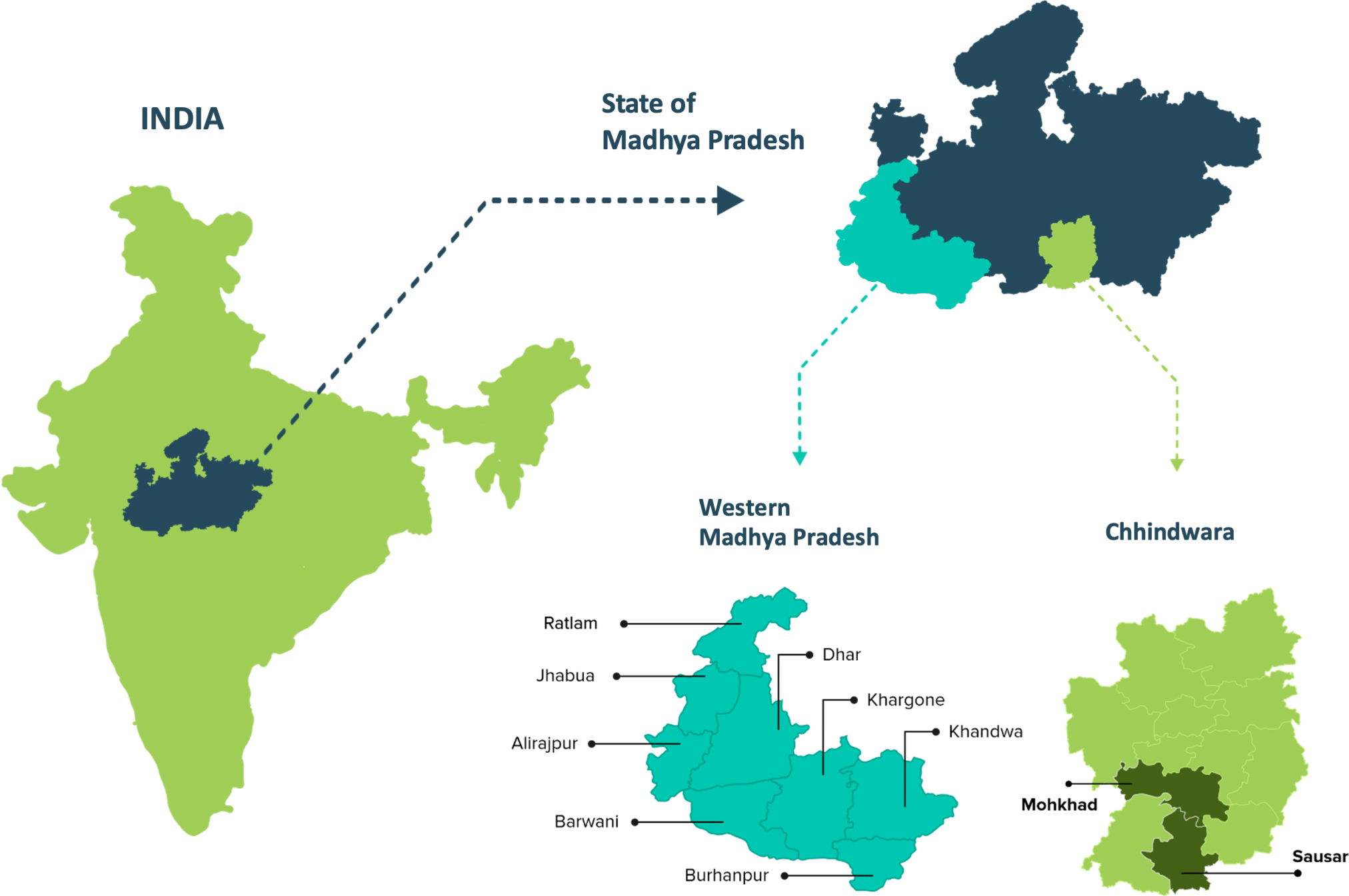 The programme is being implemented in nine cotton-growing districts of Madhya Pradesh, India. Eight of these districts lie in the western part and the remaining district, Chhindwara, lies in the southern part of the state. By 2026, RPL Collaborative will cover all cotton-growing regions in Madhya Pradesh through a combination of in-field interventions, value-chain development, institutions, governance building, and concerted public-private engagements to address the smallholder resilience in the landscape holistically.
 

The Collaborative applies IDH's Production, Protection, Inclusion (PPI) approach to achieve an inclusive goal and inspire sustainable landscape management.
Agricultural products are grown sustainably, nature can flourish, and communities prosper
Long-lasting and stable partnerships and cooperation that outlast political cycles
Private and financial sectors enable and finance change towards enhanced sustainability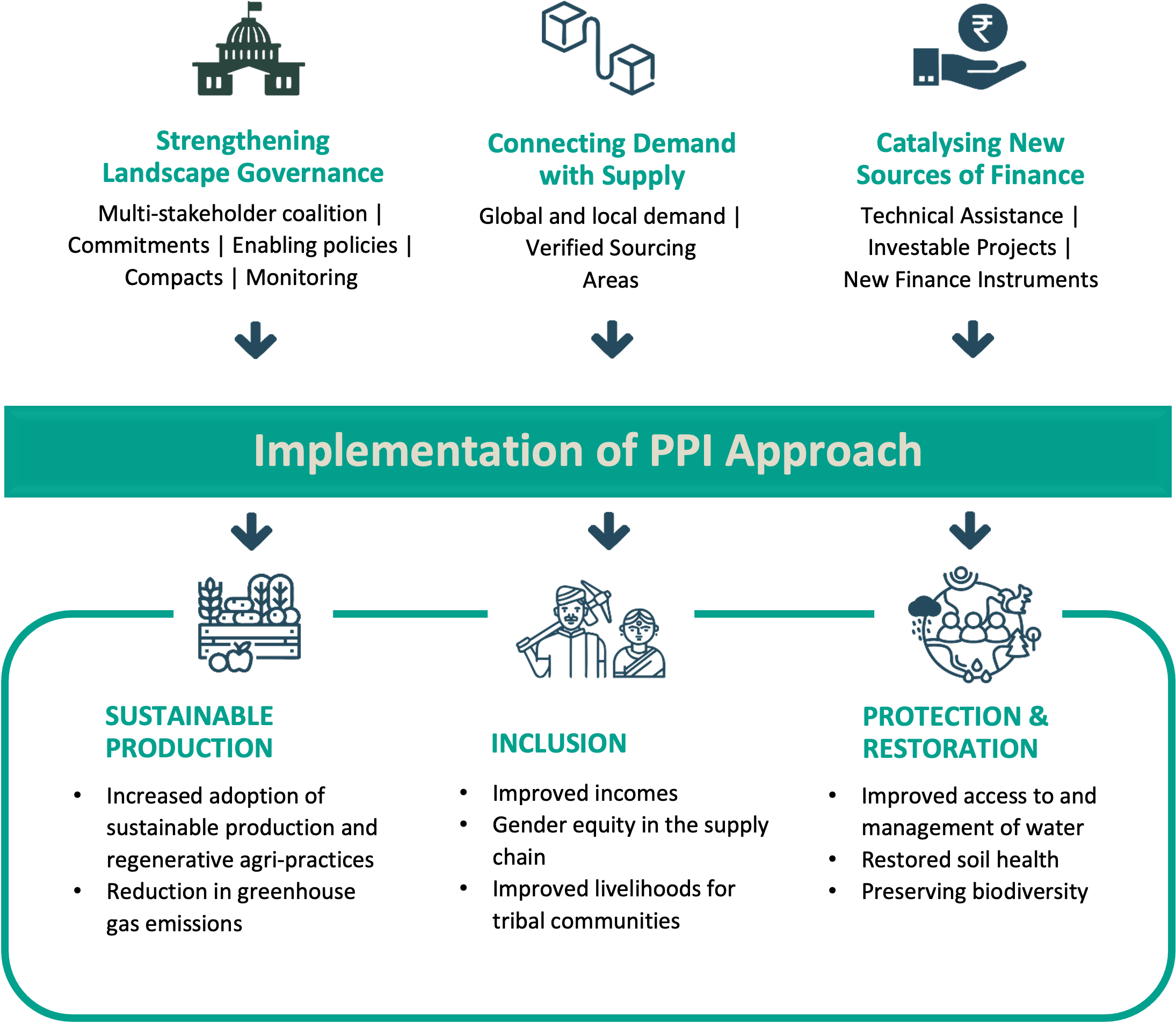 A Compact is a local multi-stakeholder coalition in a sourcing region with an agreement to address sustainability challenges in a coordinated, timebound, and resource-committed manner.

The RPL Collaborative will work towards forming and strengthening two Compacts by 2026. 

The main stakeholders are the local government, local civil society organizations, producer groups/cooperatives, and traders. Members of a Compact work together to enhance the sustainability and productivity of land and secure community livelihoods in exchange for the protection and regeneration of natural resources.

Compact Launch

RPL Collaborative kickstarted the formation of public-private-community partnerships (Compacts) between Inditex, H&M Group, IKEA, Neutral, PepsiCo India, Samunnati, Jayanti Spices, INI Farms and S.V. Agri in April 2022. The multi-stakeholder Compact also includes key-decision makers such as civil society organisations SRIJAN, Action for Social Advancement, Aga Khan Rural Support Programme; and farmer producer organisations. The launch event for the Compacts was held in Bhopal, Madhya Pradesh on April 29, 2022.

The first Compact is being formed in Chhindwara District, Madhya Pradesh (MP), which will reach 20,000 farmers, and bring 20,000 hectares under regenerative agricultural practices. The second Compact will cover eight districts in western Madhya Pradesh, including parts of the Narmada Basin to reach 120,000 farmers in the State.
 

Outputs towards System Change and Landscape Governance

We are inviting like-minded partners from government, private sectors, CSOs, farmer organisations, communities and other enablers to join us in building a shared, long-term vision and approach to scale regenerative and restorative production practices in Madhya Pradesh, India.
Your participation will help us strengthen and scale this intervention while giving you an active voice in driving the success of the Collaborative and your investment.
To learn more about how your organization can get involved, contact:
Jasmer Dhingra

Director Programs - India