Under SIFAV, all private sector partners commit to the following common sustainability targets towards 2025: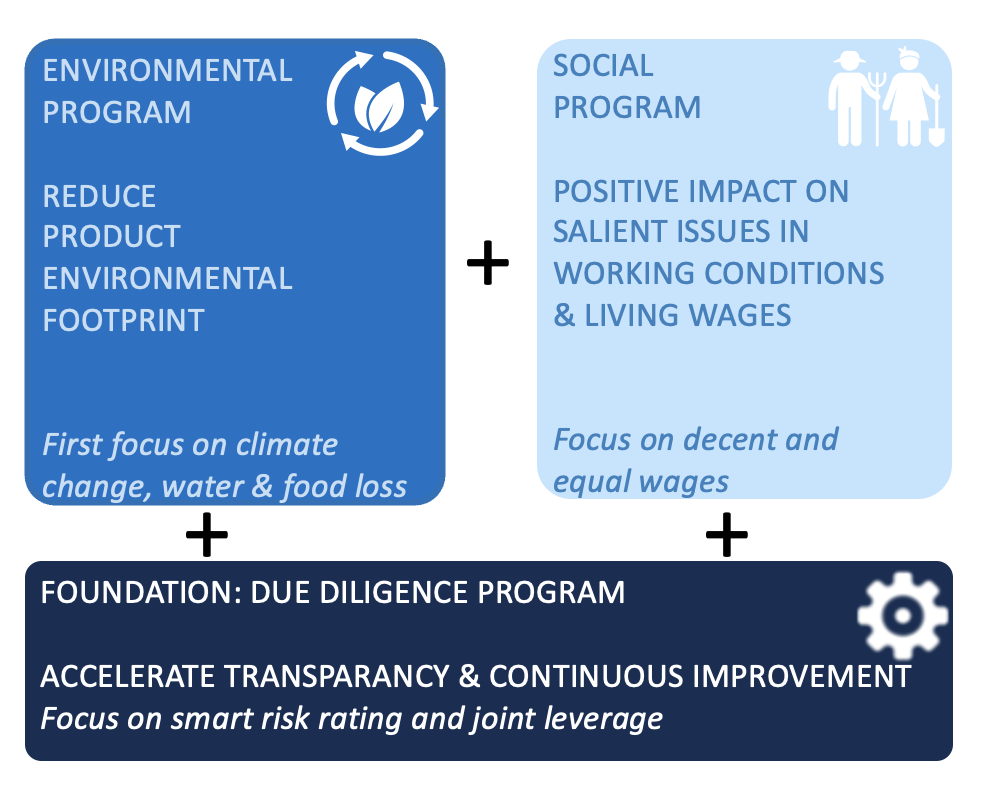 Environmental:  To work together with their supply chain partners to measure and reduce the environmental footprint of priority products by 2025, amongst others:
25% carbon footprint reduction in three priority products;
25% food loss and waste reduction in three priority products;
Reduction of water use to best practice levels in 3 jointly selected catchments;
Implementation of water standards (third-party verification) for 70% of volume from high water risk countries.
Social:
Implementation of jointly approved social third-party verification, to at least 90% of volume coming from high- and medium-risk countries by 2025.
Taking a first step in improving Living Wages or Living Income, by analysing living wage and living income gaps in one of their supply chains and if possible, also making a commitment towards reducing these gaps.
Due Diligence:
Implementing robust Human Rights and Environmental supply chain due diligence policies and processes according to OECD and UN Guidelines.
Jointly and individually reporting on risks and progress on an annual basis from 2022 onward.
SIFAV is coordinated by IDH, the Sustainable Trade Initiative. Since its foundation in 2012, SIFAV has grown into a pan-European initiative with more than 30 partners, among them retailers, brands, traders, civil society organizations and other supporting parties.
SIFAV projects
Within the SIFAV 2020 program, in total more than 40 different international projects have been implemented by the SIFAV-partners, covering a broad variety of topics with regards to sustainability – including for example health and safety, block farming, good environmental agricultural practices and gender equality, just to mention a few. In total more than 17 million euro was invested in these projects, including co-funding by IDH. Click on the world map below for more information on a selection of projects around the globe.
The SIFAV Steering Committee
Meet the members of the SIFAV Steering Committee. The Committee guides the activities of the initiative and is comprised of eight representatives of the SIFAV partners.
Stefanie Vermaesen

SIFAV Chair & Senior Advisor Sustainable Business, Nature's Pride

Pete Pearson

Senior Director, Food Loss and Waste, WWF

Leon Mol

Director Product Safety & Social Compliance, Ahold Delhaize

Jeroen Kroezen

Corporate Partnership Manager, Solidaridad

Deputy Director Food Crops & Ingredients, IDH
André G. Boer

Lead Buyer Fruit and Vegetables, C.I.V. Superunie B.A.

Karen Janssens

Expert Sustainable Sourcing, Colruyt Group

Maria Oliveira

Sustainability Manager, Primeale United

Frederic Rosseneu

Corporate Business Development Manager, Greenyard Group
Annelotte Crena de Iongh

Senior Program Manager Food Crops & Ingredients

Astrid Baeten

Program Manager, Food Crops & Ingredients