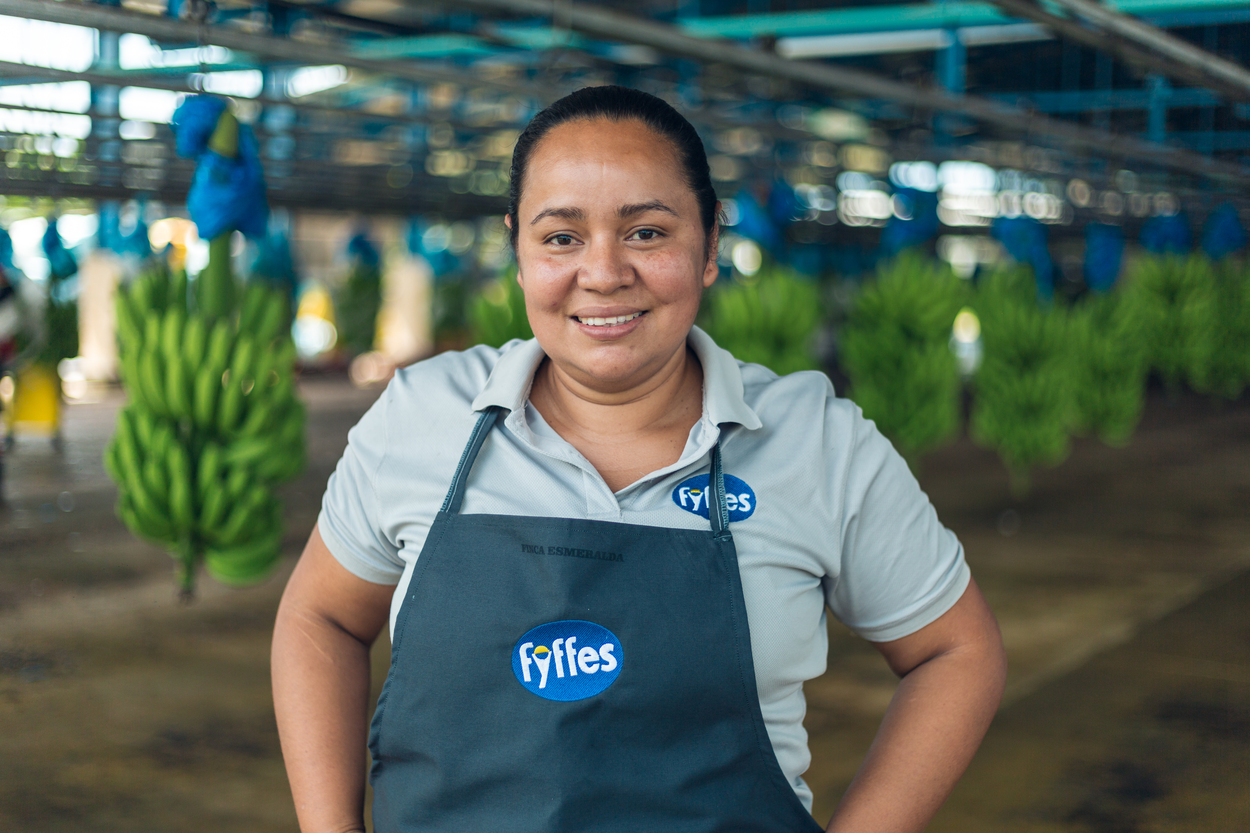 Women play a key role in the global food system today, especially in the agriculture sector where they make up almost half of its workforce. Despite their significant contribution, studies consistently show that women face ongoing gender-specific constraints in their everyday lives – at work, their homes, and in their communities. Against this backdrop, fresh produce company and SIFAV partner Fyffes developed its Gender Equality Program to support farm workers on gender-related issues and management. The main tool within this program is 'HERessentials', a digital educational app that HERproject (TM) developed in partnership with Fyffes during the COVID-19 pandemic and that has been rolling out in its fruit farms in Latin America since then.
While women represent a major workforce in the global agricultural industry, they are disproportionately affected by poverty, discrimination, harassment, violence, exploitation, and other gender-specific obstacles. To effectively address these issues, SIFAV partner Fyffes has established gender equality and women empowerment as key priorities within its sustainability strategy. In doing so, Fyffes aims to improve outcomes for female workers at its fruit farms and create a more inclusive workplace, with a focus on Latin America.
As a result, in 2019 the Fyffes Gender Equality Program was developed in partnership with IDH – The Sustainable Trade Initiative, and BSR. This program helps identify and address equality challenges faced by women in the workplace and in their communities. The overall target: to provide gender equality training to 100% of people at Fyffes' own sites in Latin America by 2025 and at 50% of its suppliers' sites by 2030. To help establish the framework for the program, IDH provided part of the funding as well as key learnings from its successful gender initiative in the Ethiopian flower industry[1]. These learnings were initially applied at Fyffes fruit farms in Honduras and Costa Rica. Since then, a lot has happened, and the program has expanded significantly. One prominent example is the digital tool "HERessentials", introduced during the COVID-19 pandemic to provide training on gender equality digitally.
HERessentials: useful tutorials and improving digital literacy in times of COVID-19
"We looked at a COVID-proof way to keep delivering on our Gender Equality Program during the pandemic, when women were particularly affected on various levels. They were not only impacted economically, but they also had to endure additional stress and uncertainty in terms of finances, family planning, and healthcare at home. That is where HERessentials came in; an app to help guide and engage workers in a safe and socially distant way," says Stella Davis, Assistant Manager Sustainability Department at Fyffes. Based in Costa Rica, she oversees the implementation of the program across Fyffes farms in Latin America.
 HERessentials has been developed by BSR's HERproject (TM) that strives to empower low-income women working in global supply chains. HERessentials is centred around a tablet-based app which uses animations, videos and games that illustrate everyday situations and problems that workers face both in the workplace and at home, as well as pre- and post- quizzes to gauge learnings. "The app provides training around three key areas: communication, family planning and health, and financial resilience. For example, it advises on how to navigate difficult conversations with a supervisor or at home, how to handle health issues and stress, and how to deal with budgeting and digital payments, such as transferring money to family members," explains Stella. At the same time, using the tablet helps to improve overall digital and tech literacy. And a big plus particularly in rural areas: the app works offline – that means it can be used directly in the fields where connectivity is usually low.
Encouraging savings and boosting confidence
So far, HERessentials has been rolled out at Fyffes banana, melon, and pineapple farms in Costa Rica, Ecuador, Honduras and Belize. To date, 1,300 workers have been trained on using the app – and it has been very well received, according to a first evaluation, says Stella: "The positive feedback we received from the workers who participated in the gender equality training shows that HERessentials is seen as a worthwhile and valuable program. It has encouraged people to start saving, go back to school, and it has boosted their confidence. Many have even asked Fyffes if they could share the program with their families and communities as well. It is extremely rewarding to know that HERessentials can make a positive impact on so many people's lives."
That kind of a positive impact is also the objective of IDH's gender strategy: "As IDH we believe that women are key to drive growth and sustainability in supply chains. However, the possibilities for women to engage in supply chains is currently limited. IDH is committed to gender equality, aiming to ensure that at least 80% of our programs are gender intentional by mainstreaming gender while 10% integrate gender transformative approaches by 2025," says Cesar Maita Azpiri, Senior Manager Gender at IDH. According to him, HERessentials serves as an inclusive and user-friendly tool that can be applied in any remote area with limited infrastructure and across different sectors of food production and countries. "This allows for the experiences and learnings from the fruit sector to benefit partners in other industries and parts of the world," he says.
Further promoting gender equality across countries and involving partners
Initially meant to help Fyffes Gender Equality Program navigate the challenges of social distancing during the pandemic, the app has already proven to be a success beyond that original aim, which is why Fyffes and HERproject (TM) aim to further expand it. "Achieving Fyffes sustainability target to 'train 100% of workers in our sites on gender equality by 2025' is certainly a challenge, but we are confident that our internal support and structure will allow us to get there," explains Stella. "However, the real challenge and proof of the success of the program will be onboarding 50% of our suppliers to partner with Fyffes and invest their time and effort to train their workers as well. Reassuringly, when we approached a key supplier in Colombia to participate in our Gender Equality Program, they jumped on the opportunity, as it aligns with their own sustainability strategy and goals as well. It's great to work towards the same cause, and I look forward to working with more and more suppliers over the next few years to continue to promote gender equality in the workplace and in our communities."
---
About Fyffes
For over 130 years Fyffes has brought a choice of tropical produce to countless millions around the world. We achieve the highest quality by nurturing relationships with our growers, supporting our employees, and diligently serving each link in the chain: production, procurement, shipping, ripening, distribution, and marketing. This approach has earned Fyffes leadership across multiple markets; today we are the largest importer of Fairtrade certified bananas in the world. We are also one of the largest banana and pineapple importers in Europe and the biggest melon importer in North America. We became part of the Sumitomo Corporation in 2017, advancing our industry leadership in many exciting ways. For more information, go to www.fyffes.com or follow @FyffesIrl on Twitter and LinkedIn.
About IDH
IDH – The Sustainable Trade Initiative (IDH) strives for flourishing markets with better jobs, better incomes and a better environment. When IDH is successful, companies rebalance the relationships between the workers they employ, the customers they serve and the planet that serves all of us. IDH's work is made possible because of the funding and trust of multiple European governments and private foundations. For more information, go to www.idhtrade.com or follow @IDHTrade on Twitter and LinkedIn.
About SIFAV
The Sustainability Initiative Fruit and Vegetables (SIFAV) aims to actively contribute to a more sustainable fresh fruit and vegetable supply chain. Its purpose is to create impact at scale by aligning policies, targets, and collaborative action. SIFAV is coordinated by IDH, the Sustainable Trade Initiative. SIFAV is a pan-European initiative representing more than 40 partners, among them retailers, brands, traders, civil society organizations and other supporting parties. In 2021, SIFAV launched its new 2025 strategy, with a clear focus on reducing the environmental footprint across the supply chain, improving working conditions, wages and incomes, and strengthening due diligence reporting and transparency. For more information, go to http://www.sifav.com/ or follow @Sustainability Initiative Fruit and Vegetables on LinkedIn.
---
[1] For more info: https://www.idhsustainabletrade.com/news/gender-equality-comes-to-fruition-in-costa-rica-and-honduras/ and https://www.idhsustainabletrade.com/publication/gender-ethiopian-flowers/