IDH provides technical assistance to cassava processors to integrate smallholder farmers into their supply chains — improving livelihoods through increased productivity, reduced yield loss, secured markets, and resolution of systemic challenges in the cassava value chain.
Cassava — a woody shrub cultivated for its edible, starchy, tuberous root — is a major staple in Nigeria, the world's largest producer of the crop. Drought tolerant and carbohydrate rich, cassava is a lifeline to the country's 30 million smallholders who produce 90% of the country's annual output of over 53 million metric tonnes. The root's exceptionally short shelf-life means that more than 40% of this yield is lost before it is processed.
It is IDH's goal to halve the yield loss to 20% by 2020 — and help turn a wasted crop into economic gain for the local farmers.
The short shelf-life of cassava, which deteriorates within 24 to 48 hours of harvesting, means the root is used primarily in food products that can be processed on or nearby smallholder farms. The post-harvest loss situation is worsened by low yields, poor handling, low on-farm processing, poor transportation infrastructure, and unorganized market structure — resulting in significant spoilage of food and economic opportunities, especially in the light of a recent upsurge in demand for cassava derivatives (including flour, starch, ethanol and syrup) by large food manufacturing companies.
  

The single most crucial constraint to cassava industrialization is the inability of processors to access sufficient roots at the right quantity and right time. Despite the opportunities in the value chain, the sector is held down by several systemic challenges, furthering the difficulties of post-harvest losses and the competition of roots for food.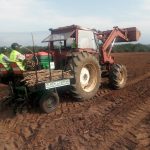 Foremost among these challenges are yields at below 50% of commercial potential, directly linked to the absence of good agronomical practices and a lack of commercial outlook for what is considered a low-value food security crop. This is exacerbated by lack of processing infrastructure and access to farm finance, and an unstructured market where processors are often unaware of quality specification of end markets, and there is an extreme mismatch of supply and demand between factory and farmer.

Additionally, large-scale use of cassava as an industrial product is new in sub-Saharan Africa, and the policy environment is yet to be attuned to the potential of positive economic impact.
In support of industrializing the cassava value chain in Nigeria to optimize for yield loss reduction and improved income for smallholder farmers, Rockefeller Foundation awarded a grant of $2,000,000 to IDH.
The grant, which provides financial support for IDH's cassava initiative in Nigeria until 31 December 2021, forms part of the Foundation's YieldWise initiative, which seeks to promote sustainable ecosystems and reduce food losses by at least 50% in representative value chains, improving millions of rural lives — with the Nigerian cassava industry as one of the key focus areas for optimizing on loss reduction.
With the grant from Rockefeller, IDH set out to deepen industrialization in the cassava value chain in Nigeria by supporting processors to integrate smallholder farmers into their supply chain through a block farming model. Through YieldWise, IDH worked with processors on a block farming model, in which the processors acquired farmland close to the factories and contracted clusters of farmers to grow cassava on the land.
Read more in the following case studies and get inspired by the stories and results
A supported supply scheme solution
In order to raise the income and economic well-being of cassava farmers through reduction of post-harvest losses in Nigeria's cassava value chain from 40% to 20%, IDH is providing technical assistance to cassava processors to integrate smallholders into their supply chains and resolve the systemic challenges of the value chain.
Through a scheduled and agreed supply scheme between processor and farmers, IDH is using a robust Service Delivery Model (SDM) that will cover training on best agronomical practices, supply of inputs and mechanization services. The use of post-harvest loss technology will be adopted whenever available.
By piloting the scheme in at least six projects, our goal is to demonstrate that cassava processing, with smallholder inclusion, is sustainable and can reduce post-harvest losses and lead to at least 74% increase in the income of smallholder farmers. Through a block farming system and a farmer-to-farmer intervention, the program is expected to build the capacity of at least 20,000 cassava farmers and link them to markets.
Additionally, our intervention is expected to incentivize banks and investors to tap into the ample investment potentials in the sector to bridge the huge demand gap in the cassava derivatives market in Nigeria.
Contracting partners
The contracting partners are processors that meet the funding requirements of the program.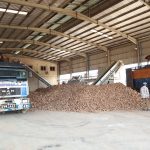 The processor co-funds, with IDH, the inclusion of smallholders in their supply chains. Where a commercial end-buyer is part of the coalition and is making financial contribution in cash or kind, the contracting will become tripartite. So far, we have partnership arrangements with Nestle and Unilever. Other commercial end-buyers for cassava derivatives in Nigeria include Nigeria Breweries, pasta food companies, distilleries and flour mills, among others.
---
Project targets and impacts

By 2020 the goal of our Cassava initiative, under the Rockefeller grant is to ensure:
72,000 MT of cassava is sold to processors and 126,000 MT to alternative buyers
20,000 farmers are aggregated to meet the quality and quantity required by processors
6,000 farmers are connected to mechanization, new farming technologies and input financing.
Some of the key impacts expected from the program include:
Rural and national development
With direct beneficiaries expected to double their yield and income, and indirect beneficiaries expected to record a 50% increase in yield. In Nigeria, at least 600 new jobs will be created by the projects and the steady revenue flow of over $20m per annum generated by the project and its spiral effects will have immense economic and social benefits to the affected communities. Substantial foreign exchange savings will be made annually from substitution of imported derivatives.
Diffusion of improved technology for agricultural productivity
Establishing modern farming for industrial production, with the block farms acting as incubation centers. Deployment of an efficient SDM ensures that farmers are trained on Good Agricultural Practices, modern production technologies, provided with improved planting materials, and other agro inputs.
Reduction of post-harvest losses of Cassava
Training farmers on planned and proper harvesting and handling of cassava tubers to reduce bruises, spoilage and deterioration, and ensuring processing facilities are located near farms (ideally within a 50 km radius) to reduce transportation time hampered by poor road infrastructure. The introduction of special packaging bags will also help prolong the shelf life of the roots.
Contact us for more information