Service Delivery Models are supply chain structures, which provide services such as training, access to inputs and finance to farmers. Efficient service delivery can improve farmers performance, and ultimately their profitability and livelihoods.
Since the development of this approach, these models have been used specifically within IDH Farmfit.

Service providers can be traders, processors, farmer organizations, NGOs, public extension schemes, etc.
Value chain investors tend to be (final) buyers of the product, looking to secure their supply and / or for reputational reasons are interested to invest in the farmer.
Through a better understanding of service delivery models (SDMs) value chain players in agri-commodities are beginning to see service delivery as part of their core business, rather than something requested by the buyer or simply a way to create farmer loyalty.
This results in value chain players establishing a relationship with the farmer as a client. If the farmer is seen as a client, the service provider tends to invest more in gaining a better understanding of what services are being delivered and to which farmers. They also want to better understand the impact the SDM has on their business. Meaning,  gaining a clearer understanding of how to fund  service delivery and exploring ways to make their model less dependent on external funding, i.e commercially viable.
To accelerate this process, IDH initiated a systematic, data-driven approach to understanding and improving SDMs. Together with NewForesight Consultancy, IDH has analyzed the SDMs of service providers in the cocoa, coffee and spice sector and are continuing to attract new partners. The insights gained from the analysis are helping to prototype efficiency improvements in service delivery.
For each Service Delivery Model we:
Create an overview of all actors, flows of goods, services and cash flows
Present a baseline situation for the farmer & show the effect of service supply on farmer profit and loss (P&L) i.e. the benefits and costs for the farmer
Show the P&L of the main service operator

How the services are paid for,
How the services contribute to the commercial business of the service operator.

Demonstrate the model's areas of risks and potential areas for improvement – under what circumstances is the model not profitable anymore for the farmers and / or the service operator.
And deliver:
Private Case Report – for the case owner and IDH only
Public Case Report (long and short versions) – to be shared in the public domain
Excel Tool (adjusted for specific case) – to be used for Monitoring & Evaluation and continuous improvement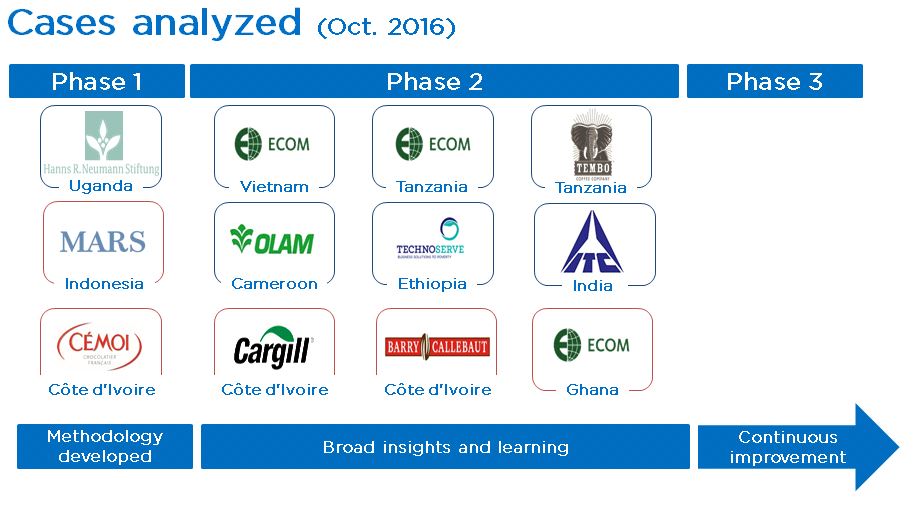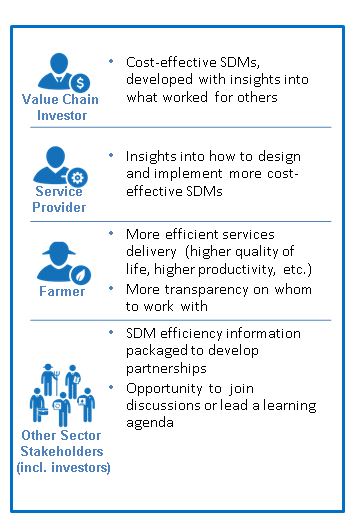 Understand
A holistic overview of your model
The business case for operating a service delivery model
The risks and opportunities, using a sensitivity analysis
Improve
Knowledge on key levers for optimizing performance of SDMs
Access to different types of finance for prototyping efficiency improvements
Learn
Learn across companies, public sector supporters, sectors and geographies by introducing a common language & methodology
Communicate
Showcase stories of impact at farmer level
From the individual case studies, IDH compiled a report of key insights.
Report available for download here: Service Delivery Models: Insights for continuous improvement and farm impact
Some of the key findings from this report include:
Farmer profitability as company driver – companies have shifted from focusing on farmer productivity to farmer profitability. A key component of this, is taking into account the overall farm system & cash flow needs of farmers when designing services.
Farmers as clients – companies see smallholder farmers as "clients" of their service delivery model instead of as beneficiaries. Farmer segmentation and tailor made service supply to specific farmer segments are seen as ways to optimize service supply to clients.
Long term investments are needed – companies increasingly become aware that without long term investments in rejuvenation in coffee and cocoa their services will not create long term positive impact at farmer level.
Models for financially viable service delivery –companies see the need to understand the degree to which services and types of farmers are subsidized by external funding and how revenue mechanisms make (parts of) their services commercially viable.
Adding value to service delivery – following the analyses, companies see the value of either adding new services to the model, adjust delivery mechanism, or scaling services that have proven effective.
As an outcome of the first phases of the SDM analysis, issues flagged by multiple companies as being of critical importance, have become topics for further research.
In our next phase of the project we will look into how to:
Improve farmer adoption and loyalty rates
Use farmer profiles to tailor make service packages that put the farmer needs first
Drive down costs (for farmers and service operators)
Sustainably finance a market driven SDM (types of finance, types of farmers)
Create a positive enabling environment for prototyping efficiency improvements in SDMs
In addition to taking a deeper dive into the topics mentioned above, IDH will continue to analyze a broader range of SDMs. The learnings from the analysis and 'deep dive research' will be disseminated via webinars and knowledge sharing events, to accelerate the growth of market driven services for smallholders.
We are looking for additional partners both interested in gaining insight into their existing service delivery and in prototyping new approaches. If you or your organization are curious to learn more, contact Julia Bolton at Bolton@idhtrade.org .
Contact us for more information