IDH convenes companies, CSOs, governments and others in public-private partnerships. Together we drive the joint design, co-funding and prototyping of new economically viable approaches to realize green & inclusive growth at scale in commodity sectors and sourcing areas.
Our approaches are designed to drive sustainability from niche to norm in mainstream markets, delivering impact on Sustainable Development Goals. We focus on creating positive impact on deforestation, living incomes and living wages, working conditions, responsible agrochemical use and gender.
IDH is supported by multiple European governments, including our institutional donors: BUZA, SECO and DANIDA and we work together with over 600 companies, CSOs, financial institutions, producer organizations and governments in 12 sectors and 12 landscapes in over 40 countries worldwide. Want to know more? Download our IDH Annual Report 2018.
Our value proposition
IDH's mission is built upon three core values: convening, co-financing and learning & innovating. We convene public-private partnerships to jointly set ambitious targets and formulate co-investment plans that unlock scaling of sustainable production & trade to deliver large scale impact on the Sustainable Development Goals.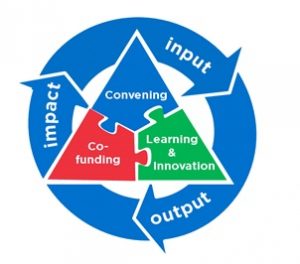 Convening
IDH convenes public private partnerships, balancing the interests of governments, CSOs and companies. We create common language and understanding of issues. We co-design and drive ambitious sustainable investment plans that leverage the interests and powers of companies and governments, and deliver large scale, systemic and sustainable change.
Co-financing
We co-finance the prototyping of new approaches that are modeled to accelerate green and inclusive growth. We only co-fund when there is over 50% of private funding available; if the approaches are innovative: we don't fund business as usual and if we can prove a strong public social and environmental added value: our funds must stretch the public good agenda. And we pilot finance facilities to de-risk loans to smallholder farmers.
Learning and innovating
Through prototyping we adapt, learn and innovate to make sure our approaches are cost efficient, economically viable, scalable and can be embedded and institutionalized by us and others. We gather insights from experts that help us with our design, and disseminate our experiences and learning through publications, key notes and workshops.