Nine major retailers in the UK have joined forces to commit to a living wage for banana workers in their international supply chains. This initiative complements similar agreements in Belgian, Dutch and German markets.
1 March 2023, London, United Kingdom – UK retailers: Aldi, Asda, Co-op, Lidl GB, Marks and Spencer, Morrisons, Sainsbury's, Tesco, and Waitrose, supported by IDH, are working with a collective goal to close the living wage gap within their banana supply chains by the end of 2027.
This is a unique opportunity for retailers to lead the way and demonstrate to our supply chain partners that we are serious about doing our part to enable banana workers to earn a living wage.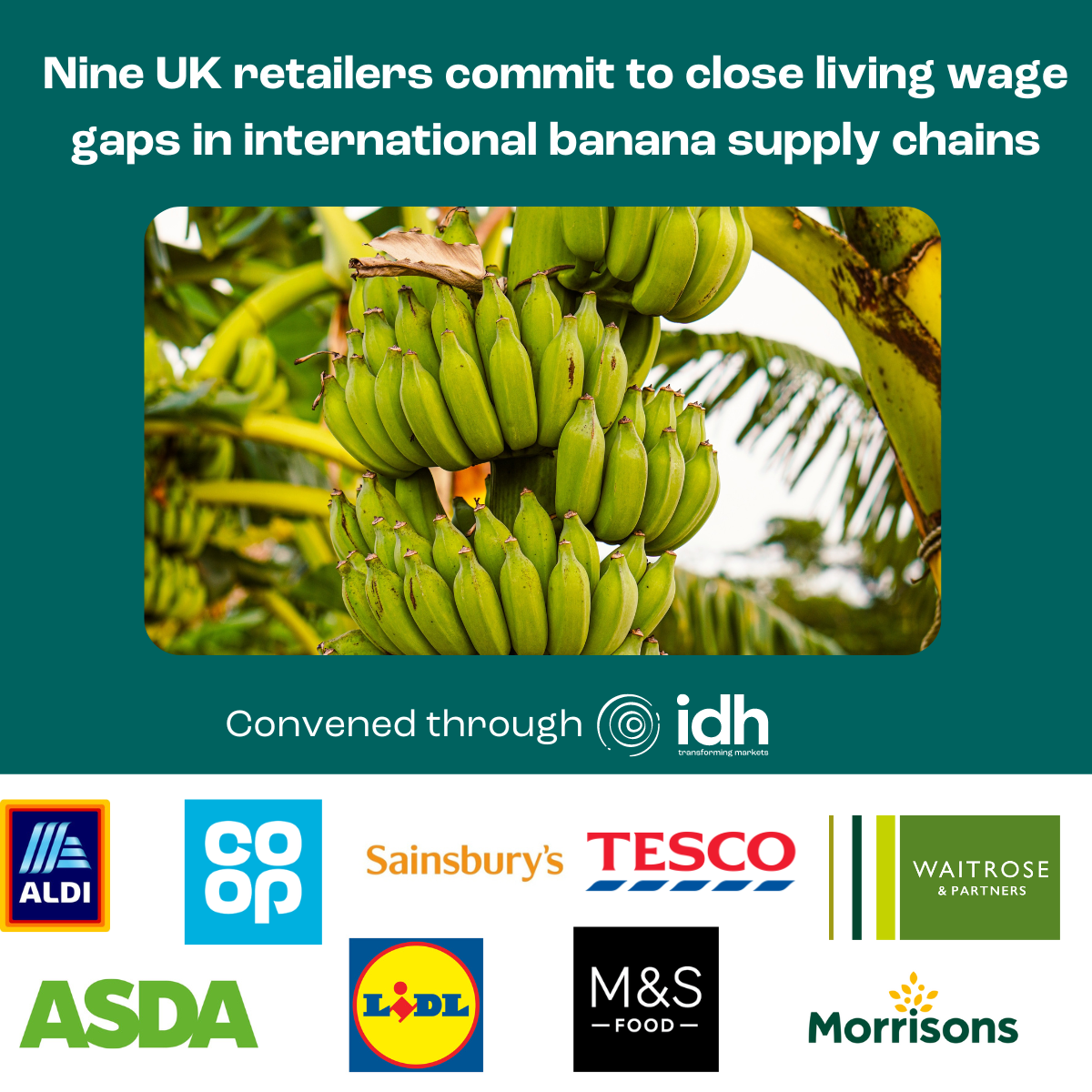 A spotlight on bananas
Bananas are one of the most commonly sold fruit in supermarkets all over the world. British consumers enjoy over 8 billion of them each year. These bananas are mainly sourced from Central American, South American, and West African countries where data indicates workers are not always able to earn a living wage. Paying a living wage – equivalent to the volumes sourced – throughout international banana supply chains is also a pledge in similar retailer commitments based in Belgium, The Netherlands, and Germany. More consumer markets tackling this issue means increased leverage to create impact on a global scale.
What is a living wage?
A living wage ensures that, in a particular time and place, the pay received by a worker is sufficient to afford a decent standard of living for the worker and their family. Elements of a decent standard of living include access to food, water, housing, education, healthcare, transport, and other essential needs. As such, closing the gap between the current wage and the living wage improves a workers' standard of living.
Making the commitment a reality
To bring this commitment to life, the retailers have agreed to work according to the IDH Roadmap on Living Wages and will calculate the living wage gap in their supply chains using tools like the IDH Salary Matrix. In addition to analyzing their individual company processes and procurement practices, the coalition members will work in partnership with other retail initiatives, suppliers, producers, and stakeholders like NGOs, certifiers, and trade unions to achieve their goals. The coalition will also work in close collaboration with relevant standard organizations such as Fairtrade and Rainforest Alliance to work towards living wages for workers.
As the neutral global platform for multi-stakeholder collaboration on the banana sector, the World Banana Forum welcomes initiatives that promote living wages and sustainability
A call to action
The United Kingdom comprises four percent of global banana imports. The British coalition of retailers call upon retailers in other consumer markets to join them and the initiatives underway in Belgium, The Netherlands, and Germany to make living wages a reality for all banana workers.
About
IDH puts people, planet, and progress at the heart of trade by leveraging the power of markets to create better jobs, better incomes, a better environment, and gender equity for all. Headquartered in the Netherlands, IDH has approximately 400 employees globally, operating in 50 with over 1000 public and private partners. In the UK, IDH is currently working with partners in the banana, cocoa, floriculture, and tea sectors.
Contact
For more information or questions, please contact Nicola Swann, Communications Officer at IDH: swann@idhtrade.org.
Additional Resources
Achieving living wages for workers in global banana supply chains is a priority for the Fairtrade Foundation and will require collective, sector wide action. We very much welcome the commitment from UK retailers to pay banana workers a living wage by 2027. Fairtrade remains committed to working with IDH and the UK retailers to drive action towards the realisation of living wages for banana workers whilst also ensuring that any measures taken to fulfil this commitment do not disadvantage small scale banana farmers, whose livelihoods depend on international supply chains
Banana Link welcomes this substantive collective commitment to ensure that any worker involved in supplying bananas is paid a living wage. For 20 years we have worked to ensure that this issue is on the agenda of supermarket chains and look forward to supporting them in achieving their collective and individual goals. The challenge now is to pay prices that enable suppliers to negotiate the closing of wage gaps with the independent trade unions that represent plantation and packhouse workers. We also believe that retailers have a responsibility to ensure that they are sourcing from small-scale growers, who often lead the way in good ecological practices. We see the commitment as a precursor to ensuring living wages and incomes are paid to all those involved in supplying the whole range of products sold by retailers.