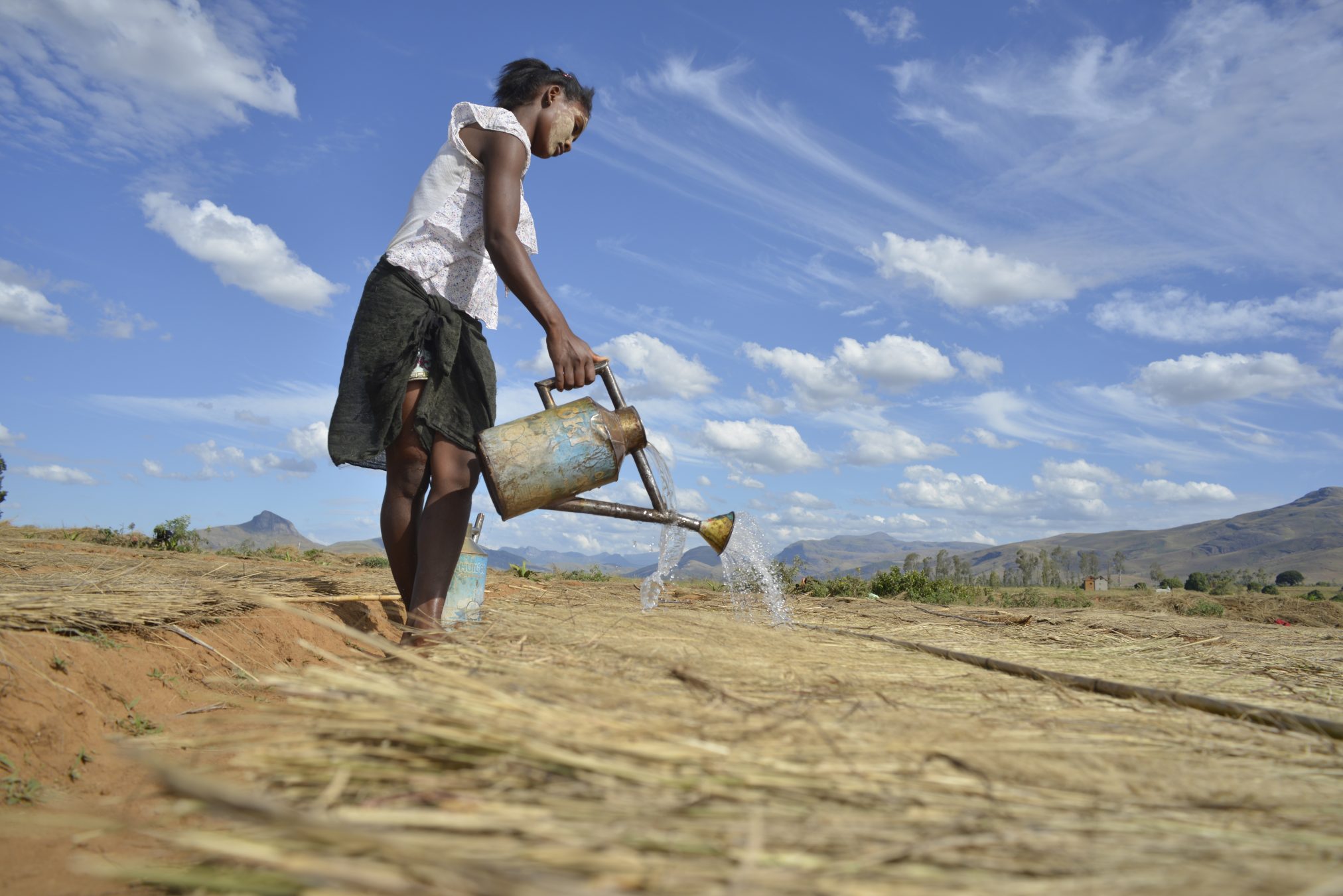 © Aqre / Photographer: Maurice BoyerParis, October 26, 2022 – Mirova announces the 10th investment of its sustainable land use strategy, aimed at supporting the development of Aqre Group, a leading producer of natural ingredients for the pharmaceutical, cosmetic, food and beverage industry. The $US 10 million investment will specifically allow the implementation of sustainable land management practices in Madagascar in partnership with thousands of smallholder farmers.
Madagascar is among the 10 poorest countries in the world with 81% of the population living on less than $1.90 per day as of 2022 . Living conditions remain dire for many, especially rural dwellers. Due to a lack of funds, many farmers practice the "slash-and-burn" agriculture which leads to rapid yield declines in just a few seasons and increased land degradation due to depletion of nutrients and erosion.
In order to reverse such trends, providing funding and assistance for sustainable land management practices and agroforestry is essential.
Aqre Group (Aqre) specializes in the production and extraction of artemisinin and quinine under a vertically integrated model involving raw material production with smallholder farmers, processing, value-added creation, and distribution. The company operates in Madagascar under two entities, Bionexx and Qimpexx, and has developed an innovative programme dedicated to generating positive environmental and social impacts.
Aqre especially supports smallholder farmers by providing seedlings, equipment, and training on better agroforestry practices, contributing to
• better land management,
• landscape restoration,
• improved livelihoods in the region.
The $US 10million funding provided by Mirova's Land Degradation Neutrality Fund (LDN Fund) will allow Aqre to:
– directly improve the livelihoods of 32,000 smallholder farmers in rural areas through complementary revenues from artemisia and cinchona production.
– to prevent soil degradation over 13,000+ha through permanent cover, and to improve soil fertility management and agroforestry
For this transaction, Aqre group relied on RebelGroup as the sole financial advisor.
In addition, leading up to the investment, Aqre received support from the LDN Technical Assistance Facility, managed by IDH. To deepen their social and environmental impacts through this investment, Aqre, Mirova and IDH are in the process of co-designing interventions aimed at increasing biodiversity through agroforestry, advancing gender equality and increasing smallholder income by exploring the potential for a carbon program.
This new investment brings the Land Degradation Neutrality Fund's portfolio to a total of 10 projects in 12 countries (Bhutan, Brazil, Colombia, Ghana, Kenya, Laos, Madagascar, Morocco, Nicaragua, Peru, the Philippines, and Sierra Leone). So far, Mirova has invested in more than 30 projects worldwide in the space of natural capital.
Johann Fourgeaud, Investment Director, Mirova, comments: "We are very proud to team up with Aqre. The production of value-added ingredients together with vertical integration can become a powerful engine to efficiently support the implementation and dissemination of sustainable land management practices. Like other investees in the LDN Fund's portfolio, Aqre has the ambition to generate significant environmental and social impacts together with solid economic development benefits."
The information provided reflects Mirova's opinion as of the date of this document and is subject to change without notice.
Background Information
For information on how Land Degradation Neutrality (LDN) Fund(1) and the Technical Assistance Facility work together towards Land Degradation Neutrality, read through these projects highlights here: https://www.idhsustainabletrade.com/ldn-insights/
About Mirova
Mirova is a management company dedicated to sustainable investments and an affiliate of Natixis Investment Managers. Through conviction management, Mirova's goal is to combine long-term value creation and sustainable development. Pioneers in many areas of sustainable finance, Mirova's talents aim to continue innovating in order to offer their clients solutions with high environmental and social impact.
Mirova and its affiliates manage €25.5 billion as of June 30, 2022.
Mirova is mission-driven company, labeled B Corp*.
*The reference to a ranking or a label does not prejudge the future performance of the funds or its managers.
MIROVA
Portfolio Management Company – Anonymous Company
RCS Paris No.394 648 216 – AMF Accreditation No. GP 02-014
59, Avenue Pierre Mendes France – 75013 – Paris
Mirova is an affiliate of Natixis Investment Managers.
> Website: www.mirova.com
> Follow Mirova on LinkedIn and Twitter
About Natixis Investment Managers
Natixis Investment Managers' multi-affiliate approach connects clients to the independent thinking and focused expertise of more than 20 active managers. Ranked among the world's largest asset managers1 with more than $1.1 trillion assets under management2 (€1.1 trillion), Natixis Investment Managers delivers a diverse range of solutions across asset classes, styles, and vehicles, including innovative environmental, social, and governance (ESG) strategies and products dedicated to advancing sustainable finance. The firm partners with clients in order to understand their unique needs and provide insights and investment solutions tailored to their long-term goals. Headquartered in Paris and Boston, Natixis Investment Managers is part of the Global Financial Services division of Groupe BPCE, the second-largest banking group in France through the Banque Populaire and Caisse d'Epargne retail networks. Additionally, investment solutions are offered through Natixis Investment Managers Solutions and Natixis Advisors, LLC. Not all offerings are available in all jurisdictions. For additional information, please visit Natixis Investment Managers' website at im.natixis.com | LinkedIn: linkedin.com/company/natixis-investment-managers.
Natixis Investment Managers' distribution and service groups include Natixis Distribution, LLC, a limited purpose broker-dealer and the distributor of various U.S. registered investment companies for which advisory services are provided by affiliated firms of Natixis Investment Managers, Natixis Investment Managers S.A. (Luxembourg), Natixis Investment Managers International (France), and their affiliated distribution and service entities in Europe and Asia.
1 Cerulli Quantitative Update: Global Markets 2021 ranked Natixis Investment Managers as the 15th largest asset manager in the world based on assets under management as of December 31, 2020.
2 Assets under management ("AUM") of current affiliated entities measured as of June 30, 2022 are $1,156.7 billion (€1,106.7 billion). AUM, as reported, may include notional assets, assets serviced, gross assets, assets of minority-owned affiliated entities and other types of non-regulatory AUM managed or serviced by firms affiliated with Natixis Investment Managers.
NATIXIS INVESTMENT MANAGERS
French Public Limited liability company
RCS Paris n°453 952 681
Registered Office: 43, avenue Pierre Mendès-France – 75013 Paris
Natixis Investment Managers is a subsidiary of Natixis.