Addressing cocoa-related deforestation and forest degradation in Cameroon through a multi-stakeholder partnership
Cameroon is an important cocoa producing country, the 5th largest in the world. Growing conditions for cocoa are ideal in the Congo Basin region, where rainforests maintain moist tropical conditions. However, these forests are under threat, as the country's objective to double cocoa production by 2020 may translate into expansion in primary forests and protected landscapes along the way.
Companies, governments and farmers have an interest in increased cocoa production, but not at any cost. To increase production sustainably, protect National Parks and forest areas and help farmers find a sustainable livelihood, IDH and partners are supporting the development of a Roadmap to Deforestation-Free Cocoa and the Green Commodity Landscape Program (GCLP) in Cameroon.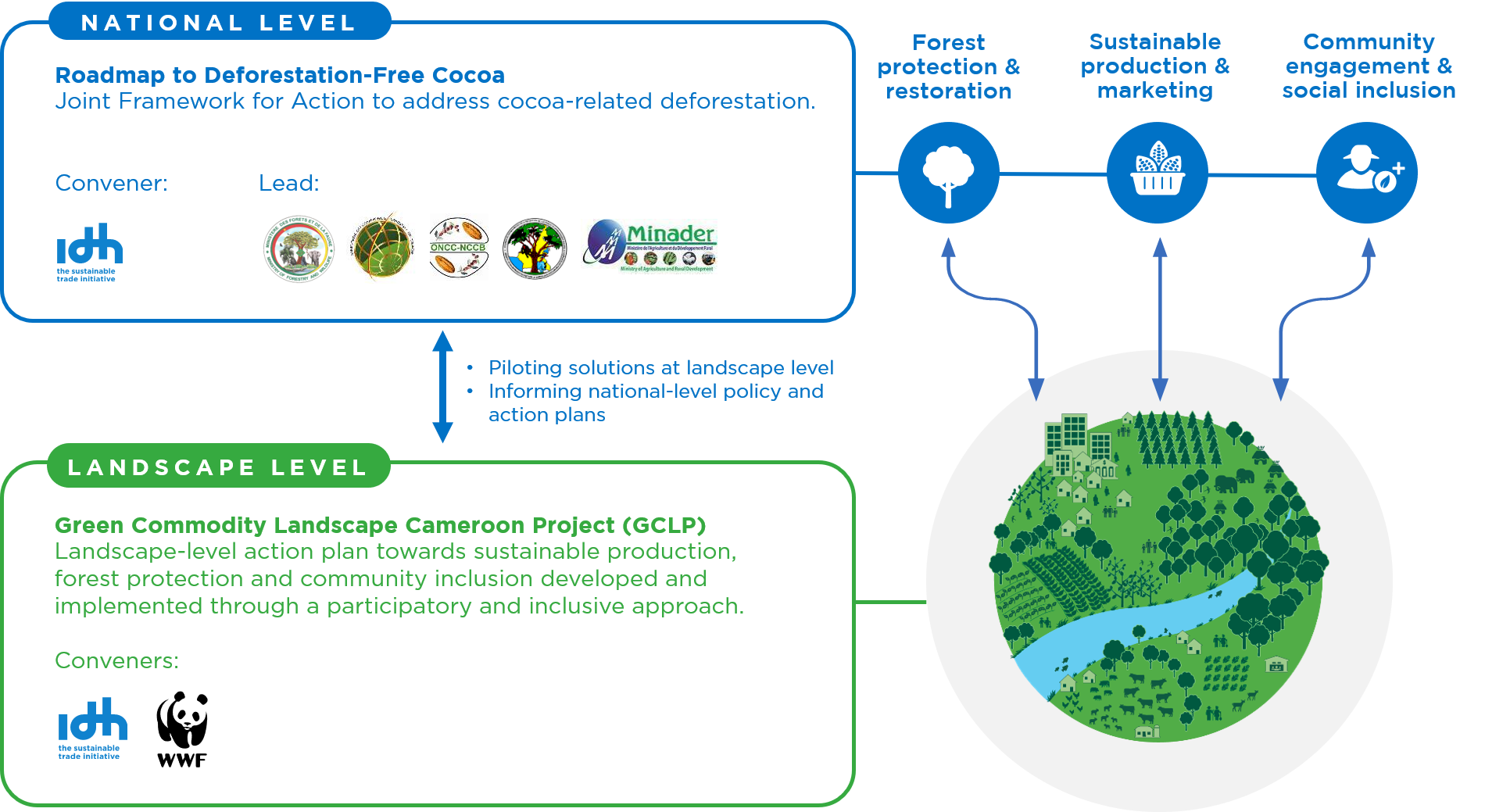 The Roadmap to Deforestation-Free Cocoa operates at a national level to support the design and implementation of new policy instruments, guidelines and action plans to tackle cocoa-related deforestation in Cameroon. The Roadmap is developed with three driving objectives:
Conservation of National Parks and forested land, as well as restoration of forests that have been degraded by human activities, in particular encroachment by cocoa farms among other factors.
Sustainable intensification and diversification of income in order to increase farmers' yields and livelihood, to grow "more cocoa on less land" and thereby reduce pressure on forests.
Engagement and empowerment of cocoa-growing communities.
The Green Cocoa Landscape Program (GCLP), developed in collaboration with the World Wildlife Fund, aims to promote sustainable development of the Cameroonian cocoa sector, contribute to forest protection and create a sustainable livelihood for farmers and the surrounding communities.
Municipalities selected by the GCLP to pilot innovations will be empowered with policy reforms and actions designed through the Roadmap to Deforestation-Free Cocoa. Pilots will develop land use planning and management, identify investment opportunities and create new business models that can attract investors.
The program is now scoping, which includes the identification of the priority municipalities, including a more in-depth analysis of the main challenges and opportunities. This will lead to the identification of possible strategies for these municipalities around landscape governance, sustainable production, environmental protection and social inclusion.
Elvis Ngwa

Senior Program Officer Cocoa & Landscapes

Joël Martin Atangana Owona

Program Manager Cocoa & Landscapes