This project aims to increase access to service delivery for smallholder Ugandan coffee farmers by using dry mills as service centers for farmers. Service delivery to farmers takes a variety of forms in this project. Firstly, the provision of rental equipment to individual smallholder farmers and communities alike, including pruning equipment, drying trays and crop protection equipment. Nurseries will also be established so that farmers have access to high yield and disease-resistant planting material that can gradually rejuvenate old plantations. At the service centers reliable and quality inputs can be bulked and are thus available to farmers at a competitive price. Moreover, the service centers are the site for Good Agricultural Practices (GAP) training. Training on crop protection and management will be conducted using the 'Farmer Field School' approach. The four dry mills chosen to be service centers for the farmers also serve as data collection points to measure and tailor services provided based on the needs of the farmers while still providing milling services, transportation services and temporal storage facilities.
The project also provides financial services to coffee farmers. Through a 'Village Savings and Loans Associations' (VSLA) methodology, savings from individual farmers are mobilized at a community level to give farmers access to loans for financial inputs and household level finance. Individual farmers and farmer groups are also linked to formal financial institutions.
The approach of this project means that the coffee supply chain is streamlined– providing farmers with direct access to an exporter through a network of depot committees and their smallholder producer constituents as well as access to dry mills. Increased grower groups and associations creates better visibility in the market, collective marketing and higher economies of scale while also providing more traceability.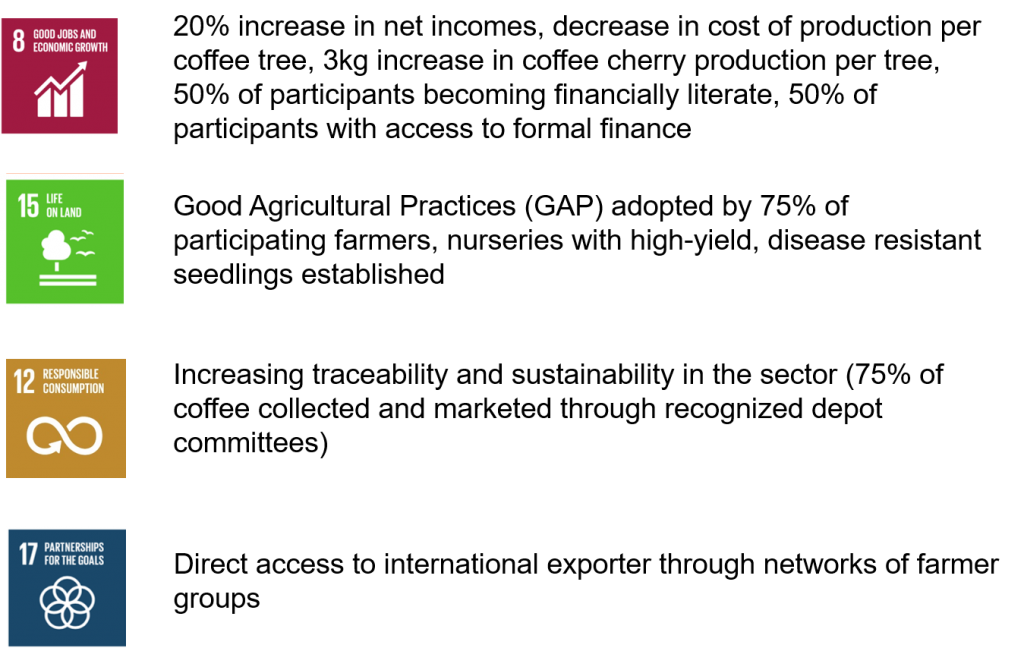 Contact
Robert Nangatsa
(Ugacof Ltd)