The Sustainable Grapes Initiative – India aims to increase the sustainability of grape production.
The outcome of the program will not only benefit SIFAV partners when importing grapes from India but also support the domestic market by decreasing risk and increasing quality through sustainability. At the same time, the project will also help improve the businesses and livelihoods of small farmers, workers and relatively larger growers in India.
During the first year, the Sustainable Grapes Initiative – India (SGI-I) will focus on grower and labour capacity building.
Some of the major sustainability challenges for the grapes sector in India focus on decreasing profitability of smallholders, misuse of agrochemicals and inputs, and sub-standard working conditions and livelihoods of growers and workers alike. Issues such as climate resilience, policy advocacy, infrastructure, and research and development are at this time beyond the purview of the intervention but will be considered as the program develops.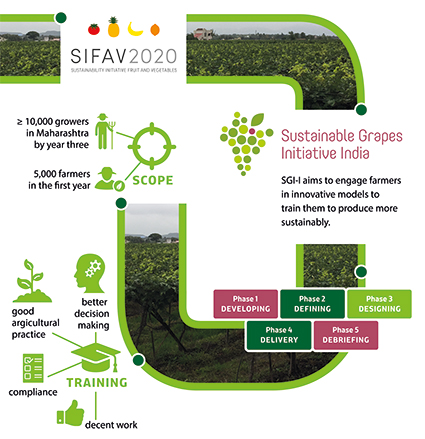 In 2014, SIFAV partners including Dole, Univeg, Levarht, Jaguar, ICA Sweden, Superunie, Syngenta and Timerfruit decided to form a working group to discuss their interest in sourcing sustainable grapes from India.
With a public commitment to sustainability, these organizations encouraged SIFAV to look into possible collaborations in India which could accelerate the supply of sustainable grapes.
SGI-I is a direct outcome of this push in market demand.
A first step to develop a program approach was taken in December 2015.

SIFAV along with the Agricultural & Processed Food Products Export Development Authority (APEDA) and the Netherlands Embassy in India hosted the first stakeholder roundtable on pertinent issues and imminent challenges in the Indian grapes sector. Around 50 participants addressed issues such as moving beyond simple interventions and the complexities in trade. The outcome of the meeting, together with research studies being carried out by ICCO and CMS over the next few months, has formed the basis for the program interventions. Subsequent meetings of SIFAV and SGI-I have helped to focus the program intervention in the first year to grower and labour capacity building. The strategy for the field implementation is still being developed to cater to the unique challenges in the sector.
The Sustainable Grapes Initiative – India was launched in April 2016 together with partners and industry leaders. The next step is for SGI-I members to submit proposals, choose an implementer and start the farmer engagement.
Sustainability has become strongly associated with mitigation of sourcing and reputational risks for a company. Participating in sustainability is no longer optional for organizations, but rather a real and increasingly important component of core business.
The benefits of joining the Sustainable Grapes Initiative – India:
An opportunity to help create a common agenda for sustainability in grapes production with relevant stakeholders that cater to your needs and the wider needs of sector
Involve in a pre-competitive platform presenting an opportunity to encourage sector-wide learning and share best practices and experiences
An opportunity to pro-actively present a united front to the global community about the Indian Grapes sector and the advantages received when associating with the program
Fostering partnership and collaborations across the value chain to address common issues in the grapes sector and deliver lasting impact
Contact us for more information
Global Director Textiles & Manufacturing

Global Director Value Chains Transformation