The Cocoa and Forests Initiative is an active commitment of cocoa-producing countries Côte d'Ivoire, Ghana and Colombia with leading chocolate and cocoa companies. In each country, far-reaching Frameworks for Action have been signed to end deforestation and restore forest areas. Central to the Frameworks is a commitment to no further conversion of any forest land for cocoa production. The companies and governments pledged to eliminate illegal cocoa production in national parks, in line with stronger enforcement of national forest policies and development of alternative livelihoods for affected farmers. Côte d'Ivoire and Ghana combined produce approximately 70% of the world's annual supply of cocoa, with Colombia responsible for an additional 1%. Cocoa is the main ingredient in chocolate and a range of other consumer products.
The signing of the Frameworks for Action in Côte d'Ivoire and Ghana took place in November 2017; the Colombian Framework for Action was signed on 17th July 2018. This set of public-private actions represent unprecedented commitments on forest protection and restoration, and sustainable cocoa production and farmer livelihoods. The combined actions, which are aligned with the Paris Climate Agreement, will play a crucial role in sequestering carbon stocks and thereby addressing global and local climate change.
Final Frameworks are available here:
Côte d'Ivoire Framework / Côte d'Ivoire Cadre d'Action Commune
Colombia Framework / Colombia Acuerdo Marco para la Acción Conjunta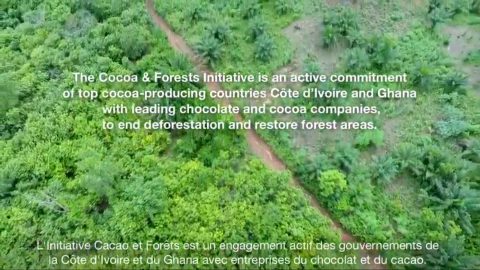 Included in the Ghana and Cote d'Ivoire Frameworks is the commitment to a differentiated approach for improved management of forest reserves, based on the level of degradation of the forests.  Up-to-date maps on forest cover and land-use, as well as socio-economic data on cocoa farmers and their communities will be developed and publicly shared by the governments. The chocolate and cocoa industry agree to put in place verifiable monitoring systems for traceability from farm to the first purchase point for their own purchases of cocoa, and will work with the governments to ensure an effective national framework for traceability for all traders in the supply chain.
The governments and companies agree through the Frameworks to accelerate investment in long-term sustainable production of cocoa, with an emphasis on "growing more cocoa on less land". Key actions include provision of improved planting materials, training in good agricultural practices, and development and capacity-building of farmers' organizations.  Sustainable livelihoods and income diversification for cocoa farmers will be accelerated through food crop diversification, agricultural inter-cropping, development of mixed agro-forestry systems, and other income-generating activities designed to boost and diversify household income while protecting forests.
The governments and companies, which together represent an estimated 80+ percent of global cocoa trade, commit to full and effective consultation and participation of cocoa farmers in the process, and promotion of community-based management models for forest protection and restoration. The governments will assess and mitigate the social impacts and risks of any proposed land-use changes on affected communities, and ensure provision of alternative livelihoods and restoration of standard of living of affected communities as needed.
The governments and companies have committed to a comprehensive monitoring process, including a satellite-based monitoring system to track progress on the overall deforestation target, and annual publicly disclosed reporting on progress and outcomes related to the specific actions in each Framework.
The Cocoa and Forests Initiative was launched in 2017, in an effort led by the World Cocoa Foundation, IDH, the Sustainable Trade Initiative, and The Prince's International Sustainability Unit. The initiative has coordinated closely with several organizations, including the World Resources Institute, which has provided support on deforestation monitoring in West Africa through its Global Forest Watch Pro platform and Forest Atlas technology.
The Cocoa & Forest Initiative is generously supported by: P4F and BUZA.
Background
Deforestation of tropical rainforests is a major issue in Côte d'Ivoire, Ghana and Colombia. Over a ten-year period, approximately 2.1 million hectares of forest area have been cleared in Côte d'Ivoire, 1 million in Colombia and 820,000 hectares in Ghana. One quarter of this deforestation has been attributed to cocoa production. Sustainable cocoa production provides crucial employment and income to local communities in both countries, underpinning national social and economic development. Accelerated transition to sustainable livelihoods is essential for ensuring the long term economic viability of over two million smallholder farmers who earn income from the crop's production.
Building on existing initiatives
Building on existing initiatives is key to address deforestation. The Frameworks actively seek synergies with relevant initiatives, especially the Tropical Forest Alliance. In both Ghana and Côte d'Ivoire signatories are also  part of the Declaration for the Sustainable Development of the Oil Palm Sector in Africa. Other relevant platforms in Ghana are set up by Solidaridad (mining), Touton, and AgroEco as well as the New Ghana Cocoa Platform. In Colombia engagement is linked to the the Food and Land Use Coalition, and the World Economic Forum's New Vision for Agriculture (whose secretariat is hosted by IDH).
Partners of the Cocoa & Forests Initiative