The public-private partnership with Rainforest Alliance, Unilever and the Kenyan Tea Development Agency aims to transform the Kenyan tea sector through training and certification of 560.000 KTDA smallholder tea farmers towards sustainable agricultural practices.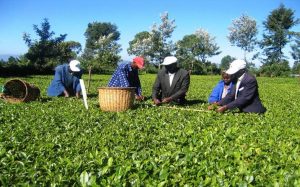 Currently there are over 500 KTDA (Kenyan Tea Development Agency) Farmer Field Schools in Kenya. Small scale tea farmers learn to grow tea more sustainably, which proven to increase their yields. They  also learn how to grow other crops like cabbages, tomatoes and carrots. This adds to their income and increases the food security in the region.
The objective is to fully embed sustainable agricultural practices in KTDA small scale tea production. KTDA will further roll out its Farmer Field School methodology to embed sustainability in the organisation structure. The partnership will combine the Rainforest Alliance trainings with the Farmer Field School (FFS) trainings to maximize sustainable impact. The aim is to certify 560.000 KTDA farmers (65 KTDA tea factories), and drive solid social issues both on factory and on farm level.
Expectations
By fully integrating the approaches of FFS and Rainforest Alliance certification, FFS will be the backbone of the certification process. Deeper learning by the FFS is expected to deliver more benefits. Through this program, KTDA will have developed enough capacity to self sustain the FFS extension services and RA certification.
The goal is that all the FFS will be registered by the Kenyan Ministry of Gender, Sport and Social services. The FFS can therefore be used to drive new trainings to farmers on e.g. climate change and social issues in collaboration with the Ethical Tea Partnership (ETP). 
Desirable results
A well embedded structure in Kenya for sustainable tea farming
Higher and better quality yields due to better pruning, tipping and plucking techniques
Improved livelihoods for the 560.000 KTDA small scale farmers
Better water management (e.g. by replanting indigenous trees waterways have returned)
Better waste management (e.g. compost pits)
Strong market access through RA certification
A self sufficient sustainable tea economy in Kenya 
An end-term impact study is to be finalized and results will be shared soon.