Beyond Chocolate partners report on their progress on a yearly basis. This reporting is crucial, as it helps to track progress towards the partnership's joint objectives, as well as raise transparency and accountability in the sector.
To make sure there is a certain level of alignment in the reporting, an Accountability, Monitoring and Evaluation (AME) Framework was set up. Consultant C-Lever.org was appointed to develop this framework. The AME Framework enables partners to report on the progress made vis-à-vis the overall and individual commitments and additional ambitions of the  partnership. Partners used this framework to report on their progress for a first time in 2020.
Starting from 2020, Beyond Chocolate has been harmonizing monitoring systems with the other National Platforms on Sustainable Cocoa in Europe (or ISCO's). This harmonization will considerably facilitate the reporting process for partners. The previous AME framework has now been incorporated in the newly formed joint monitoring framework.
The 2019 Progress Report
In June 2020, Beyond Chocolate published its first annual report, containing the aggregated data provided by partners. The report showed that about 50% of the cocoa used for couverture chocolate production in Belgium, is now sourced in compliance with at least one certification standard or corporate sustainability program. This means the partnership is halfway to its 2025 goal. The report also indicated that there are many data gaps on indicators related to Living Income and Deforestation. Over the next years, the partnership wants to increase transparency on these data points.
Beyond Chocolate 2019 Annual Report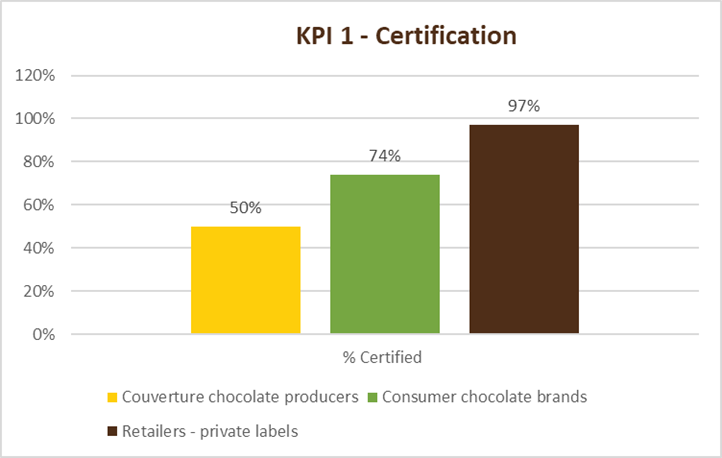 The Monitoring Working Group
Beyond Chocolate partners are actively involved in the development and implementation of the AME Framework. In March 2020, a specialized AME working group was formed which provides strategic guidance on the way in which the partners of Beyond Chocolate should be kept accountable, monitored and evaluated. The AME working group is now incorporated in the joint Monitoring Group of the National Platforms on Sustainable Cocoa in Europe. 
The 2021 Online Reporting
Beyond Chocolate and GISCO are now bringing this newly developed common monitoring framework into practice. The two platforms have synchronized monitoring cycles and have together commissioned the development of a joint online reporting tool. Reporting signatories of Beyond Chocolate and GISCO are invited to log-in to this tool in May 2021 and report for both initiatives at the same time. Results of the reporting will be published in the Beyond Chocolate annual report of September 2021. 
Find the Reporting Guidance Document Here