The IDH Salary Matrix is a practical tool to help you evaluate how the total remuneration received by your employees (including wages, bonuses, cash and in-kind benefits) compares to the relevant living wage benchmarks for your region. The tool supports supply chain efforts on wage transparency and shared responsibility for addressing living wage gaps.
Before starting a Salary Matrix for the first time, we highly recommend that you visit the Salary Matrix E-Learning Site and review the training videos, User Manual and Frequently Asked Questions.
---
For additional languages, please use these links:
How to use the Salary Matrix
To help you and your suppliers complete the Salary Matrix, please visit the Salary Matrix E-Learning Site and review the training videos, user manual and Frequently Asked Questions.
Q&A sessions are available to help answer any outstanding questions you may have.
Instructions to join:
Review the Salary Matrix E-Learning Site, User Manual and FAQ
Register to join the relevant Q&A session
Have your questions ready and join the session!
Upcoming Salary Matrix Q&A Sessions, register to join now:
In English:
In Spanish:
---
Being a producer in a number of countries, Fyffes calculates the current total remuneration of employees including bonuses and the value provided by in-kind benefits with the Salary Matrix. This allows us to use a single harmonized tool to easily identify gaps, if any. We can use this information to find solutions in collaboration with all our internal and external stakeholders.
– Julie Cournoyer,  Fyffes
---
2.1 How to roll out the Salary Matrix
Start by choosing a single

commodity

and identifying which

producers

the volumes come from.
Then select the producers in scope.
When selecting producers, we recommend first selecting those with whom companies have a

strong relationship

. If Due Diligence Reports indicate potential labor rights risk for certain commodities or countries, those should be included as priority.
If there are many producers in the company's supply chain (i.e. > 200), it is recommended to divide the effort of rolling out the Salary Matrix over a period of 2 or 3 years. For instance, living wage gaps could be measured for at least one third of volumes each year over a period of 3 years.
That means, producers who supply one third of the purchasing volumes should apply the Salary Matrix in year 1. By the second year, living wage gaps should be measured for at least two thirds of volumes. After three years,

all volumes

should be measured.
Introduce

suppliers to the company's efforts on living wage.
Ask selected producers to

measure

wages compared to living wages in their facilities using the Salary Matrix and share relevant materials. The Salary Matrix should be completed for any and all facilities of production. A facility is any location that employs workers under one payroll system. We recommend using a unique identifying code for each facility, so that supplier information can be matched with the source and volumes purchased from that producer.
Next, it is essential to

ensure the quality

of the data with the support of a third-party. Conduct on-site (preferably) or remote verification check with a sample of users to ensure the data was entered correctly into the digital Salary Matrix.
Auditing of the Salary Matrix is also highly recommended in order to

ensure validity

of the data. To read more about our auditing guidelines and training for 1st, 2nd, and 3rd level auditors, see Step 3.

Results

of each Salary Matrix can be shared with the company by the producer. IDH can also provide support to companies to aggregate living wage gaps in the entire supply chain and develop projects to take action. To read more about taking action, see Step 4.

Continue to measure

gaps each year to track progress towards closing living wage gaps.
To map participating producers and track progress towards mapping 100% of a supply chain, companies can use the IDH Supply Chain Gap Tracker. This tool helps companies track whether the producers of a commodity they purchase have measured their living wage gaps. To access this tool, click
To ensure producers are able to share their data with a company, they must have a unique identifying code that can be connected to the volume of product purchased.
Codes for all producers should be generated and shared with producers to input in the Salary Matrix.
If producers have already completed the Salary Matrix, they can easily create a copy of their Salary Matrix within the tool and submit their Salary Matrix with the new code.
---
2.2 The Salary Matrix
The Salary Matrix has been used to measure living wage gaps in over a dozen countries and six agricultural sectors. Ongoing testing with manufacturing and production is being carried and further changes will make efforts to better reflect those sectors.

It is a tool that has proven useful for:
Calculating current remuneration including bonuses and in-kind benefits.
Comparing against living wage benchmarks.
Unveiling barriers and find solutions together with suppliers and retailers.
Tracking yearly progress over time.
Supporting work with certification programs that are introducing requirements on living wages.
Beginning to understand gendered aspects of work.
Raising awareness in the entire sector.

And more!
IDH believes that the only way prevailing wages can be measured accurately is by using tools like the Salary Matrix and that is why we launched it. Through this tool, companies can truly get a sense of what their own situation is vis-à-vis a living wage benchmark in the regions they produce.
The Salary Matrix closely follows and builds on guidance on calculating current wages to compare with Living Wage Benchmarks by leading Living Wage researchers, Martha and Richard Anker. Specifications for the Salary Matrix methodology were consulted with technical experts as part of the Technical Advisory Group. The tool has also been used by hundreds of producers and feedback has been and continues to be incorporated to improve the methodology.
The Salary Matrix was a tool originally developed by IDH and the Rainforest Alliance to address possible gaps between workers' total remuneration packages and living wage recommendations. This Version 1 of the tool was published in December 2018 as part of the project 'Next Steps in Sustainability: Measuring Impact and Assessing Living Wages' in Costa Rica and Belize, based on findings from seven pilot farms that volunteered to better understand the value of their salaries, bonuses, and benefits.
In May 2019, IDH held a public consultation to further refine the tool. The valuable feedback from private sector partners, certification bodies, and others laid the foundation for improvements to help all supply chain actors take effective action towards living wage. With support from Fairtrade, Rainforest Alliance, and others, further pilot tests then took place between September 2019 and January 2020 — collecting data from the tea, banana, coffee, pineapple, and flower sector in eight countries. All feedback was reviewed by the Roadmap on Living Wages, an initiative launched by IDH in 2019 to enable companies to work on the definitions, tools, and approaches to living wages in a uniformed way.
In spring 2020, all members agreed on improvements to the Salary Matrix, which resulted in the publication of Version 2. Throughout the process, IDH has been leading supporting partners engaged in the testing of the tool — from organizing consultation meetings to compiling feedback, analysing recommendations, and identifying practical ways to incorporate them into an improved second version of the Salary Matrix. Based on Version 2, the Digital Salary Matrix is now the primary tool in use.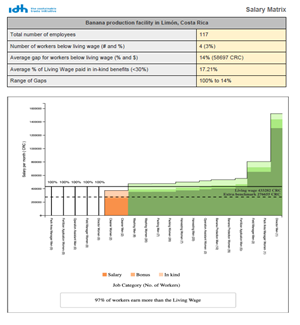 Upon completing the Salary Matrix, a user is presented with a final report. This report contains key information like the average size of the gap for workers below a living wage, as well as the number of workers below living wage and the total number of employees.
It also shows a comprehensive visual which displays all the job categories (or individual jobs) on the X axis, and the amount of remuneration, broken down by wages, bonuses, and in-kind benefits, on the Y axis. Job categories or workers earning more than the living wage are displayed in green while those below living wage are displayed in red. The horizontal line indicates the Living Wage Benchmark. A supplementary line for additional thresholds, such as minimum wage, may also be included in the graph if added by the user.
Additionally, the results include a complete table of the remuneration per job category.
IDH's Salary Matrix enables facilities to evaluate how workers' remuneration compares to the relevant living wage benchmark. To measure workers' remuneration, the tool evaluates workers' wages earned during a standard work week, plus bonuses, plus the value of in-kind benefits.
Workers – The Salary Matrix measures remuneration for workers which can be listed individually or grouped into job categories. A job category consists of any group of employees who are paid the same base or piece-rate amount, in the same way, perform generally the same tasks and receive the same in-kind benefits. For example, if a group of workers all pick bananas and are paid $1 per box, they will be in the same job category. If some workers are paid $1 per box and others are paid $1.10 per box, they will be in two different job categories. Each Job Category can range in size from one singular worker up to 10% of the workforce as long as the previous requirements are met.
This 10% limit and stipulation for joining workers into a single job category is intended to limit the negative effects of averaging. When workers whose remuneration varies significantly are joined into a single job category, averaging these into a single figure may hide wages that are lower than the average. For that reason, we recommend including workers individually in the salary matrix —therefore using each worker as a job category—if the payroll system easily facilitates this.
Standard Work Week Wages – Wages consist of gross wages earned during standard working hours (excluding overtime). Standard working hours are defined by the country or sector specific to the facility and are the number of hours before which overtime pay is mandatory by law. In countries where the standard work week surpasses ILO's standard work week of 48 hours, the 48-hour workweek applies. To be earning a Living Wage, workers must be earning sufficient remuneration during a standard work week. Thus, there is no inclusion of overtime pay. Therefore, in cases were workers work more than 48h a week, the tool won't consider the exact take-home pay but will only consider the wages earned in 48h and use this prorated wage to compare to the living wage.
The standard work week wage is derived by first gathering or calculating the hourly payment (excluding overtime).To do such calculations, the hours worked per week and hours worked per day must be recorded. For employees who receive time-related payments such as per hour, day, week or month, the calculation is simply the total amount (excluding overtime) divided by the total hours worked (excluding overtime.) (Hours worked per month is equal to hours worked per week multiplied by 4.35)
To derive the hourly rate when workers are paid per unit of productivity, the average productivity throughout the day (excluding overtime) is multiplied by the rate that they are paid for such productivity. Then, similarly to above, the total value is divided by the number of hours worked (excluding overtime).
Then, each hourly rate is multiplied by the standard work and by 4.35 weeks to represent a monthly figure.
It is important to consider that many facilities do not keep strict records of this information. This significantly limits the ability to confidently measure wages against the living wage benchmark: if hours are not properly tracked, this adjustment cannot be done accurately. For instance, most banana farms (with or without certifications) do not track the actual hours that employees work each day.
Also, some employment schemes avoid paying overtime by requiring workers to produce a certain amount before receiving any pay. When these productivity amounts are developed with workers or worker-representatives, there are likely labor violations that must be resolved.
Bonuses – Monthly or annual bonuses that are not mandatory by law but that employees can expect in advance and are regularly provided are included in the calculation of remuneration in the Salary Matrix. This includes additional pay given for high productivity and bonuses that are normally provided during the year such as end-of-year, 13th or 14th month, tenure and holiday bonuses. Profit sharing is not included. Bonuses are divided by the number of months worked in order to be compatible with the monthly value of wages.
In-kind benefits – In-kind benefits are only considered as remuneration if they are accepted by workers as being valuable, directly reduce the cost of basic living for a worker, are provided during regular working hours, are regularly provided, are expected in advance, and are not mandatory by law. Such in-kind benefits include food, transportation, family housing, healthcare, children's education, and childcare.
The Salary Matrix values in-kind benefits based on the total cost to the employer for providing the benefit to all workers who receive the benefit. If the workers must pay a subsidy for the benefit, this amount should be removed from the total. The remaining cost to the employer is divided by the number of workers in the job category. This calculation is done automatically in the "Job categories that receive in-kind benefits" section, rather than by the user.
Except in extreme situations, the total value of all in-kind benefits may equal no more than 30% of the total remuneration (wages, bonuses, and in-kind benefits). Similarly, individual benefits may be equal to no more than 10% of the total remuneration that an is paid (aside from housing, which may be equal to no more than 15% of remuneration). If workers must pay (even partially) for any in-kind benefit, the value of their contribution will be subtracted from the cost to the employer for providing this benefit. If the employer provides cash for any of the of the below-listed benefits directly to the worker, this cash will be considered in the bonus category.
Read more about which in-kind benefits can be included in the Salary Matrix.
Living Wage Benchmark – Remuneration can be compared against any living wage benchmarks published by an IDH-recognized living wage benchmark methodology. Some living wage benchmarks include reports that provide details beyond the living wage benchmark for a region. For example, an alternative living wage amount for when sector-typical bonuses or in-kind benefits are provided. Because the Salary Matrix V.2 already includes bonuses and in-kind benefits that workers receive, there is no need to use this adjusted benchmark.
---
2.3 Frequently Asked Questions
IDH will be the only organization with access to your data and we will keep this information under strict confidentiality as indicated in the disclaimer when you register for the use of this tool. IDH is a non-profit international organization that seeks to improve and scale up sustainable production and trade to deliver large scale impact on the Sustainable Development Goals. The information entered in the online version of the Salary Matrix will remain confidential: your name, the name of your company, and anything that could possibly identify your company will never be revealed. IDH may publish only aggregated reports which will use aggregated information (never individual facility data) to analyse living wage gaps across the world, trends and progress ,but will never disclose any individual data associated with a given user.
IDH believes that the only way prevailing wages can be measured accurately is by using tools like the Salary Matrix and that is why we launched it. Through this tool, individual companies can truly get a sense of what their own situation is vis-à-vis a living wage benchmark in the regions they produce. Currently, there are no other tools that calculate workers' remuneration to compare with living wage benchmarks.
For certain sectors in certain countries, prevailing wage data may be available. While this may be useful to have a preliminary understanding of wages for the sector, it cannot be used in place of the Salary Matrix to measure wages to compare with living wage for several reasons. Prevailing wage information is often season specific and do not fully captures what workers are earning during the full year of production. Also, it often focuses on one job category, such as the lowest paid workers, and does not include all workers in a facility. Most importantly, prevailing wage data often does not specify hours worked or adjust to the standard work week which is essential for comparing against living wage benchmarks. Prevailing wage data is also general, and not specific to a facility which may pay more or less than sector or country prevailing wages.
Wage information from Collective Bargaining Agreements (CBAs) may also be available and informative. However, it does not include sufficient detail to understand workers' actual take home pay or value of received in-kind benefits.
Comments or questions about the Salary Matrix can be sent to livingwagematrix@idhtrade.org.