We constantly identify best practices through our own work and the work of other companies. Below provides an overview of the five main actions that buying companies should consider. We showcase tools, tips and some examples on how to get started to implement effective solutions to close living wage gaps in supply chains.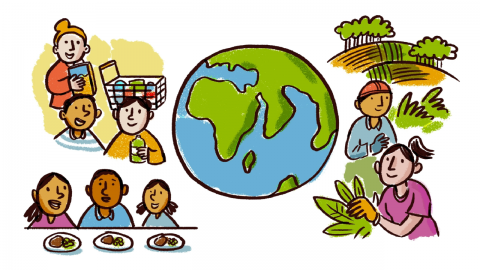 ---
Call to Action: Business to Business
During the Living Wage Summit in March 2021, together with a group of front-running companies we launched a Call to Action, from Business to Business, to build together a living wage economy. We believe that to secure living wages means investing in the future of business. We urge businesses to join us in our effort. With the companies that join, we will form a working group aimed to develop and scale up solutions for workers in global supply chains with the ultimate goal of a living wage.
Adopt better procurement and trading practices
Your company can make a significant change in workers' wellbeing through your decisions on how you source and produce your products and services. How do you express the values of your organization in your contracts and your work with suppliers? Sustainable practices, including social and environmental factors, should be considered alongside financial factors when buying/selling/trading products and services.
Confirming the company's commitment through procurement policies on living wage sends a strong signal to internal and external stakeholders. Wages are particularly sensitive to the direct or indirect effects of procurement practices because they are variable costs that can be easily affected by competitive pressures. Traditional procurement practices with the aim of maximizing short-term profits, such as electronic bidding and short-term contracting, can pose a threat to living wages.
Encourage demand for living wage products by sending a strong signal to your suppliers (e.g. through increased orders to suppliers that pay a living wage) and by building awareness among consumers of how they contribute.
Support suppliers to pay a living wage to their workers through long-term off take agreements, guidance on expected quality and support to reach it, and financial support, if necessary, through higher prices and/or access to finance for investments required to move towards living wages. As part of the negotiation process, discuss and agree on how additional value generated is distributed back to workers.
Prioritize shorter supply chains and engage in

direct and long-term sourcing

relationships. Strong relationships build trust, which allows you to work together towards long-term sustainability goals that improve productivity and quality that can support increased wages.
Build strong relationships with suppliers to implement

cost-plus pricing

that ensures living wages are factored in while enabling the business to remain viable and competitive. Agree on ways to proceed with suppliers, including an improvement plan with specific milestones to assess progress and prove the increase of workers' wages.
In lieu of direct supplier relationships, provide traders with detailed specifications, including

transparency and traceability

, and requiring the use of the salary matrix. Use your leverage as a buyer to ensure that the trader implements the right sourcing strategy.

Engage all relevant departments

in your business from the start: sustainability, procurement, marketing, and sales
---
Embrace transparency
How well do you know your supply chain? Transparency requires an in-depth understanding of what is happening in your supply chain, both up and downstream and sharing that knowledge internally and externally.
Transparency improves the efficacy of the due diligence process and is valued by financial institutions, rating agencies and consumers alike. It enhances business reputation by demonstrating a business' commitment to making steady progress on living wages.
Make purchases

contingent on traceability

and transparency. A sourcing commitment can help build trust with suppliers who share similar values on closing living wage gaps. Remember that transparency is a two-way street and providing information to your suppliers is best practice.
Make

public commitments

to close living wage gaps. Establish concrete milestones, and a commitment to measure progress over time. Ensure that your supply chain partners, both up and downstream, have a similar commitment to sharing information. This includes identifying and monitoring the living wage gap through the Salary Matrix.

Report publicly

on your progress. Transparency about the living wage gaps and their root causes demonstrates accountability and is key to enabling clear dialogue for progress.
Find a relevant living wage benchmark – IDH's benchmark finder tool can help you find living wage benchmarks based on recognized methodologies.

Monitor wages

in the supply chain – The IDH Salary Matrix provides important information that can be used to monitor progress on wages. The Salary Matrix includes detailed information on defining a living wage, and how they are measured and verified.
IDH audit

guidelines and training

for auditors. You can verify progress through auditing schemes that have embraced living wages and are using the Salary Matrix.
Data verification through auditing ensures

credibility

.
Share learnings on your journey to closing living wage gaps; this will demonstrate your progress and bring credibility to your endeavor.
---
Co-invest and implement practical solutions
Removing barriers and closing the living wage gap requires coordination and action among the relevant supply chain players.
Low wages reflect the variety of challenges at the supplier level, often related to low productivity, quality and prices, or limited workers' skills and social dialogue. Efforts to achieve living wages need to address these issues while supporting the long-term sustainability of the sector.
Engage in dialogue with suppliers, producers, and other relevant local players (unions, workers' representatives, government agencies, etc.), as well as other international buyers when needed, to find solutions for closing the wage gap over time.
Support suppliers to pay a living wage to their workers by co-investing on supplier activities that can create higher value that leads to higher wages. This includes supporting suppliers to increase farm efficiency by enhancing quality and/or productivity, reducing post-harvest losses, facilitating access to finance, and providing training that supports factory goals around productivity and profitability.
Ensure that any value created is

distributed to workers

in the form of higher wages.
Ensuring that any

value created reaches workers

can be a challenge. Monitoring in a timely manner is essential to inform strategy decisions. The challenges can also come from outside the supply chain. For example, a rise in cash wage could lead to higher income taxation or to a rise in rents of workers' houses, which doesn't translate to an increase in take home pay.
Start by engaging in ''quick wins'' that can be quickly implemented to

demonstrate progress

while building cooperation and confidence. For instance, workers' remuneration can be increased by providing more and better in-kind benefits, such as meals at work, housing, transportation, childcare, children's education, and medical care.
Engage a knowledgeable and neutral actor to facilitate dialogue and the creation of common action plans when needed.
Develop reasonable solutions to increase wages that do not involve more hours of work. Wages earned through overtime work are not considered in the calculation of a living wage.
---
Support Social Dialogue
Dialogue is critical to labor rights, facilitating wage determination, improving working conditions and promoting sustainable businesses. The process of employers, workers and their representatives discussing the conditions of work is referred to as social dialogue.
For a living wage approach to be effective and sustainable over time, wage-setting must be locally-owned. This means promoting and requiring respect for the freedom of association, collective bargaining, and social dialogue at the workplace. This ensures that any value created through the adoption of sustainable practices or co-investments with supply chain partners passes on to workers in the form of higher wages. Local ownership is also important for ensuring good health and safety conditions at the workplace.
Respect the

fundamental rights of freedom of association and collective bargaining

. Locally-owned wage-setting mechanisms such as collective bargaining, provide the optimal model for both employers and workers to find a wage that accommodates the interests and needs of business and labor. Commit to working with suppliers who respect these basic rights.
Support training for management and workers to have the capacity and knowledge to engage in effective social dialogue.
Advocate for

fundamental principles

and rights at work, especially in countries you source from that have not ratified ILO fundamental conventions. Most importantly: freedom of association and the effective recognition of the right to collective bargaining; the elimination of all forms of forced or compulsory labor; the effective abolition of child labor; and the elimination of discrimination in respect of employment and occupation.
To achieve effective workers representation, capacity-building may be needed. Local unions can receive assistance from international unions such as IUF, FNV, CNV, among others.
Social dialogue processes can be

informal or institutional

. Opening clear dialogue among management and workers can begin informally and progress to a formal regional, national or enterprise level.
Social dialogue can contribute to improved business performance, productivity gains and enable innovation.
---
Make it Collaborative
More often than not, no single actor can guarantee a living wage alone. Removing barriers and closing wage gaps on a wider level requires collaboration and commitment among traders, retailers, brands, suppliers, social partners, civil society and national governments.
Wages that are far below a living wage are often a symptom of deeper challenges that threaten the viability of the industry, and possibly even a national economy. In these cases, the long-term future of the sector requires a holistic, sector-wide response.
Establish shared commitments with supply chain actors, with concrete milestones.
Start or take part in multi-stakeholder initiatives (MSI), with the support of a neutral convenor that can facilitate the dialogue between the different supply chain actors which often will have contrasting viewpoints and varied interests. Under the MSI, define an action plan that is formulated together with local stakeholders with clear leads for the implementation for the different activities defined.

Document and share learnings

, progress, challenges and solutions to inform the joint effort in a collaborative manner.
Download Collaborative Transformation, a book that documents the collective knowledge of IDH and our partners, accumulated over the last 10 years, as we worked to accelerate the adoption of

sustainable practices in international trade.
Work broadly

across your supply chain. When you focus on a single origin, it can affect the competitiveness of producers and limit progress.
A thorough

analysis of the sector

is often required and most likely a range of interventions will need to be deployed to close the living wage gap.
An accountability mechanism should be agreed upon to

hold partners to account on their commitments

to the action plan. The living wage progress should be measured and made public on an annual basis including a reflection on the macro economic developments for the region, including inflation, exchange rate developments and price developments in the sector targeted.
When national

minimum wages are set too low

, the most effective way of advancing the interests of workers is to

join with companies

, trade unions and partners to encourage national governments to lobby for higher wages or better minimum wage-setting machinery.
Companies have the power to be a driving force in assuring living wages throughout supply chains. Above, we have provided an overview of the actions that companies should consider for closing wage gaps in the supply chain, including tools, tips and examples of how to get started.
It is important to note that no single actor can achieve a living wage for all workers in international supply chains. The living wage journey is a responsibility that must be shared among companies, governments, civil society, trade unions, investors and consumers.
Collaboration and shared responsibility is key to creating an enabling environment for living wages. Other actions that should be considered by all stakeholders include:
Creating public and credible tools to establish living wages benchmarks across the world and to compare current wages with living wage levels.
Opening up sector wide living wage discussions in a pre-competitive space with understanding of competition laws to ensure compliance.
Setting legal minimum wages that are more closely aligned to living wages.
Passing legislation that assures freedom of association and collective bargaining.
Categorizing living wage efforts as a value-driver and a way to reduce financial risks (e.g. a living wage can result in a stronger economy, decreased employee turnover, and positive impact on productivity.
Adding living wage requirements to trade legislation in importing countries (similar to existing environmental requirements or other social requirements, such as prohibitions on child or forced labor).
Adding living wage compliance criteria to sustainability standards and certification schemes.
Addressing the unintended consequences of actions on a case-by-case basis (e.g. considering the potential impacts of automation on job security).
Global Director Agriculture Commodities - Brands, IDH

Better Jobs strategy lead