Fostering worker management dialogue, collective bargaining agreements, and a living wage benchmark
IDH works together with private sector players, governments, and civil society organizations to improve working conditions and living wages. By convening coalitions of key sector players to foster worker management dialogue and collective bargaining agreements, supporting living wage benchmark setting, as per the Anker's methodology, and revitalizing industries to create room for the payment of living wages to workers.
Challenges to Living Wages and Working Conditions
For workers in many developing and emerging economies, working for export sectors is a potential exit from poverty, and a material contribution to the country's economic development. Yet, where incomes are insufficient to enable workers to 'work out of poverty', and working conditions are poor, this model of development can stall, perpetuating and entrenching in-work poverty.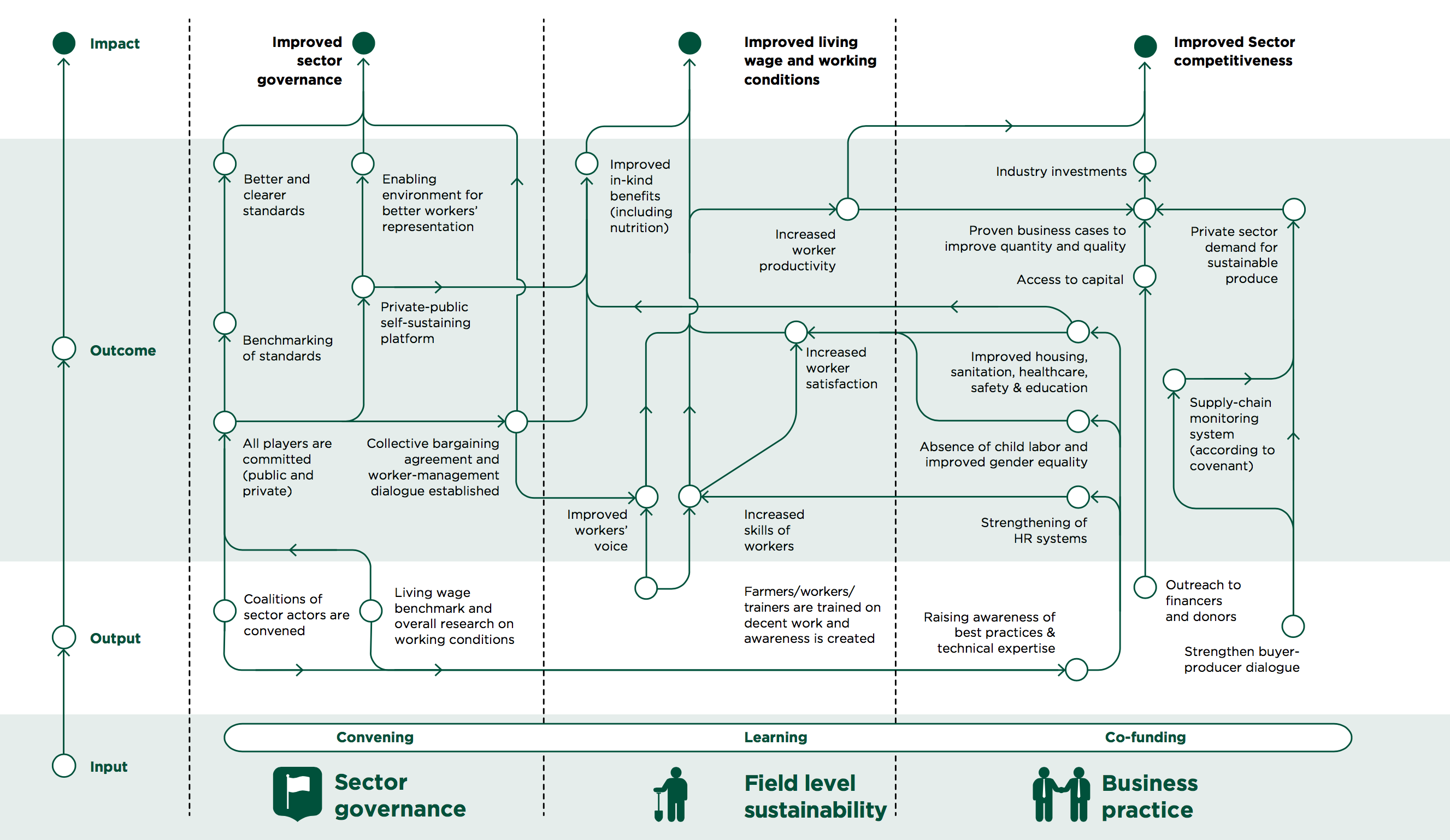 Openly confronting the issue of poor working conditions and low wages is critical to changing the status quo. Change needs to happen at governance level to impact workers in firms, factories, and farms. By convening coalitions of key sector players, we foster worker-management dialogue that leads to committed policy makers (both public and private) and collective bargaining agreements. Creating an enabling environment to achieve improved working conditions and living wages.
To establish living wage benchmarks, IDH uses is the Anker-methodology, a worldwide recognised methodology to calculate reference wage levels in different countries and sectors.

Field level sustainability
IDH supports companies to develop human resource management, capacity building and employee and employer training — giving workers a stronger voice and seeing improvements in safety, nutrition, in-kind benefits and skills. These improvements can translate into increased worker satisfaction and productivity, which can in turn translate into higher margins to augment wages.

IDH also supports companies to innovate on more efficient and effective business models that improve working conditions and enable profit margins to increase. By proving business cases that increase quantity and quality of production, sector competitiveness increases, paving the way for companies to increase wages and improve working conditions.

Malawi Tea 2020 Wages Committee progress report
Where we strive for living wages and working conditions
There are two kinds of companies: those that sell sustainable products... and those that will...