Combining responsible soy with intensified cattle ranching
In Mato Grosso, IDH works with public and private (soy and beef) stakeholders, in cooperation with the state government and guided by the state's Produce, Conserve and Include (PCI) strategy, to address deforestation and forest degradation. Our overall strategy is to make soy farming more responsible so it has less environmental impact, and to intensify cattle ranching to free up land for agricultural production without having to convert forest into arable land.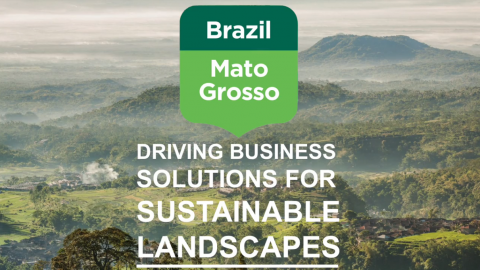 On soy, IDH brought together large soy traders and producers with an interest in responsible soy production in a stepwise approach towards compliance with the Brazilian Forest Code and/or the European Feed Manufacturers' Federation (FEFAC), including legal registration. In 2018, over 0,5 M MT of FEFAC compliant soy was produced by major soy producers. On the market end IDH accelerates market uptake in the EU for responsible soy to create economic incentives for responsible soy farming.
IDH combines this strategy with cattle ranching intensification for beef production in a Verified Sourcing Area (VSA) pilot in Juruena Valley: "The Sustainable Production of Calves Program" for which the initial PCI compact was signed in May 2018.
This cattle intensification program is co-funded with Carrefour Brazil (EUR 2.4 million), who also signed a commitment to source sustainable beef produced in the Juruena Valley, enabling VSA pilot to be built. With the aim to scale this to 2,5 million ha, the land intensification will enable considerable agricultural expansion without the need for forest conversion in the next ten to fifteen years.
IDH expects to unlock EUR 38 million from private companies for cattle intensification and forest restoration. It proofs a business model that can be scaled up to the whole of the Juruena Valley region, where there is a potential to leverage another EUR 476 million in investments before 2030.
Partnering with the state cattle rancher's association Acrimat, we can scale up the program across the whole of Mato Grosso state, and create access to investments from the PCI Institute (co-established by IDH in 2018 as legal entity) and REDD for Early Movers (REM) funding.
The Juruena Valley implementation model is being replicates in Sorriso, Barra do Garças and Paragominas (Pará State). We expect to attract additional investments for the development of a VSA with specific commodity chains (next to beef and soy) such as cocoa, timber and Brazil nuts.
More info
The state of Mato Grosso is the largest agricultural producer in Brazil, it has a total area of 90 mi ha, with more than 64% of its native vegetation preserved, giving it the quality of a biodiversity hotspot, spanning three biomes: Amazon 47,7 million hectares, Cerrado 36 million hectares and Pantanal 6,3 million hectares. It produces 9% of the global supply of soy, 60% of Brazil's cotton and is the top producer of the country's beef, supplying to both domestic and international markets. Deforestation is 2.485 km2 on an annual basis, of which 95 percent is illegal, mainly driven by registered private land, 55% and unregistered land, 25%. Related indigenous land and rural settlements deforestation lead to 22%. Through its support to Produce Conserve and Include (PCI) Institute, IDH works with Producers, Government, NGOs and business partners to deliver on sustainable production of soy, beef and timber while protecting and restoring native vegetation.
The Landscape
| | |
| --- | --- |
| Total land cover | 90 million ha |
| Total forest cover | 56 million ha |
| Protected forests  |  19 million ha |
| Forests on private land |  37 million ha |
| Pasture land | 24 million ha. Two thirds are unproductive and degraded. |
| Crop land | 8 million ha |
| Other productive land | 2 million ha |
| Landscape features | Amazon rainforest, Cerrado (tropical woodland), Pantanal (wetland) |
| Main commodities | soy, beef, cotton |
| Main causes of forest loss | deforestation for pastures |
Produce, Conserve and Include
Through our landscape program in Brazil, we support the government of Mato Grosso's ambitious green growth strategy, PCI. The strategy was announced at the COP21 in Paris in 2015 and aims to increase agricultural production and efficiency; conserve remaining natural vegetation; and improve the socioeconomic inclusivity of smallholder farmers and traditional communities by 2030.
Summary of the PCI goals by 2030:
| | | |
| --- | --- | --- |
| Produce | Conserve | Include |
| Replace 6 million ha of low-income pastures with high productive crops: | Rehabilitate 2,9 million ha of APP | Increase smallholder participation in domestic food market from 20 percent to 70 percent |
| 3 million ha of grains | Eliminate illigal deforestation by 2020 | Promote land regularization in 70 percent of smallholder farms |
| 2,5 million ha of livestock (intensification) | Reduce deforestation in Amazon forest by 90 percent and in Cerrado by 95 percent | Provide technical assistance to all smallholder farmers |
| 0,5 million ha of planted forest | Conserve 1 million ha of those areas likely to be deforested | Increase access to credit |
| | | |
| Another 6 million ha of sustainably managed natural forest | | |
You can download the detailed PCI strategy here. 
PPI Compacts and Deals
In addition to supporting the green growth strategy at state level, we work at the municipal level to link beef and soy production to forest protection. This also ensures the inclusion of smallholder farmers in the value chain and stems from our concept of Production, Protection and Inclusion – PPI.
In a PPI compact, public and private stakeholders agree on a land-use plan through which to achieve the sustainability targets set by PCI. We focus on four regions to develop PPI compacts and to bring in investment for PPI deals.
Vale de Araguaia in Agua Boa: support the beef company Grupo Roncador in leading the protection of 143.000 ha of forest and the responsible production on 000 ha of farm land. The stakeholders will restore pastures and riparian areas, intensify cattle production, develop eco-tourism and carbon-neutral land-use, and achieve ecological connectivity through legal reserve offsets.
Sao Marcelo/Carrefour, in Juruena: support beef company Sao Marcelo in leading the protection of 172.000 ha of forest and upgrading the production of small-scale calf suppliers on 100.000 ha of farm land to build a zero-deforestation beef sourcing region for Carrefour.
Alta Floresta: support PECSA in intensification and restoration of 400.000 ha of farm land and 470.000 ha forest. Intensification will accommodate expanding soy production in previously unproductive grazing lands.
Paragominas, in Para State: with 430.000 ha farm land and protect 1.4 million ha of forest. The compact is in place thanks to a decade of convening work by Imazon. The plan is to make a de-risking deal with Sicredi for small-scale cattle and soy farmers.
Driving market demand
IDH works at the market end in Europe to drive the uptake of deforestation-free soy produced in Mato Grosso. We collaborate with the European feed manufacturers federation,
FEFAC
; the EU vegetable oil and protein meal industry association,
FEDIOL
; as well as
CGF
. In early 2017, we brought together the aforementioned market players and the powerful industry associations in Mato Grosso,
Aprosoja
and
ABIOVE.
 In an
MOU
, the parties committed to align and work together on mainstreaming sustainable soy production in Mato Grosso.
For more information contact us
Public and private partners in IDH Initiatives