Achieving zero net deforestation coupled with economic growth
Mato Grosso is the largest producer of soy, beef and cotton in Latin America. Soy and beef are the biggest drivers of deforestation in Brazil. More than half of the extensive cattle ranches in Mato Grosso are highly unproductive, while new forests are being cleared to expand production. Intensifying cattle production to free up land for responsible soy, cotton and other farming is key to stopping deforestation in Mato Grosso. Through the state government-led "Produce, Conserve and Include" (PCI) strategy, IDH partners with leading producers, municipalities, NGOs and others to maintain and conserve 60 percent of native forest while doubling economic output by 2030.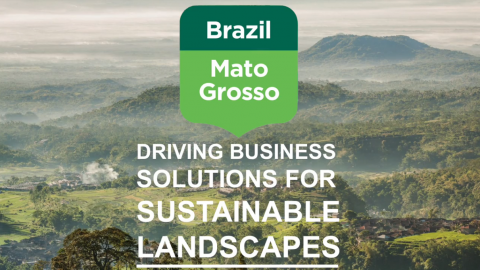 The State of Mato Grosso produces nine percent of the global supply of soy, 60 percent of Brazil's cotton and is the top producer of the country's beef, supplying to domestic and international markets.
The state, which spans 90 million hectares across three biomes, Amazon, Cerrado and Pantanal, has faced massive deforestation as a result of agricultural expansion in the last decades.
A large portion of Europe's soy is sourced from Brazil, including from Mato Grosso. This is sourced mostly for animal feed, but also for soy meals. Soy is thus a component of a wide range of consumer goods.
Many consumers demand deforestation-free products. Major retailers and other global companies have committed to delinking their products from deforestation. The Consumer Goods Forum (CGF), a network of 400 consumer goods manufacturers, retailers and other stakeholders with combines sales of 3,5 trillion euros, has adopted sustainable soy sourcing guidelines. And a number of CGF companies have committed to achieving zero (net) deforestation by 2020.
The government of Mato Grosso also has ambitious plans to conserve the state's forests, while at the same time stimulating economic growth. This is done through the green growth strategy, Produce, Conserve, Include, PCI. The PCI coalition is made up of leading producer companies, NGOs, the state government and others, including IDH, engaging in activities that will prevent deforestation, restore forests, improve livelihoods and increasing economic output in Mato Grosso.
IDH collaborates with the PCI coalition in intensifying cattle and responsible soy production. We also work with market players in Europe such as CGF member companies. We leverage their zero-net deforestation commitments. In 2016, we co-designed a joint roadmap of soy producers and processors in Mato Grosso and feed and vegetable oil industries in Europe to collectively work towards creating a zero-net deforestation sourcing area.
Our work in Mato Grosso falls under three main streams:
Governance: supporting policy development at the state level
Finance: attracting international investment to profitable conservation activities
Market: supply chain convening and verified sourcing areas.
The Landscape
| | |
| --- | --- |
| Total land cover | 90 million ha |
| Total forest cover | 56 million ha |
| Protected forests  |  19 million ha |
| Forests on private land |  37 million ha |
| Pasture land | 24 million ha. Two thirds are unproductive and degraded. |
| Crop land | 8 million ha |
| Other productive land | 2 million ha |
| Landscape features | Amazon rainforest, Cerrado (tropical woodland), Pantanal (wetland) |
| Main commodities | soy, beef, cotton |
| Main causes of forest loss | deforestation for pastures |
Produce, Conserve and Include
Through our landscape program in Brazil, we support the government of Mato Grosso's ambitious green growth strategy, PCI. The strategy was announced at the COP21 in Paris in 2015 and aims to increase agricultural production and efficiency; conserve remaining natural vegetation; and improve the socioeconomic inclusivity of smallholder farmers and traditional communities by 2030.
Summary of the PCI goals by 2030:
| | | |
| --- | --- | --- |
| Produce | Conserve | Include |
| Replace 6 million ha of low-income pastures with high productive crops: | Rehabilitate 2,9 million ha of APP | Increase smallholder participation in domestic food market from 20 percent to 70 percent |
| 3 million ha of grains | Eliminate illigal deforestation by 2020 | Promote land regularization in 70 percent of smallholder farms |
| 2,5 million ha of livestock (intensification) | Reduce deforestation in Amazon forest by 90 percent and in Cerrado by 95 percent | Provide technical assistance to all smallholder farmers |
| 0,5 million ha of planted forest | Conserve 1 million ha of those areas likely to be deforested | Increase access to credit |
| | | |
| Another 6 million ha of sustainably managed natural forest | | |
You can download the detailed PCI strategy here. 
PPI Compacts and Deals
In addition to supporting the green growth strategy at state level, we work at the municipal level to link beef and soy production to forest protection. This also ensures the inclusion of smallholder farmers in the value chain and stems from our concept of Production, Protection and Inclusion – PPI.
In a PPI compact, public and private stakeholders agree on a land-use plan through which to achieve the sustainability targets set by PCI. We focus on four regions to develop PPI compacts and to bring in investment for PPI deals.
Vale de Araguaia in Agua Boa: support the beef company Grupo Roncador in leading the protection of 143.000 ha of forest and the responsible production on 000 ha of farm land. The stakeholders will restore pastures and riparian areas, intensify cattle production, develop eco-tourism and carbon-neutral land-use, and achieve ecological connectivity through legal reserve offsets.
Sao Marcelo/Carrefour, in Juruena: support beef company Sao Marcelo in leading the protection of 172.000 ha of forest and upgrading the production of small-scale calf suppliers on 100.000 ha of farm land to build a zero-deforestation beef sourcing region for Carrefour.
Alta Floresta: support PECSA in intensification and restoration of 400.000 ha of farm land and 470.000 ha forest. Intensification will accommodate expanding soy production in previously unproductive grazing lands.
Paragominas, in Para State: with 430.000 ha farm land and protect 1.4 million ha of forest. The compact is in place thanks to a decade of convening work by Imazon. The plan is to make a de-risking deal with Sicredi for small-scale cattle and soy farmers.
Driving market demand
IDH works at the market end in Europe to drive the uptake of deforestation-free soy produced in Mato Grosso. We collaborate with the European feed manufacturers federation,
FEFAC
; the EU vegetable oil and protein meal industry association,
FEDIOL
; as well as
CGF
. In early 2017, we brought together the aforementioned market players and the powerful industry associations in Mato Grosso,
Aprosoja
and
ABIOVE.
 In an
MOU
, the parties committed to align and work together on mainstreaming sustainable soy production in Mato Grosso.
For more information contact us
Public and private partners in IDH Initiatives