A new collaboration platform for supply chain sustainability changemakers
The Verified Sourcing Areas team at IDH is excited to release a new name, brand, and beta version of the online platform.
Over the past two years, we have worked hard to develop the sketchbook drawings of "Verified Sourcing Areas" into a reality. Along the way, we learned many things. We've gone to great depths in terms of developing the foundation of this market model – one that will allow companies to source from landscapes where credible sustainability progress is happening and at the same time deliver on corporate sustainability commitments.
One thing stood out: that it's all about making the two-way connection between buyers of commodities, and stakeholder coalitions in producing landscapes.
That's why we chose a new name and brand identity: SourceUp, a new collaboration platform for supply chain sustainability changemakers.
SourceUp aims to lift the base sustainability level of landscapes while enabling sourcing in line with sustainability commitments, at scale. It brings together buyers and jurisdictional / landscape initiatives in one place. It also ensures that credible information on sustainability progress and action is shared, on both sides.
The beta SourceUp platform is now live at www.sourceup.org. We've populated the platform with a set of Compacts and will be adding more, soon. We've also made new materials on how it works and developed an FAQ.
On SourceUp the term "Verified Sourcing Area" is used for the status of a Compact that has started reporting on the core indicators and results have been assessed by a panel. With that, we set the bar for areas to be recognized in buyers' responsible sourcing programs.
If you are engaged in a jurisdictional or landscape initiative and want to feature on the platform, please reach out to us.
In this beta phase we are excited to get your inputs, thoughts and ideas about how we can make SourceUp a success for all of you. There's plenty to do, and we'd love to collaborate. We also have a roadmap for further platform development that is ongoing, where you can request features. Access to deeper levels of the platform is in the beta phase restricted to users by invitation. If you are already involved in, or supporting a Compact, you will receive your login details soon.
SourceUp policy external consultation
The SourceUp policy is the backbone document which will rule the platform and set the minimum requirements for landscape/jurisdictional initiatives to report. Other elements like data governance, indicators, reporting requirements , corporate engagement modes and claims will also be described. Moreover, the policy will also include the criteria for the coalition of stakeholders (Compacts) to become a Verified Sourcing Area.
How to join the consultation
The public consultation runs from April 8th 2021 – May 20th 2021
We appreciate and welcome the feedback from all types of stakeholders. To provide feedback please fill in the questionnaire below.
If you want to learn more about the project, contact us at info@sourceup.org
Want to know how to contribute to the SDGs at scale through sourcing agro-commodities? Are you curious about how systemic issues such as poverty and deforestation in and outside supply chains can be addressed regionally through public-private partnerships? Would you like to learn how companies and local compacts work together to improve supply chain sustainability?
Our latest webinar explained a concrete solution to address these issues: the SourceUp model (previously known as the Verified Sourcing Areas (VSA) Model): an innovative market-based model and online platform that connects demand for sustainably produced agro-commodities with locally driven sustainability advancements.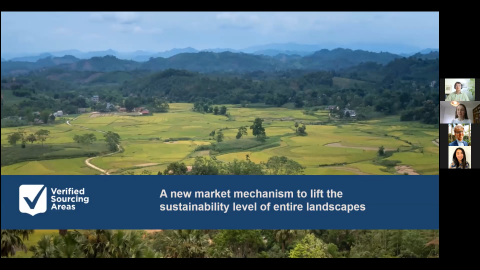 The webinar is interpreted in Portuguese, Spanish and English and specifically tailored to our Latin American audience. If you missed the previous webinar or are a Portuguese or Spanish speaker, give it a watch. You can also find the slide deck here.
Agenda
Welcome by IDH LATAM Director at IDH Daniela Mariuzzo
Presentation of the model by Willem Klaassens, Markets Director and SourceUp, and Guido Rutten, SourceUp Senior Manager
Q&A session
SourceUp Global Steering Committee Members
For any inquiries or if you are engaged in a jurisdictional or landscape initiative and want to feature on the platform, please reach out to us:
Interested in learning more? Receive the latest news on the SourceUp journey by signing up to the SourceUp Newsletter here: