Utrecht, Netherlands – 17 signatories, among them Mars Wrigley, Pepsico, the World Resources Institute, Conservation International, and IDH – The Sustainable Trade Initiative have announced that they are co-creating a new way to address sustainability in tropical regions with production of agro-commodities. This model is Verified Sourcing Area (VSA).
The VSA model opens up a powerful new way to reach sustainable development in commodity-producing regions by linking them to markets.
Update on Verified Sourcing Areas
As the world faces growing socio-environmental challenges, it has become evident that our present sustainability efforts in tropical ecosystems are not enough to ensure long term systemic progress necessary to allow responsible sourcing of agro-commodities at scale while ensuring an inclusive sustainable development path for a growing world population.
The undersigned have become increasingly convinced that landscape and jurisdictional initiatives are an essential part of the solution to these sustainability challenges. Beyond certifying a single farm or a single commodity, these structural collaborative initiatives between government, civil society and private sector can go much further to improve on systemic sustainability issues. Jurisdictions can build sustainability achievements on landscape approaches to attract investments and benefits. For companies, such initiatives create the possibility to combine sourcing of agricultural commodities with creating sustainability impact in line with their corporate sustainability commitments.
There is however a need for a joint and consistent market mechanism that strengthens and expands the support of companies to such initiatives, while also building a common framework for multiple jurisdictions to connect more effectively to multiple buyers in markets.
A new market mechanism for landscape approaches: the VSA.
The Verified Sourcing Areas model aims to provide a market mechanism that enables responsible sourcing and sustainable development at scale, by connecting sourcing jurisdictions directly to markets. The VSA model is an inclusive, multi-commodity sustainability model that empowers strong local government involvement and creates a pre-competitive space for buyers.
The VSA end-to-end sustainability proposition uses a neutral online platform to link buyers to coalitions of stakeholders ("Compacts") in jurisdictions of agricultural production. The Compact stakeholders agree ambitious sustainability priorities and indicators locally on topics such as forest protection, labour conditions, land tenure and livelihoods. Companies can connect to a Compact and support it by funding projects, preferential sourcing and technical assistance. The VSA online platform thereby acts as an interactive clearinghouse for producers and committed buyers and provides relevant, accurate and reliable data on sustainability on entire jurisdictions.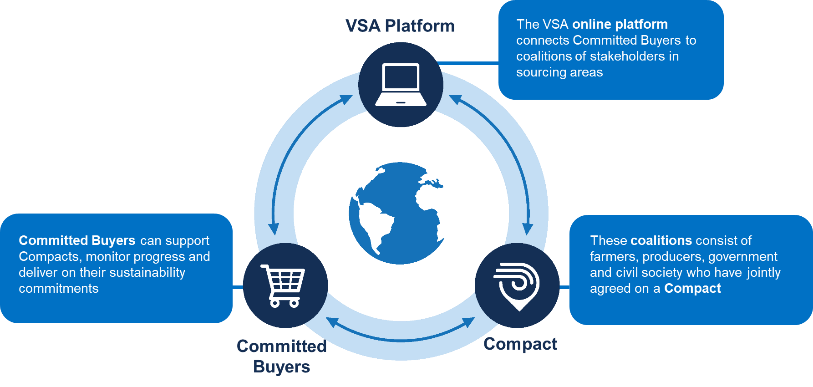 Fig: VSA connects local Stakeholder Coalitions and Committed Buyers in areas of agricultural production via an online platform
What can be expected with respect to the further development of the VSA-model?
The VSA-model is not finished, yet we have already taken steps to develop and refine the model through VSA Readiness Pilots. Our organisations will jointly support the further development of this promising model that brings together a wide variety of stakeholders in the agricultural sector from around the world into one online platform for sustainability development in sourcing.
In 2020, apart from further learning from VSA Readiness Pilots in specific jurisdictions, the Blueprint of VSA1.0 will be published. This Blueprint contains a detailed description of the VSA-model complemented by guidelines for setting up Compacts in the jurisdiction. It will offer anyone the opportunity to develop Compacts, taking sustainability improvement into their own hands while linking up with commodity buyers. The Blueprint will furthermore show the way for buyers to support Compacts and start creating tangible and visible sustainability impact in their supply chains. It will furthermore contain more details on the monitoring and verification mechanism, which will be tested in the VSA Readiness Pilots.
2020 will be an exciting year as it will see the first limited release of the VSA online platform. A test phase will be started together with Compacts and a group of early adopting companies. Furthermore, we will update the name and brand of VSA to reflect its evolving ambitions.
We invite you to stay up to date with the developments and become part of the VSA journey by signing up for the VSA-Newsletter at www.verifiedsourcingareas.org.
The VSA Global Steering Committee members:
Press contact: Clara Grimes grimes@idhtrade.org
VSA inquiries: Willem Klaassens klaassens@idhtrade.org