A new market-based mechanism to lift the sustainability level of entire sourcing areas
Over the past decades, substantial progress has been made in the field of supply chain sustainability. Many companies now consider it a core priority, have committed to action and are working to deliver on those commitments. However, despite these efforts, socio-environmental issues in sourcing areas around the tropics persist. Simply put; current efforts in supply chain sustainability are not enough to ensure long term systemic change.
A new model is needed that looks beyond individual supply chains to address systemic sustainability issues across sourcing areas, and that can ensure cost-efficient and responsible sourcing of large quantities of commodities. This new model is the Verified Sourcing Area (VSA) model, currently under development by IDH and its partners. VSA is an evolution of the Landscape approach that addresses both supply chain and systemic sustainability issues in whole production areas through public-private partnerships. It is an inclusive, multi-commodity sustainability model that builds on strong local government involvement and creates a pre-competitive space for buyers. It uses an online Platform to match global demand for sustainability with local sustainability priorities and achievements.
Watch the short animation and explore the concept further below.
Webinar: Verified Sourcing Areas
Want to know how to contribute to the SDGs at scale through sourcing agro-commodities? Are you curious about how systemic issues such as poverty and deforestation in and outside supply chains can be addressed regionally through public-private partnerships?
Our latest webinar explained a concrete solution to address these issues: the Verified Sourcing Areas (VSA) model: an innovative market-based model and online platform that connects demand for sustainably produced agro-commodities with locally driven sustainability advancements.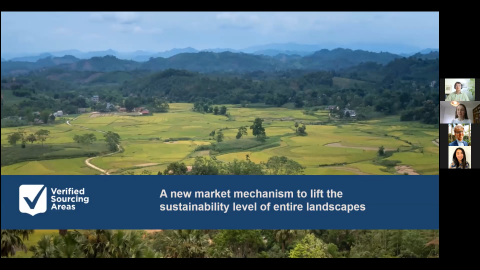 The webinar is interpreted in Portuguese, Spanish and English and specifically tailored to our Latin American audience. If you missed the previous VSA webinar or are a Portuguese or Spanish speaker, give it a watch. You can also find the slide deck here.
Agenda
Welcome by IDH LATAM Director at IDH Daniela Mariuzzo
Presentation of the VSA model by VSA and Markets Director Willem Klaassens and VSA Senior Manager Guido Rutten
Q&A session
VSA is an end-to-end sustainability proposition that uses a two-sided online Platform to link buyers to jurisdictional coalitions of representatives from local government, civil society organisations, producers, and supply chain actors (a "Compact) in areas with agricultural production.
In these Compacts, stakeholders agree ambitious sustainability priorities and indicators at a local level, on topics such as forest and natural resource management, labour conditions, land tenure and livelihoods.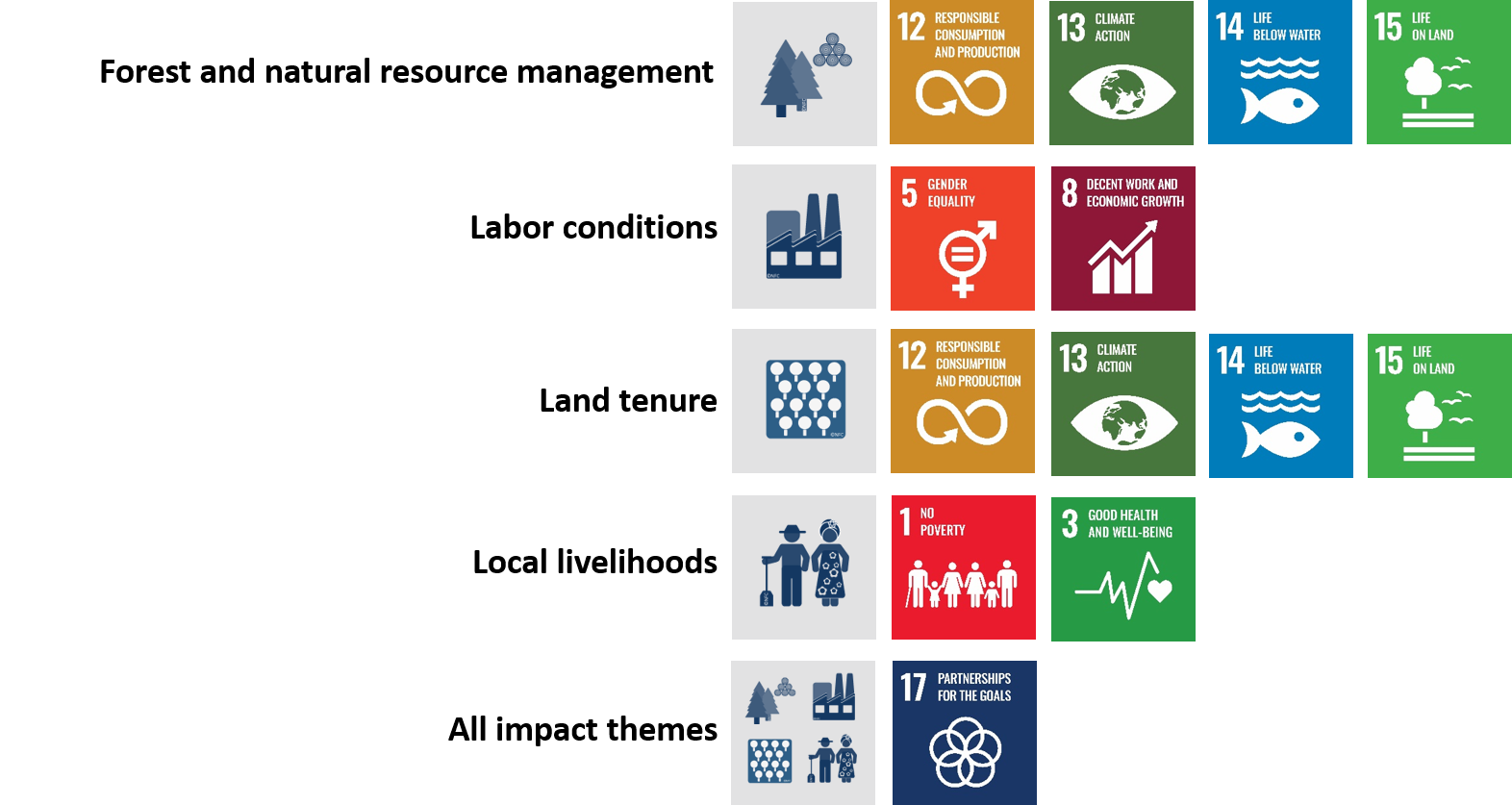 Although each Compact is unique in its composition, sustainability challenges, targets, and approach, how to establish a Compact and operationalize it is guided by a common framework across all potential areas and accessible through the Platform (guidance currently being developed). The Platform is inclusive and globally reaching, as it allows any jurisdictional initiative living up to these process requirements to be featured on the Platform. Through user-optimized dashboards on the Platform, a Compact registers its sustainability challenges and targets as well as the projects and funding needed to achieve the targets. During both Compact establishment and implementation, the Platform enables the compact to report and verify progress data to monitor progress on its sustainability trajectory.
On the other hand, commodity-sourcing companies register their sourcing needs and sustainability priorities on the Platform. Companies can then find and connect to Compacts whose strategies are in line with the company's sustainability targets, e.g. on deforestation-free sourcing. Companies can engage with Compacts by funding their establishment, by funding specific projects, through preferential sourcing, and through technical assistance. Just as each Compact is unique, the type of engagement a company chooses will likely be different for each Compact. Once a company has committed to support a Compact, it is a committed buyer. Once a Committed Buyer, the Platform enables the buyer to monitor the progress of Compacts and their individual projects through user-optimized dashboards.
Vice versa, the Platform enables Compacts to find and connect to companies matching their sustainable development trajectories and resource needs.
The VSA online Platform thereby acts as an interactive clearinghouse for producing areas and committed buyers, providing relevant, accurate and reliable data on sustainability for entire production areas. Engaging in the VSA approach is guided by VSA Global organization through the Platform.
Sustainability claims
For communications, reporting, and investor purposes, the VSA model enables Compacts and Committed Buyers to make claims in proportion to their sustainability efforts based on the verified progress data. For Committed Buyers, the magnitude of claims in terms of whether the buyer is supporting or driving impact in an area is proportional to its engagement level with a Compact. Claims are related to both Compact governance, progress of activities, and impact achieved.
Verification of data
Compacts report progress data on the Platform; both process data with regards to agreeing on a sustainability strategy and progress data with regards to implementing it. The VSA online Platform uses a 5-step smart verification process to ensure all data reported by coalitions are complete, correct and accurate:

Collecting data (monitoring) – Compact stakeholders collect data at the Compact level and the Compact Secretariat uploads it to the VSA Online Platform. VSA Global provides clear guidelines, and a streamlined and coherent methodology for stakeholders to provide standardised and consistent data.
Smart Feedback – After the data is entered on the Platform, the Platform produces automated feedback to highlight any missing and potentially incorrect data. The Compact lead corrects and completes the data in line with this feedback.
Self-review by Compact – The VSA Online Platform requests confirmation of the completeness, correctness, and accuracy of the submitted data from all relevant Compact stakeholders. The data must be reviewed and validated by all relevant stakeholders via a Compact review meeting. The Compact stakeholders can confirm that they have reviewed the data through e-signatures on the VSA Platform.
Verification by VSA Panel Review – A VSA Panel reviews data for accuracy and verifiability. Data becomes visible on the Online Platform following the VSA Panel Review.
Optional 3rd party verification – Compacts can elect to use third-party verification if required. The request to do so may come from Compact stakeholders themselves, Committed Buyer or Investor. This type of 3rd party verification would focus on particular themes and / or KPIs that are most critical.
The VSA model is unique in offering a two-way interaction between Compacts and commodity-buying companies enabled through its Platform, and as such, generates
shared information, tangible impact, and inclusive collaboration
. In this way, the VSA Platform will serve as a central place where different stakeholders can connect and leverage on each other's efforts for landscape-level sustainability.
Traceability and sustainability assurance at farm level may be prohibitively costly and VSA can provide certainty that systemic sustainability issues such as poverty and deforestation are being tackled across the landscape. The added value of the VSA model becomes particularly profound in addressing sustainability in areas of indirect sourcing and low visibility of supply chains, smallholder production, and sourcing with high farm turnover.

The Platform enables a diverse range of both existing and future landscape initiatives to be featured and cultivated in one global space. The Platform provides buyers, Compacts, and other sustainability stakeholders an overview of landscape initiatives and sustainable sourcing efforts globally. It enables links between global sourcing demand and locally-embedded and inclusive sustainability strategies including government addressing systemic issues that goes further than the individual supply chain.
In the summer of 2018, IDH convened a group of sustainability experts of companies, governments and NGOs into a Global Steering Committee (GSC) to develop the VSA concept into a full model. Over a period of 1.5 years, this concept has been built into a full model with contributions from the GSC and several consultant firms (NewForesight, KPMG, ProForest, Dept, and OnePeterson). The outline of the Blueprint was reviewed by the GSC in November 2019 during a Milestone Meeting held in the Netherlands. IDH is the secretariat of the VSA Global Steering Committee.
Next steps
Together, IDH and the GSC oversee the development of the VSA model that over the coming months will include the following tasks:
Launching the VSA Blueprint: the end-to-end explanation of the model and its value-proposition to its different users
Developing a Compact Manual guiding landscape stakeholders in setting up and implementing inclusive Compacts for more sustainable land use governance across sourcing areas
Engaging with landscape initiatives to join VSA
Setting up the monitoring and verification system, ensuring transparency and trust of key stakeholders.
Start building the VSA Online Platform
VSA Global Steering Committee Members
For any inquiries about Verified Sourcing Areas, please reach out to:
Willem Klaassens

Director Markets and Verified Sourcing Areas

Guido Rutten

Program Manager, Verified Sourcing Areas

Lisa Stahl

Senior Program Officer, Verified Sourcing Areas

Antonio Roade

Verified Sourcing Areas Specialist
Interested in learning more? Receive the latest news on the VSA journey by signing up to the VSA Newsletter here