The do's & don'ts of blended finance: An interactive conversation
11:00-11:45 (EET) 09-Nov-22
Organiser: Rabobank
Location: Blue Zone – Food Systems Pavilion
Speaker from IDH: Daan Wensing, Chief Executive Officer
The session is an interactive discussion on blended finance and will dive into some cases: pipeline; showcase successful deals (AGRI3), lessons learned and defining the gaps: Why is the current system not working?

Mobilize finance solutions for food system transformation in Africa
13:00-14:15 09-Nov-22
Organiser: UNFCCC Climate Champions
Location: Blue Zone – Food Systems Pavilion
Speaker from IDH: Marcela Parahnos, Global Carbon Finance Manager
The session will explore key challenging questions needing solutions in the financial system as whole to transform agriculture outcomes in Africa. The moderator of the session is Ndidi Nwuneli, Founder of Sahel Consulting.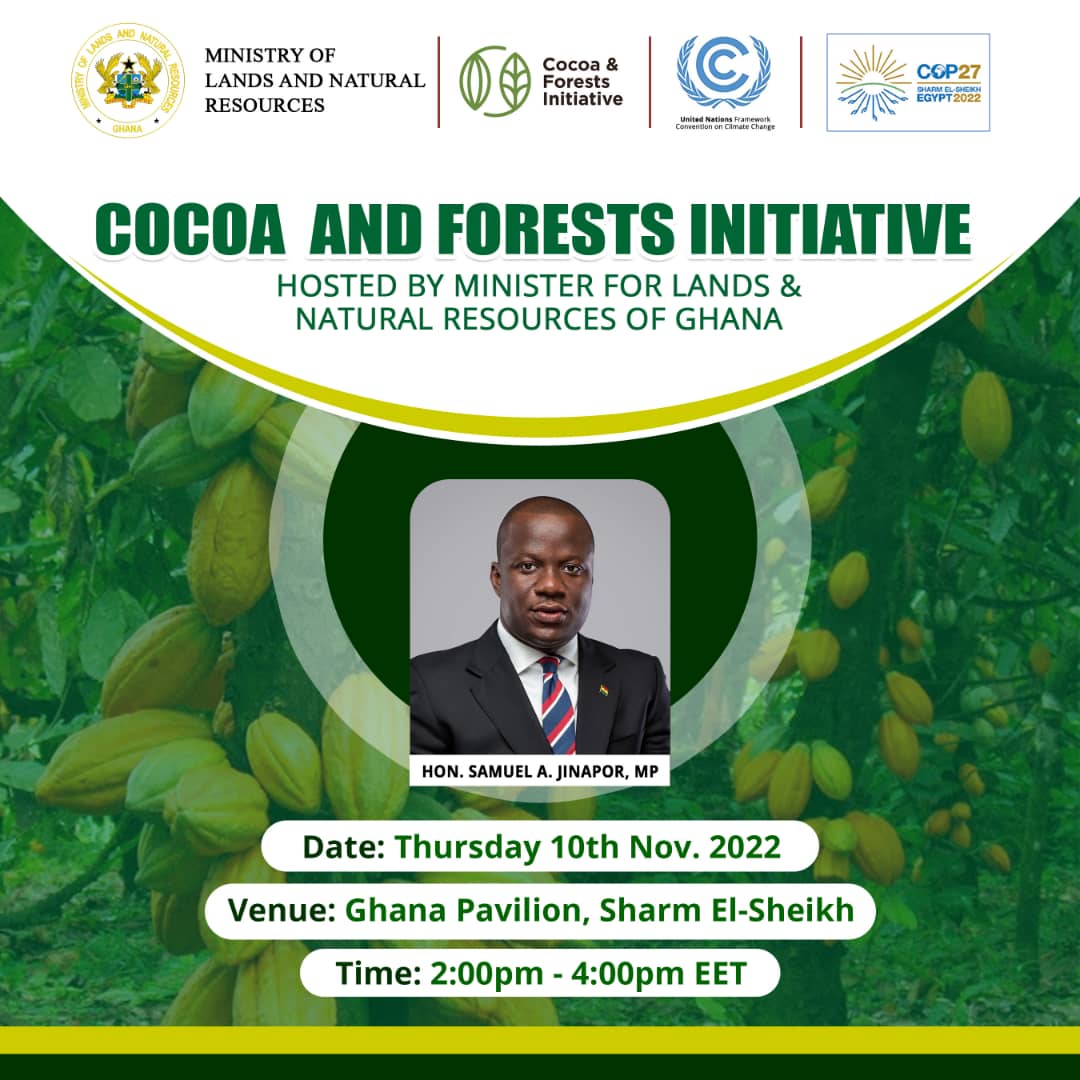 Cocoa & Forests Initiative side event
10-Nov-22 14:00-15:50
Organisers: MLNR, MINEF, WCF and IDH
Location: Blue Zone – Ghana Pavilion
Speaker from IDH: Daan Wensing, Chief Executive Officer
Topic: How the Cocoa & Forests Initiative supports national policies and NDCs
This session will focus on public-private collaboration which could be a genuine climate resilience gamechanger.

The Cocoa and Forests Initiative (CFI) is running a key side event at COP27 on 10 November from 2pm-4pm at the Ghana Pavilion in the Blue Zone. There will be presentations, and a panel discussion between signatories of the CFI. This is your chance to get involved. So come along to learn more about CFI, put your questions and have your say. There will also be a permanent CFI information stand at the Ghana Pavilion. 
Cocoa as climate resilience gamechanger: CFI panel discussion at COP27
Climate mitigation and resilience will be at the heart of COP27 discussions. And the cocoa industry, which depends for its very existence on millions of smallholders, has a critical role to play in addressing climate resilience at both the national/macro and community/micro level. With large-scale roll-out of agroforestry and solutions to regenerate forests being key solutions.
What is CFI?
Launched in 2017, CFI is a unique public-private partnership to tackle cocoa related deforestation and degradation. CFI was initiated by the governments of Côte d'Ivoire and Ghana, IDH and the World Cocoa Foundation (WCF) and now counts 36 signatory companies. Achievements to date include a strong governance structure, adoption of policies to promote forest protection, forest restoration and cocoa agroforestry; progress developing national forest monitoring and traceability systems; and significant farm-level investment in traceability, agroforestry, reforestation, productivity and income diversification.
Critical tipping point
CFI is now entering a crucial phase. In Côte d'Ivoire and Ghana CFI has adopted national 2021-2025 implementation plans to drive the initiative in-country, while the CFI companies are currently developing action plans to align with the governments' priorities, and put greater focus on co-investment and collective action in the conservation and restoration of priority forest landscapes.
So this side event comes at a crucial moment. To succeed, CFI must now leverage this strong commitment from industry, government and external stakeholders and identify opportunities to scale and accelerate impact on the ground.
Keynote Speakers
The event is co-hosted by Samuel A. Jinapor, Minister of Lands & Natural Resources, Ghana and S.E.M. L. Tchagba, Minister of Water & Forests, Côte d'Ivoire; Panellists include Chris Vincent, President World Cocoa Foundation, Daan Wensing, CEO IDH; Kevin Rabinovitch, Global VP, Sustainability and Chief Climate, Mars and Rob Cameron, Vice President Global Head of Public Affairs, Nestlé.
When and where:
The Cocoa and Forests Initiative (CFI) is running a key side event at COP27 on 10 November from 2pm-4pm at the Ghana Pavilion in the Blue Zone. Simultaneous translation English-French will be available.
Be There!
This side event is expected to be busy, pulling in people from the private sector, governments, the international donor community, media and other stakeholders. Make sure you're among them! Join us at the Ghana Pavilion
Delivering a Just Transition in Food and Agriculture
1300 – 1400  (EET) 12-Nov-22
Organiser: Nestle
Location: Blue Zone – Auditorium A, Business Pavilion
Speaker from IDH: Daan Wensing, Chief Executive Officer
Nestlé and leading partner organizations will discuss in this session  the challenges of delivering a just transition in food, addressing future and current climate impacts and specifically looking at the role food system actors can play. The event will also look at how companies can work with governments to scale up successful supply chain interventions, such as Nestlé's Income Accelerator Program in cocoa.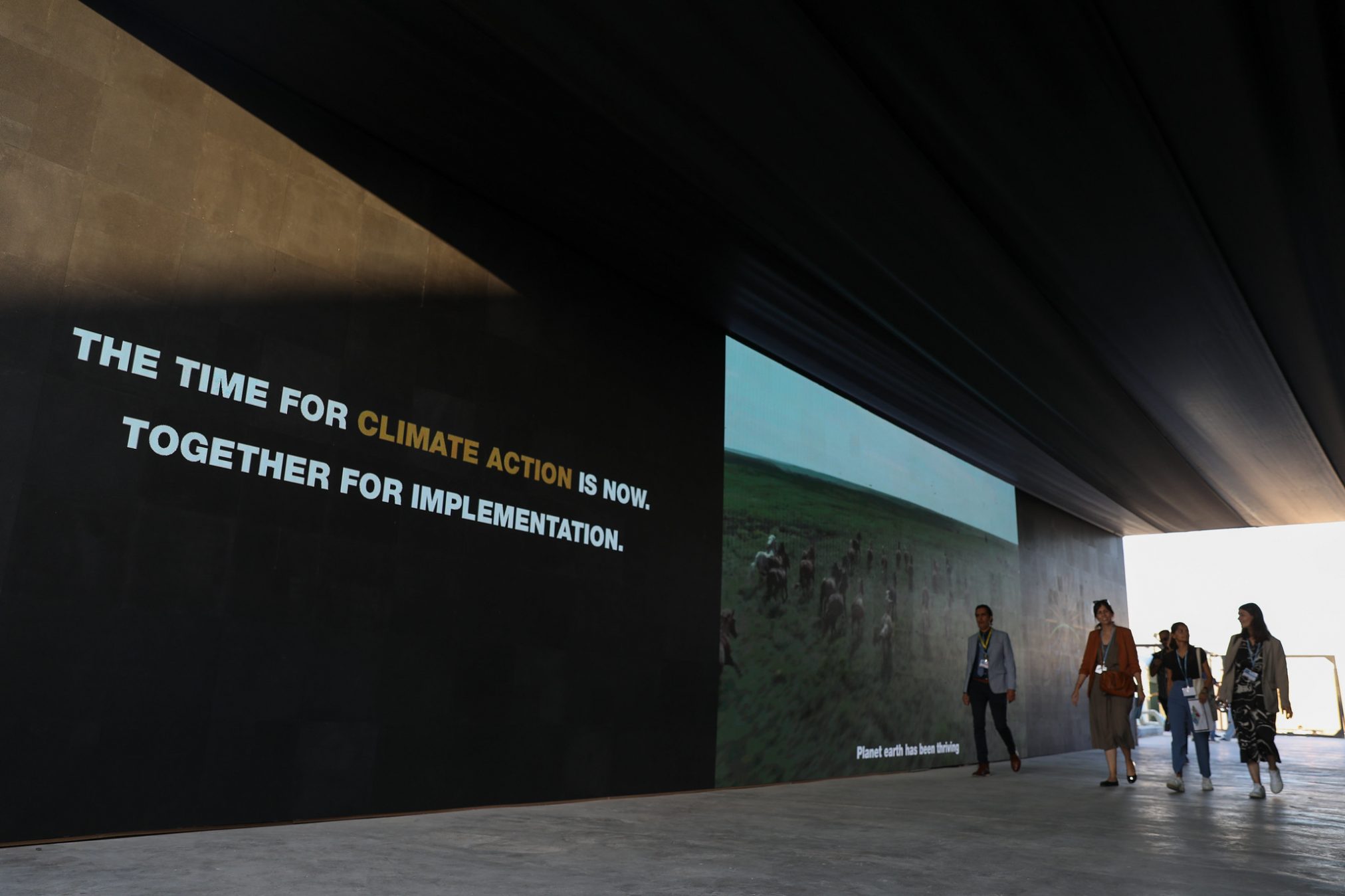 Panel Description
Leading food companies, including those with a significant reliance on agricultural supply chains, have committed to reaching net zero emissions. Achieving this requires a radical shift in production, impacting farmers and farm worker livelihoods. Nestlé has set out an intention to advance regenerative food systems at scale through a just transition. Farmer led regenerative agriculture programs are at the heart of this. But what does a just transition mean specifically in the food and land use sector, and how can it best be delivered in the context of rising food insecurity and inflation?
Confirmed panelists:
Magdi Batato, EVP – Global Head of Operations, Nestlé
Diane Holdorf, Executive Vice President, Pathways, WBCSD
Haley St. Dennis, Head of Just Transitions, IHRB
Richard Klein, Senior Research Fellow, Stockholm Environment Initiative
Daan Wensing, Chief Executive Officer, IDH
Moderator – Saint-Francis Tohlang, Corporate Communications & Public Affairs Director, Nestlé East and South Africa Region
Panel Themes
Framing the just transition and what it looks like specifically for the food and ag sector
Challenges
Opportunities and collaboration – how do we bring the concept to life?
The role of different actors in the food system value chain
Deploying finance to 1000 Landscapes by 2030
16.00-17.15 (EET) 12-Nov-22
Organisers: 1000 Landscapes for 1 Billion People, Climate-KIC, EcoAgriculture Partners, UNDP, Rainforest Alliance, Landscape Finance Lab, Conservation International
Location: Blue Zone – SDG Pavilion
Speaker from IDH: Marcela Paranhos, Global Carbon Finance Manager
Through 'Integrated landscape finance', local partnerships design a multi-sector set of landscape investments, coordinated to achieve regeneration at scale, and secure the diverse financing needed for these investments.  The 1000 Landscapes for 1 Billion People initiative is a 'radical collaboration' of organizations working to strengthen landscape partnerships [www.landscapes.global]. 1000L partners have identified key building blocks for an effective system of integrated landscape finance, aiming to meet climate goals and SDGs in 1000 landscapes. Speakers will describe why a new approach to finance is needed and the key building blocks for such a system. Expert panelists and event participants will provide inputs on co-creating a collaborative roadmap to catalyze finance system innovation and scaling.
Speakers and panellists:
Caroline van Leenders, Netherlands Enterprise Agency, Dutch Ministry  of Agriculture, Nature and Food Quality
Jeff Milder, Director of Global Policy and Coalitions, Rainforest Alliance
Daniel Zimmer, Director of Sustainable Land Use, Climate-KIC
Elijah Toirai, Exponential Roadmap for Natural Climate Solutions Team, Conservation International
Leslie Johnston, CEO, Laudes Foundation
Paul Chatterton, Founder and Lead, Landscape Finance Lab
Marcela Paranhos, Global Carbon Finance Manager, IDH
Sea the Opportunity
17:25 – 18:10  (EET) 14-Nov-22
Organiser: Global Salmon Inititiative
Location: Food Systems Pavilion, Area B, Hall 4, P08
Panel Description
Aquaculture already has a low carbon footprint, but continuous improvements need to be made to meet growth needs and ensure it remains a climate-friendly option. The changes required are across the global supply chain, and affect the whole industry. Recognizing that collective efforts could help accelerate change, over the last year the Global Salmon Initiative has been working in partnership with the World Wildlife Fund and Sustainable Trade Initiative to establish a common GHG emission accounting framework for the whole aquaculture sector from pen to plate. Prioritizing stakeholder collaboration and shared learning, this project is focused on establishing aligned, credible accounting and motivating ambitious mitigation efforts. Here we will discuss how its worked, what's been achieved and what this could mean for the wider food system.
Confirmed Panelists
Lisa van Wageningen – IDH
Sophie Ryan – CEO, Global Salmon Initiative
Emily Moberg – Research Lead Specialist, WWF