Uma coalizão inédita de empresas do agronegócio, ONGs ambientais, bancos e instituições de pesquisa lançou em 12 de setembro de 2017, um sistema online de suporte à decisão de investimento, o Agroideal.org. A ferramenta ajudará as companhias do setor da soja, um dos maiores segmentos agrícolas do Brasil, a fazer escolhas com base em informações socioambientais mais qualificadas, visando investimentos mais sustentáveis, que evitem o desmatamento e outros impactos negativos.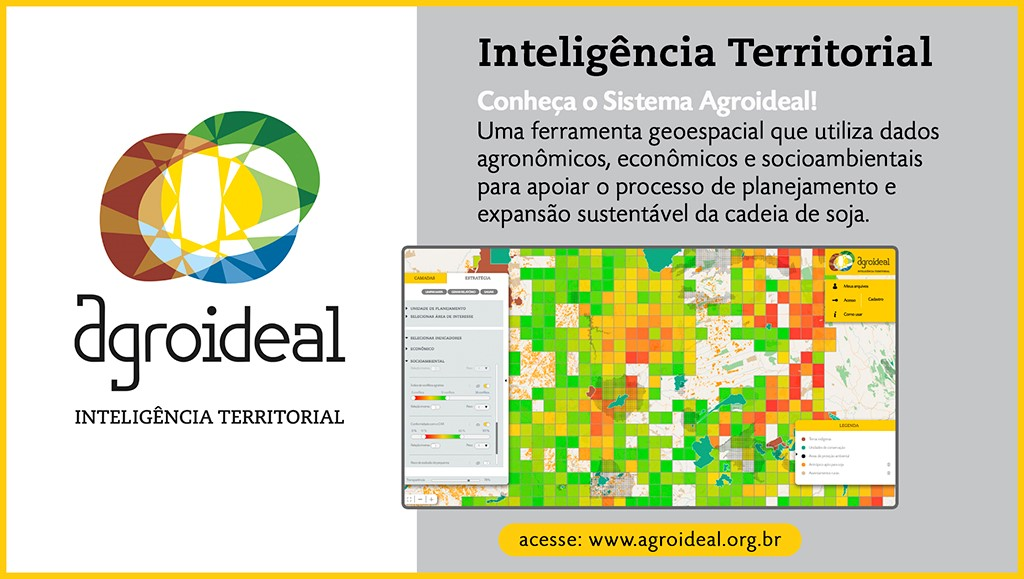 "A ideia é reunir os atores mais importantes nesse setor, para acelerar a transição rumo a uma produção cada vez mais sustentável", afima Rodrigo Spuri, coordenador de engajamento do setor de soja da The Nature Conservancy (TNC), maior organização ambiental do mundo.
Agroideal.org é uma ferramenta aberta, gratuita e com uma interface user-friendly, que integra uma ampla gama de dados e indicadores de sustentabilidade, incluindo adequação agronômica, indicadores socioeconômicos, mudanças no uso do solo e outros impactos ambientais. Os usuários podem gerar cenários customizados, identificando regiões de interesse, ponderando critérios distintos e estabelecendo limites de relevância para cada indicador. A ferramenta de inteligência territorial permite que cada empresa identifique as áreas de baixo risco para a expansão agrícola, bem como áreas que devem ser priorizadas para conservação.
"Quando as traders conseguirem ter uma visão mais clara sobre onde podem expandir a produção de forma mais sustentável e em uma escala viável, elas poderão também realizar investimentos ou oferecer financiamentos que ajudem a incentivar a produção nesses locais", aponta Spuri.
A TNC lidera o desenvolvimento do Agroideal, com apoio da Bunge. O projeto é parte da iniciativa CFA (Colaboração Florestas e Agricultura), que tem como objetivo apoiar empresas a desenvolver e implantar compromissos de eliminação do desmatamento, por meio do uso de ferramentas de suporte à decisão, do aumento da transparência e da consolidação de incentivos financeiros. O CFA recebe o apoio da Gordon and Betty Moore Foundation e reúne, além da TNC, o WWF (World Wildlife Fund) e o NWF (National Wildlife Federation).
O Sistema Agroideal de inteligência territorial está disponível pelo endereço http://www.agroideal.org