Determining forest boundaries is an important step to help the EU inspect imported goods and guide the Vietnamese Government and businesses to plan, plant and protect forests.
-Ms. Tran Quynh Chi, IDH Regional Director (Asia Landscape)
4 November 2023 (Hanoi, Vietnam) – An accurate traceability system and effective forest management are some goals that must be achieved before the EUDR officially takes effect in January 2025.
To support Vietnam's coffee industry to meet the requirements of the EU Deforestation-free Regulation (EUDR), on November 4 afternoon, the Ministry of Agriculture and Rural Development organized a conference titled "Implementing an action plan to adapt to the EUDR."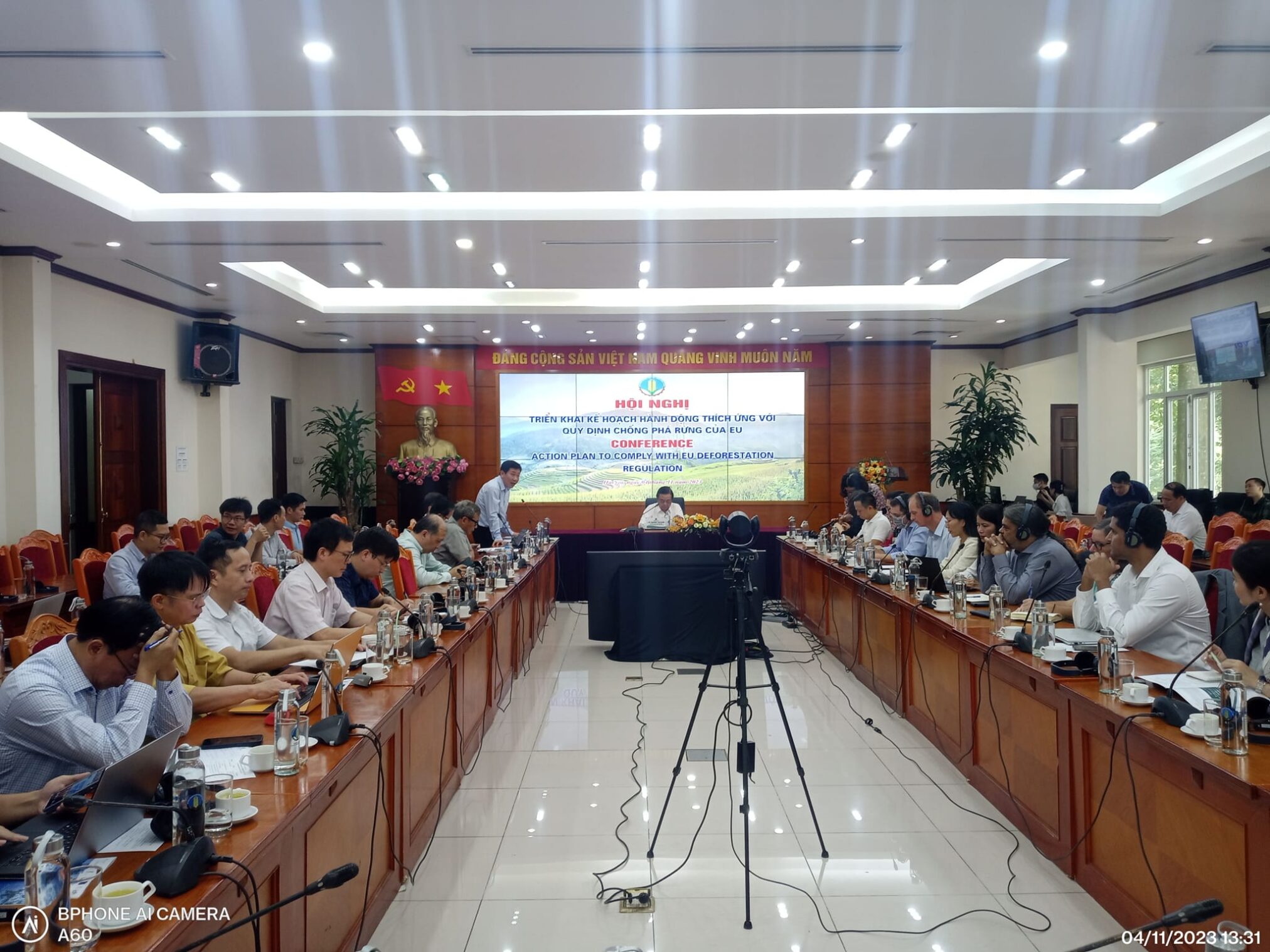 With important deadlines approaching, Vietnam faces challenges in meeting this regulation because of the need for an information system, garden data, and reference forest maps by December 31, 2020, according to EUDR regulations. Besides, the complex supply chain is a challenge for implementing traceability according to EUDR requirements. To ensure livelihoods for 600,000 small- and micro-scale farming households, including a part of production on forestry land and land near forests, there needs to be a mechanism to protect forests.
Minister Le Minh Hoan sees an opportunity for Vietnam to transform its agricultural sector to green while adapting to EUDR. "The close implementation of European requirements will create trust for international organizations, putting the Vietnam – EU relationship first. Interdisciplinary coordination lays the foundation for all parties to understand each other and the importance of each party's tasks. This cooperation is deeper, broader, and nobler than simply following international regulations," the Minister said.
Some European requirements
Based on standards set by the EU, countries are classified as high, medium or low risk. Products from countries considered "low risk" will have their appraisal process simplified. If the EU classifies one of the seven commodity sectors as "high risk" (livestock, cocoa, coffee, palm oil, rubber, soybeans and timber), it will result in all sectors being classified as "high risk."
To classify countries, the EU will collect information on forest areas as of December 31, 2020, conditions of production areas and the entire product material chain. Risk verification aims to assess the impact of agricultural production on the forest environment, thereby providing appropriate adjustment measures, and minimizing the risk of deforestation worldwide.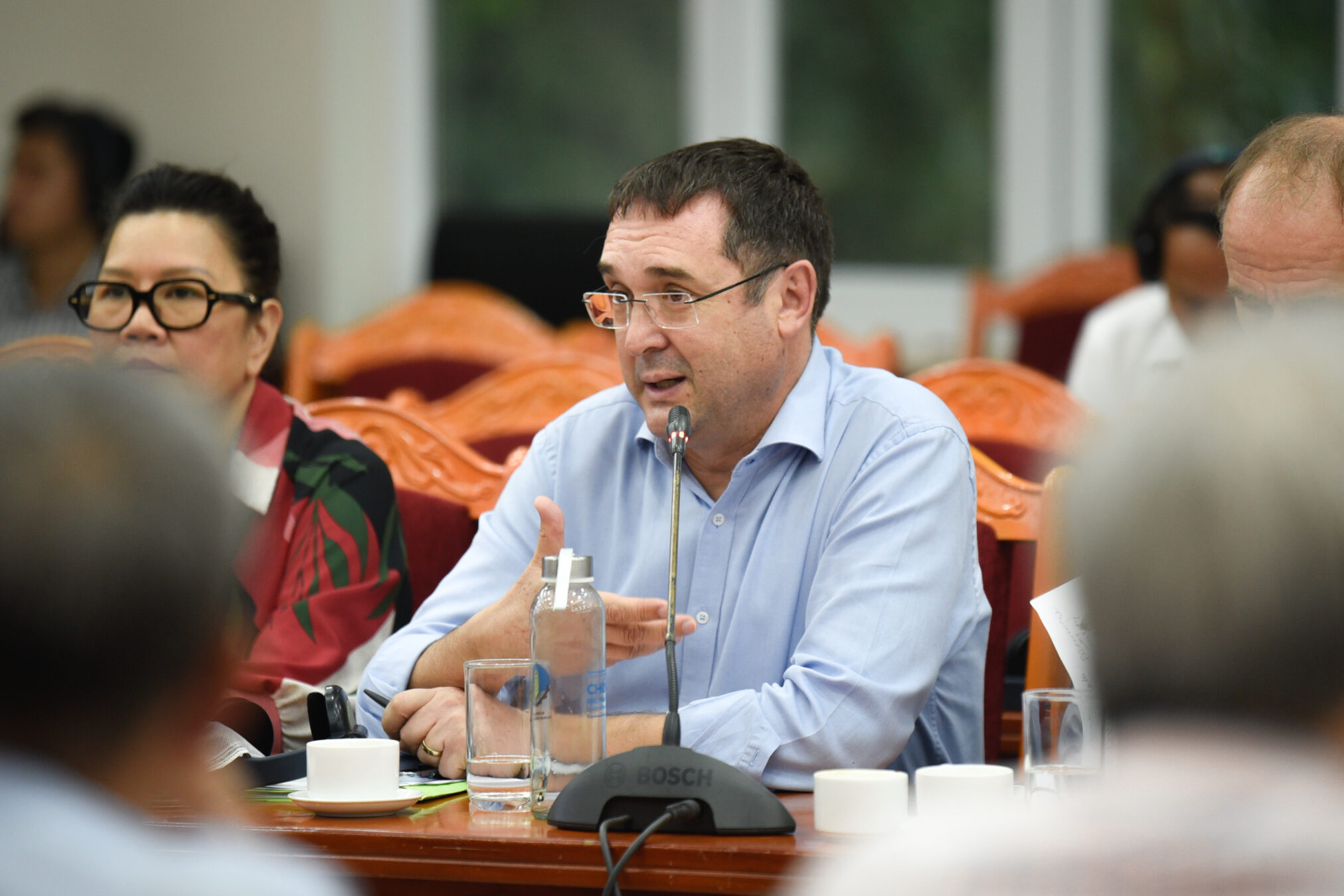 In addition, due diligence by the EUDR requires specific steps regarding the provision of information and assessment of risks related to the product being exported. First, manufacturers need to provide detailed information about the product. In particular, product traceability information will help confirm that the product does not cause deforestation and is legal for export. This requires specificity and transparency about the origin and production process.
Mr. Rui Ludovino, First Counselor for policies on climate, environment, employment and social issues of the EU delegation to Vietnam, commands the comprehensive coordination of Vietnam's agricultural sector. He hopes that with a methodical approach, Vietnam will be a bright spot in the region, providing effective models for other countries to meet the EUDR.
Interdisciplinary commitment to building a traceability system
Mr. Nguyen Do Anh Tuan, Director of the Department of International Cooperation (MARD) said that at the central level, the establishment of public-private partnership (PPP) is focusing on building technical solutions and data platforms for growing areas. The entire industry monitors forest protection, dialogues with the EU, and mobilizes necessary resources.
The implementation plan has had many specific activities – from unit-level meetings in March, there have been exchanges at the provincial and national levels with the EU Delegation. A Memorandum of Understanding to support Vietnam's coffee industry to reduce emissions, cause no deforestation or forest degradation and ensure livelihoods for farmers was signed between MARD, the People's Committees of 5 provinces, Vicofa, IDH, and JDE Peets.
In the last two months of 2023, more detailed consultation and contract signing will take place. The focus is on the EUDR adaptation program with specific activities, creating favorable conditions for businesses to follow and participate in the EU's pilot group.
According to Mr. Tran Quang Bao, Director of the Forestry Department (MARD), meeting the EU's requirement is a national mission. The forestry industry is currently waiting for specific guidance from Europe and is willing to provide input for the EU to classify countries according to risk. The Director said that in the last two months of this year, the Department will coordinate with the Forest Protection Department to establish a Working Group on wood and wood products to support the industry in adapting to EUDR.
Mr. Bao pledged: "To protect the existing forest area and effectively manage land, the Forestry Department will localize and promptly handle areas at risk of deforestation. These measures support the implementation of EUDR policy while protecting forest resources and maintaining environmental balance at the local level."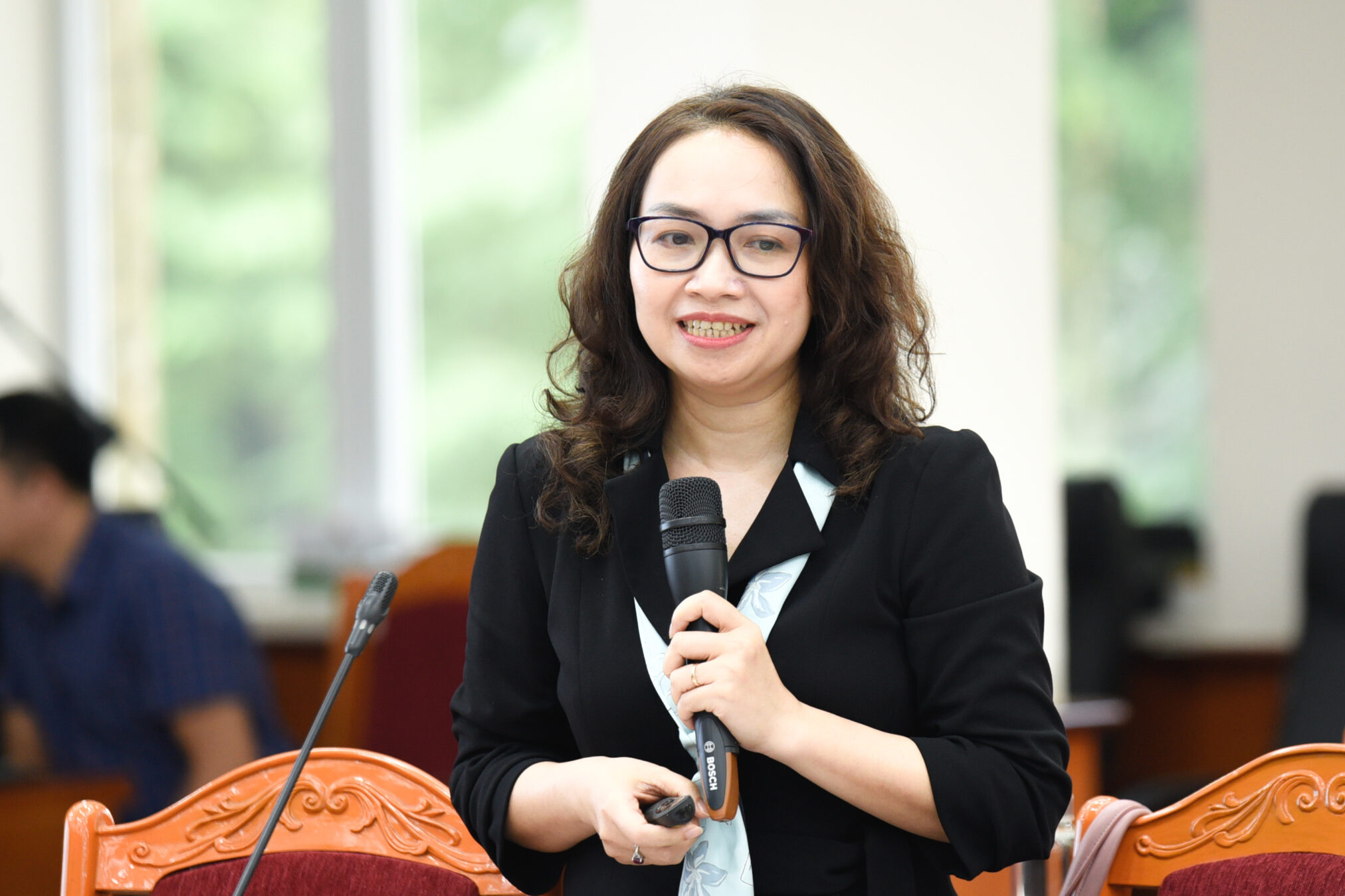 Ms. Tran Quynh Chi, Regional Director, Asia Landscape at IDH affirmed that the information system is important in meeting European requirements. According to Ms. Chi:
IDH and the Department of Crop Production will, by March 2024, accurately determine forest boundaries according to FAO's definition. This is an important step to help the EU inspect imported goods and guide the Vietnamese Government and businesses to plan, plant and protect forests. By June 2024, we aim to build a production area information system in the leading coffee-producing districts in Vietnam.
By the end of 2024, IDH will complete the cadastral map with 80% of cultivation and production areas digitized. The goal by 2025 will be to collect data from 25 districts (100%), synchronize with the growing area code of MARD database, and supplement information on the level of risk in production areas.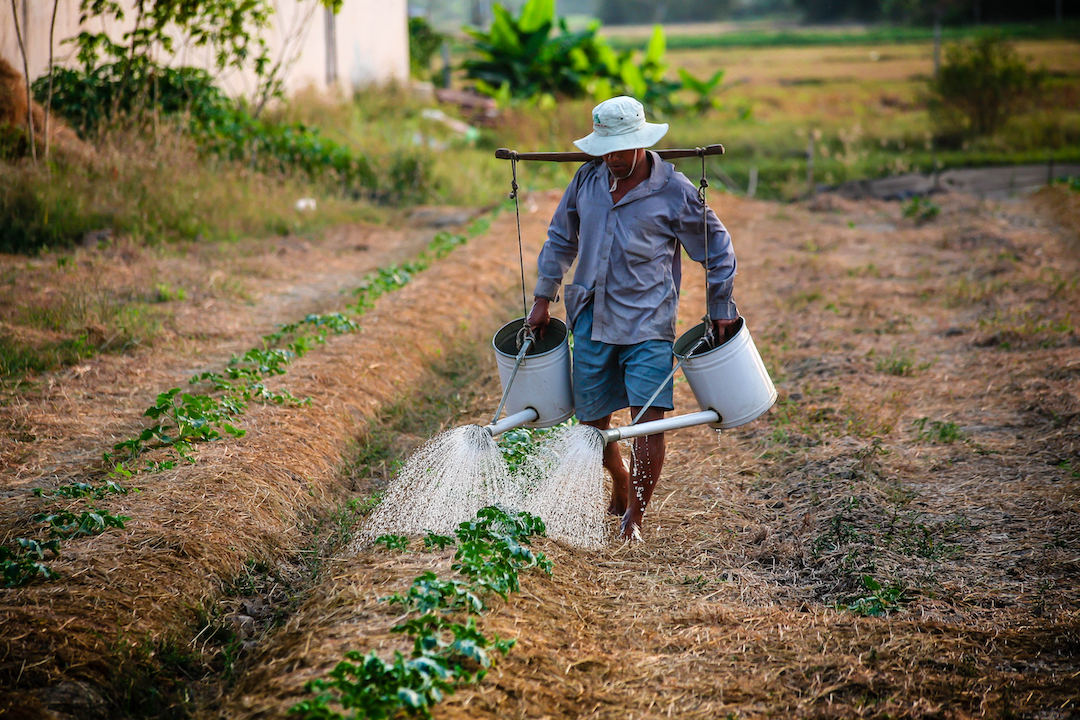 In addition, legal issues related to land use are also emphasized. About 15-20% of coffee-growing areas still need land use rights certificates. More than 100,000 hectares of rubber are beyond the planning for conversion from production forests. IDH proposed that the Ministry and localities be clear about proving the legality of gardens according to Vietnamese and EUDR regulations.
Ms. Nguyen Viet Ha, Senior Sustainability Manager of the 4C Services GmbH presented 4C's solution. This is a system for reporting trade at the production site and throughout the supply chain. Businesses and manufacturers can report to the system or access related information.
This system is being adjusted and developed to meet the specific requirements of the EUDR, ensuring that product origin information is complete and accurate. The 4C Association will continue introducing essential criteria for sustainable production, processing and trading of green coffee to forest-dependent farming communities.
Speaking at the conference, coffee, wood and rubber industry associations highly appreciated the efforts of the entire industry and hoped that Vietnam would be a country classified as "low risk." This will remove trade barriers for traded products. Localities affected by EUDR (Gia Lai, Binh Phuoc, Quang Tri, Dak Lak) face land management difficulties, as well as the large number of ethnic minorities who depend on forests. All provinces proposed that the Ministry have policies to support these farming households in converting crop production and creating sustainable livelihoods.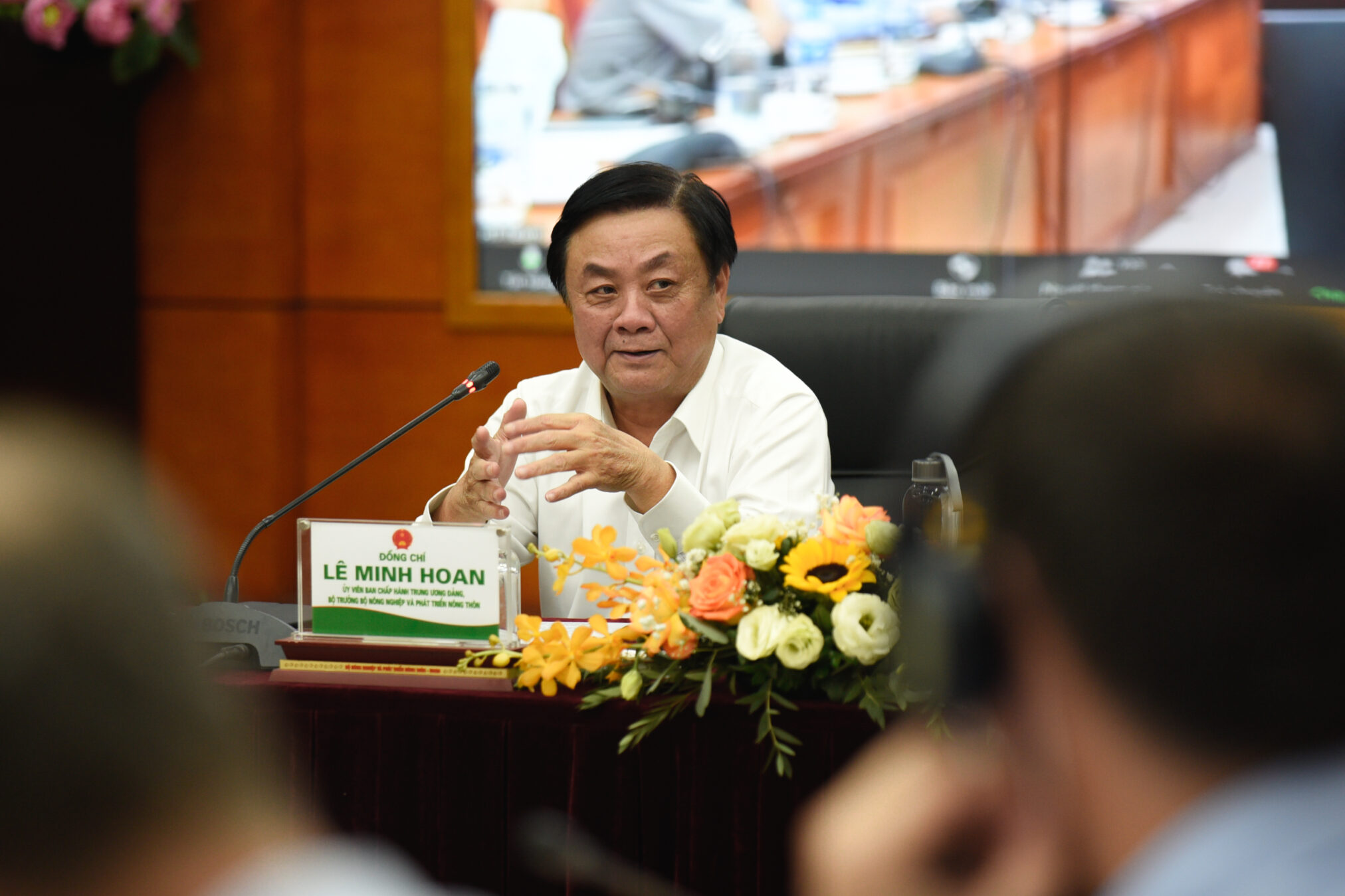 Responding to comments and suggestions at the Conference, Minister Le Minh Hoan emphasized that sustainable coffee development means leaving no one behind. The agricultural sector needs to be digitized, synchronized, and collect accurate information but it also needs to train the entire industry, from central to local levels. Europe will pay more attention to the social and environmental aspects of economic development.
The Minister requested: "We must do things carefully and cannot put farmers in a difficult position to meet EUDR requirements at all costs. Building a product system is an opportunity for parties to achieve long-term goals. International organizations must also coordinate with the Ministry to support farming households affected by EUDR. Until the regulation enters force in January 2025, we need to create scenarios for localities listed as high or medium risk to convert agricultural cultivation."
Background:
Within the framework of the EUDR Adaptation Action Plan, the International Cooperation Department has cooperated with the Department of Crop Production, the Forest Protection Department and the Forestry Department, IDH, the EU, and related units, to develop technical solutions and support the coffee industry in meeting EUDR requirements at central and local levels.
Through PPP, the proposed technical solution, state management agencies will coordinate with companies and international organizations to devise two components simultaneously.
Component A focuses on building an information system and database on forests and coffee production areas, dividing production zones according to risk levels of deforestation, and traceability according to EUDR requirements.
Component B focuses on identifying and handling coffee production areas on deforested land after December 31, 2020, and strengthening forest protection and regeneration. In addition, all parties will support small-scale farming livelihood models, especially in high or medium-risk areas.
This article was originally published on Vietnam Agriculture News Outlet