The Better Cotton Initiative (BCI) and IDH, with the support of Dalberg Advisors, have launched the 'Better Cotton Innovation Challenge' – to seek innovative ideas and solutions to improve sustainable cotton farming practices around the world.
The Challenge calls for innovators to submit disruptive solutions to enable effective and customised farmer training and efficient data collection.
Challenge One: Customised Training
We are looking for innovations that can help bring customised training on more sustainable farming practices to hundreds of thousands of cotton farmers across the globe.
Challenge Two: Data Collection
We are looking for solutions that could reduce the time and cost of farmer data collection to enable more efficient BCI licensing processes.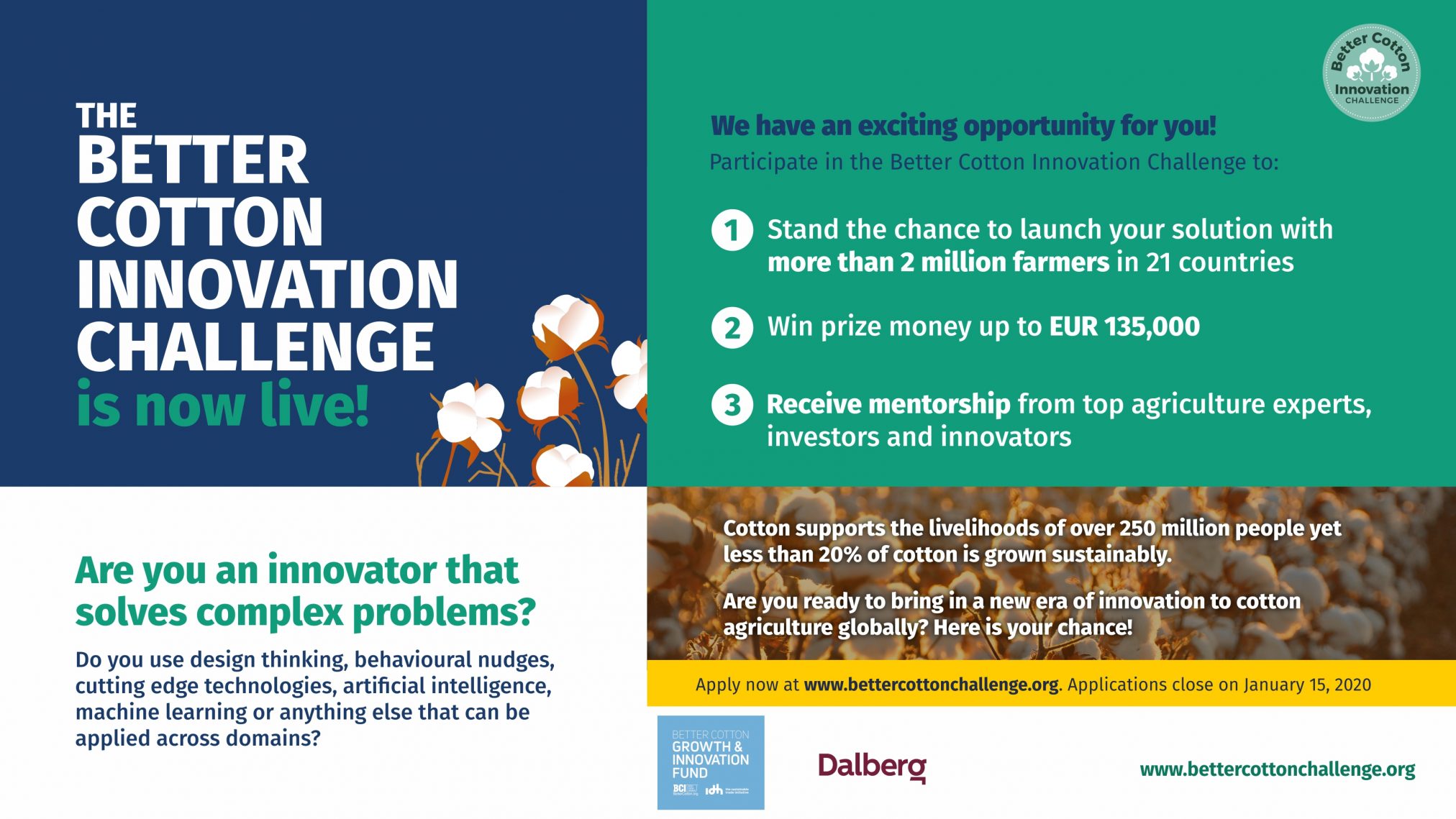 The solutions could be based on a wide range of innovation pathways and technologies such as machine learning, satellite-based analytics and image recognition, design thinking, as well as behavioral nudges. The Challenge team invites innovators from universities, research and development labs, start-ups and non-profit organisations to apply.
The Innovation Challenge will run in three stages. The first stage invites a wide range of innovators from across the world to submit applications with their unique ideas and solutions. The second round will invite shortlisted participants to submit more detailed proposals, and the third stage will have up to five participants carrying out rapid field trials to test their innovation. The winners will receive a cash prize of up to EUR 135,000 and the chance to scale their innovation with up to 2.2 million BCI farmers. Participants being shortlisted in the second and third rounds will be provided targeted mentoring and support by the Challenge organizers.
The deadline to apply is 15th January 2020 and the Challenge team invites innovators from across the world – working at universities, research and development labs, start-ups and non-profit organizations. Additional information about the Challenge and the application link can be found at www.bettercottonchallenge.org.