For the commitments of the Cocoa & Forests Initiative (CFI) to become more than commitments, they need to be translated to all stakeholders. In October 2019, the Cocoa & Forests Initiative (CFI) Technical Working Group developed key messages of commitments to sensitize all stakeholders including local authorities, farmers, communities, and other organizations on the value of keeping trees standing and feel part of the CFI of the process.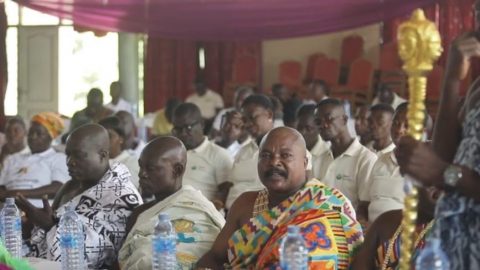 To design the sensitization activities, the CFI Technical Working Group met in May 2019. They developed key messages, identified specific target audience for sensitization activities as well as the channels of dissemination.  Members of the Technical Working Group included Tropenbos Ghana and the National Conservation Research Centre (NCRC), who have in-depth experience in community engagement.
The Technical Working Group's recommendations were then piloted in the Western North Region, the key cocoa production area in Ghana. Workshops were organized in Sefwi-Wiawso and Sefwi-Essam on October 15th and 16th 2019. Approximately 130 participants attended both meetings. Participants included representatives from relevant Government institutions, cocoa companies, NGO, CSOs, traditional authorities, farmer groups, local media houses, CREMA representatives in the Bia-Juaboso and the Bibiani/Anwianso/Bekwai/Sefwi-Wiawso (BABS) landscapes.
The workshops were facilitated by the CFI Secretariat. In attendance were high ranking government officials, such as the Western North Regional Minister, the District Chief Executive of Bia West District, the Ministry of Food and Agriculture Director for Juabeso, the Regional Fire Service Commander, and the Regional Manager for Produce Buying Company.  There were also representatives from the Paramount Chief of Sefwi-Wiawso, and other ranking chiefs from Sefwi Wiawso and the Bia Juabeso areas, Ministry of Food & Agriculture, Christian Council, District Chief Imam, private companies, CSOs, and cocoa farmers and groups.
In his address, the representative of the Paramount Chief of Sefwi Wiawso, Nana Frimpong Nanso attributed the rapid depletion of forest reserves in the area to encroachment by farmers, small-scale mining and other illegal activities which are threatening the general landscape of the area as well as cocoa production as an income generating activity. He advised leaders to use cocoa and forest related programs that target the area as effective ways of ensuring forests are protected for posterity and farmers increase production of cocoa.
The Western North Regional Minister, Hon. Kingsley Aboagye-Gyedu, on his part noted that it was exceptional to come across programs organized for cocoa farmers by companies specifically on issues relating to environment and forest protection. He commended companies for working with farmers to facilitate tree planting exercises and made an appeal to increase the frequency of such engagements. He pledged his support to CFI activities and entreated participants to fully participate.
Based on these initial pilots, the CFI Secretariat intends to carry out additional sensitization activities in 2020 in the other four priority CFI regions.