Sonja Tassa, a young school teacher from Kamakhyabari tea estate (TE) is setting an example in the estate for other young girls to learn from. Sonja, a graduate, is passionate about working for a social cause. She has actively participated in some of the social welfare-related programs in the estate and has gained a considerable amount of experience. Despite her father's wish for her to focus on higher education, she followed what she enjoyed doing which is teaching young students. She has been teaching young boys and girls at the primary school of the estate for some time now. The tea community as well as the garden management has been very supportive.
She shares that parents in the estate are supportive of their daughters, but they get worried if the girls have to go far to study owing to safety and insufficient finances. Sonja wants to be an inspiration for the girls of her community. Girls too need to come forward and parents need to be supportive as well. Exposure is very important, and girls need to be encouraged.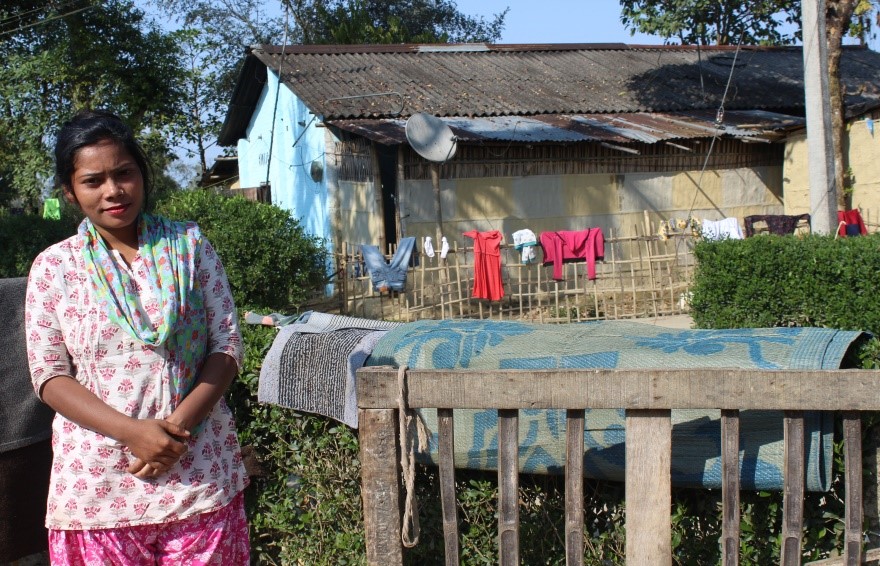 Sonja believes that awareness, safety, and education are the three contributing factors in order to grow into an empowered woman. She shares that it is unfortunate that there is a sense of fear inside of them whenever they step out – the fear of being harassed or of someone passing an inappropriate comment at them. There are also a few disturbing cases where the men of the house do not earn and snatch their wife's money for consuming alcohol. This has a negative impact on the children including their education.  She said "safety begins at home; if our rights are violated at home then we cannot move forward."
As a result of the WSAF program, people are now more aware of violence against women and girls and that it is a punishable offense under the law. She has observed that cases of violence have significantly reduced. She was happy to learn from the awareness interventions of the program that the estate has an internal committee, and that help can be sought from exclusive helpline numbers such as 100 for police and 181 and 1098 to raise violence against women-related issues. More importantly, she came to know that a wife has equal residing rights in the house as the husband and that snatching away the wife's earnings and belongings is prohibited under the law under the Protection of Women from Domestic Violence Act (PWDVA).