Are you attending the highly anticipated Africa Food Systems Forum 2023 Summit taking place from 5 to 8 September in Dar es Salaam, Tanzania?
Our CEO, Daan Wensing, will join a high-level panel during the AGRF Summit's Closing Ceremony, focusing on galvanizing private and public sector commitments to strengthen the inclusiveness and resilience of African food systems. This distinguished panel will include ministers, senior industry experts, and representatives from the African Development Bank (AfDB) as well as the International Fund for Agricultural Development (IFAD). The UN Climate Change High-Level Champion will also be in attendance.
Decisions with Data: Introducing the FarmFit Insights Hub
At the AGRF Summit we will also introduce to the wide range of stakeholders in attendance our pioneering FarmFit Insights Hub. The Insights Hub offers user-friendly tools designed to guide investors, companies, and support organizations in making data-informed decisions that effectively maximize the impact of their engagement with smallholder farmers.
A glimpse of the FarmFit Insights Hub
Want data and insights to inform investment into smallholder business models? Stay up-to-date and sign up for our exclusive smallholder-inclusive business newsletter. Follow us on our LinkedIn page for exclusive sneak peeks and latest developments on the Hub.
Pathways for Progress: Showcasing Transformative Collaborations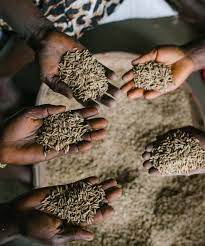 At the AGRF Summit we will also showcase some of our most impactful collaborations. Learn about IDH's strategic partnerships with off-takers, state institutional buyers, service providers, SMEs, SHFs and other stakeholders. These key partnerships are driving the commercialization and advancement of inclusive grain supply chains.
Through the dynamic Grains for Growth program (G4G) and Farmfit TA support program in Tanzania, we are increasing local sourcing, facilitating domestic and regional trade, boosting income and job creation, and scaling business operations for SMEs and SHFs in both Ghana and Tanzania.
Stay up-to-date and grab your place at the Summit by registering now. We look forward to the opportunity to engage, network, and contribute to the transformation of Africa's food systems!