The Executive Director of IDH Brazil and LATAM Landscapes Program Director, Daniela Mariuzzo, was invited last month to share some results and successful experiences at international events.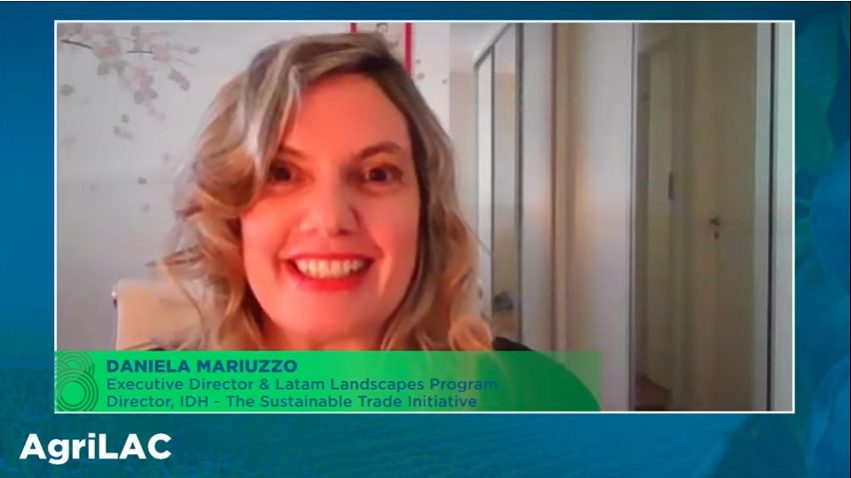 The first of them, in early September, was AgriLAC – Sustainable Agribusiness Supply Chains in Latin America and the Caribbean, promoted by IDB Invest, a member of the Inter-American Development Bank, which brought together global and regional leaders to discuss pressing issues affecting the food industry and agribusiness with a view also to new opportunities. Mariuzzo discussed how the landscape approach developed by IDH can boost the production of more sustainable commodities on a large scale, also looking at the social inclusion of small-scale producers. Her participation was in the Panel dedicated to discussing the impact on supply chains through traceability. Check out the video here
During the week of 21 to 27 September, the North American city of New York brought together, online, world leaders to discuss climate change, marking the preparation for COP26 (26th United Nations Climate Change Conference), which will be held between 31 October and 12 November in Glasgow, Scotland.
Within this program was the Global Landscapes Forum, which focused on the Amazon and debated ways of preserving and restoring biological and cultural diversity in the largest tropical forest on the planet.
One of the events held during the Forum was organized by Marfrig, which invited experts to talk about integrated territory management and practical results in the livestock chain in Mato Grosso. The panel included the participation of the governor of Mato Grosso, Mauro Mendes, the World Bank climate specialist, Alexandre Kossoy, and Daniela Mariuzzo, among other guests.
Mariuzzo highlighted IDH's support to small-scale farmers through the Sustainable Calf Production Programme and how these results connect with the Produce, Conserve, and Include strategy at the State and Regional levels. Learn more here.
Another opportunity to discuss the collaboration to build joint solutions was the event brought together by Coalizão Brasil, Uma Concertação pela Amazônia, and TFA, which debated the role of the climate networks from the perspective of the initiatives of the civil society and the private sector in the sustainability agenda. Daniela introduced IDH's experience in building multi-stakeholder compacts, including the private sector and governments, and the need to have a critical and transparent assessment of these processes. See the full event here