IDH partners with JDE Peet's and Vietnamese Government on low-emission coffee landscape in Vietnam
Jacobs Douwe Egberts (JDE Peet's) and IDH launched a new partnership with Simexco, LDC and ACOM on low-emission coffee production in Vietnam at an event on February 14 in the presence of more than 70 representatives of Vietnamese governmental bodies at the central and local level, as well as domestic and international coffee companies, associations and CSOs. At the event, IDH Regional Director Asia Landscapes Chi Tran signed a Memorandum of Understanding (MoU) with the Vietnamese national government for co-investment in sourcing areas in the Central Highlands. To implement the agreements, the partners will cooperate through a landscape approach, which allows multiple public and private stakeholders to work together for transformative impact at scale.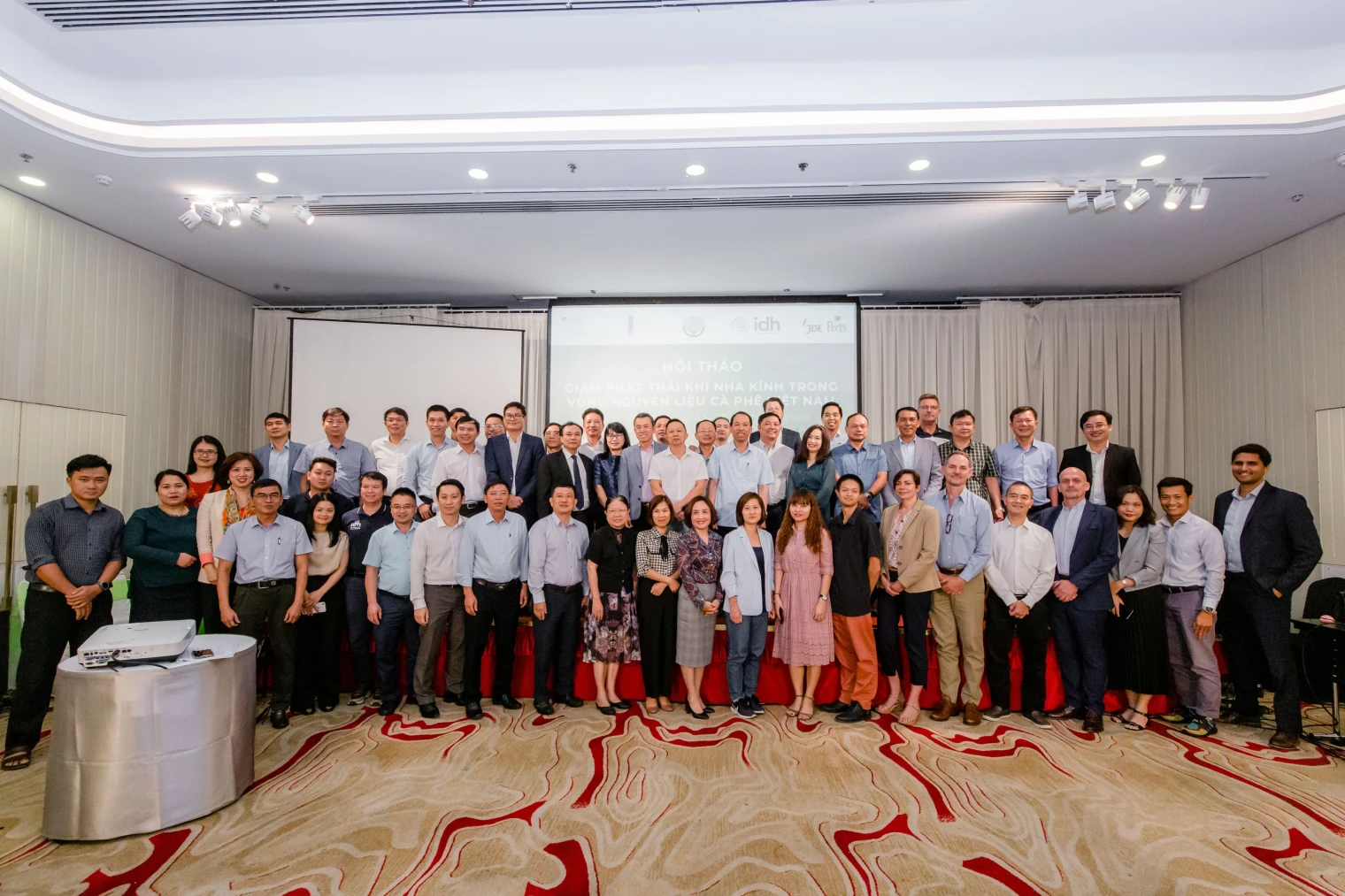 IDH-JDE Low-emission Coffee partnership
Coffee industry stakeholders have been working together in Vietnam since 2013 with IDH's support to improve the sustainability of coffee production, forming Production-Protection-Inclusion (PPI) Compacts in 2019 in Di Linh, Lac Duong and Krong Nang districts in two key coffee provinces Lam Dong and Dak Lak. The three projects to be implemented by Simexco, LDC and ACOM are co-financed by IDH, JDE, other private partners, and with in-kind contributions from farmers with a total investment of 3.6 million EUR.
'At JDE Peet's, we are committed to unlocking the possibilities of coffee and tea to create a better future for our farmers, their families and the entire coffee sector. We do this in collaboration with actors of the supply chain and local government with the vision of sustainable coffee production. This partnership allows us to scale up our efforts in support of these goals and towards achieving our 100% responsible sourcing of coffee by 2025 as well as to achieve our goal to tracking and reducing the carbon footprint of our entire coffee value chain', Mr. Do Ngoc Sy, Sustainability Manager, APAC, JDE Peet's shared.
Local coffee farmers are enthusiastic, as agroforestry and intercropping systems introduced through the Landscape Program have helped them reduce carbon emission and improve incomes for smallholder farmers. Farmers also received sustainability certifications, created community irrigation systems and cut down on dangerous pesticides following implementation of the landscape approach.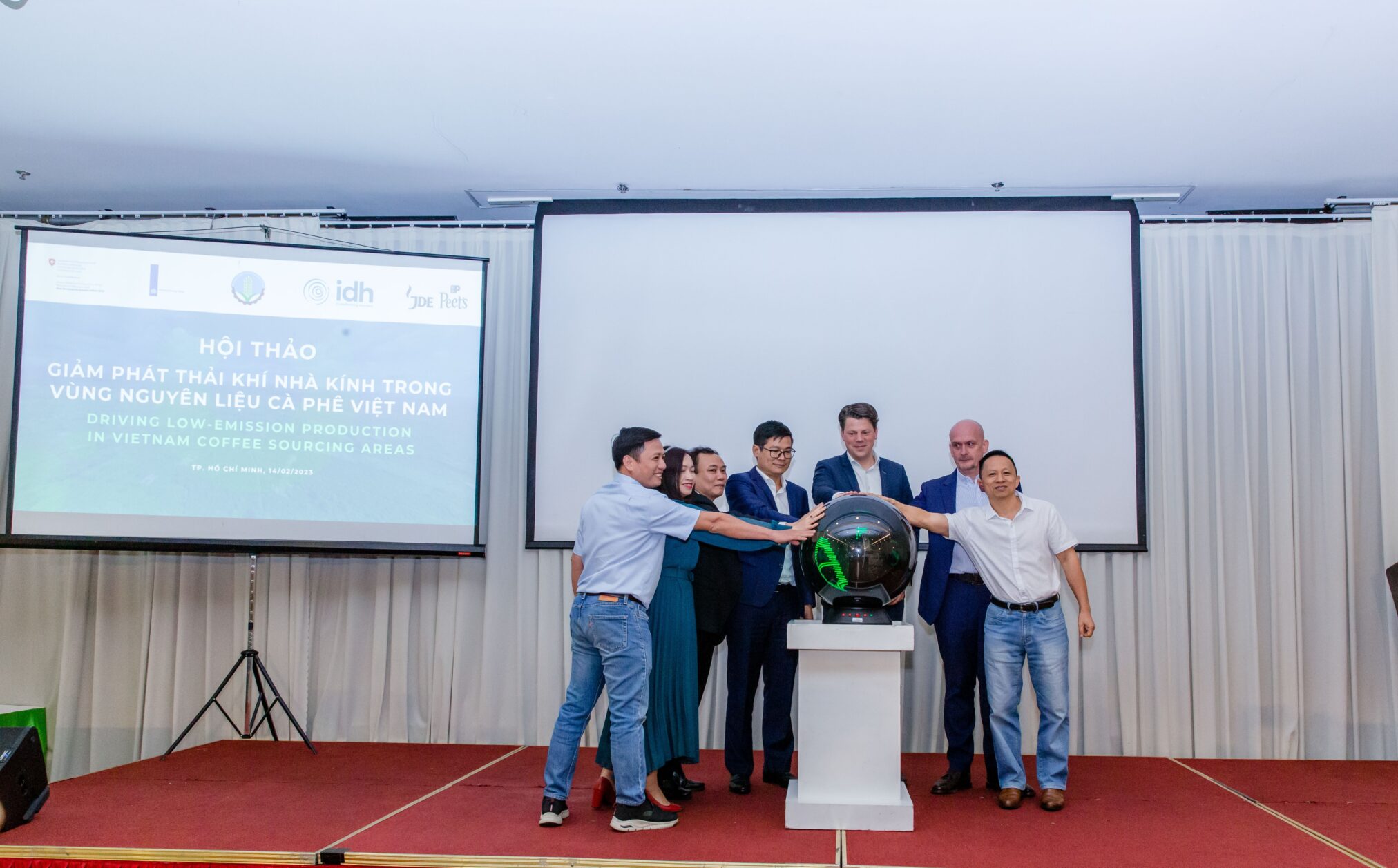 'The overarching goal of our common interventions with IDH and JDE since 2016 has been to promote less agrochemical intensive and more diversified farming systems. If we are successful in our service delivery, this can contribute to reducing or optimizing farm production costs and hence improving farm economics, reducing exposure of farmers and farm workers to sprayed chemicals, limiting the pressure on the farm's environment (water and soil pollution) and subsequently decreasing the carbon footprint of farmers' operations', Mr. Laurent Bossolasco, Regional Manager, APAC, ECOM shared after the kick-off ceremony.
The projects aim to promote low-emission coffee production over 30,000 ha, benefiting over 24,000 households (48,000 farmers). The projects prioritize Di Linh, Lac Duong districts (Lam Dong province) and Krong Nang district (Dak Lak province), with a small proportion of outreach to other Central Highlands provinces including parts of Gia Lai  and Dak Nong. The partnership will support regenerative agriculture, including supplying coffee and shading seedlings, and soil tests.
The projects aim to help mitigate climate change by reducing greenhouse gas emissions and removing carbon from the atmosphere, with robust accountability and verification systems for carbon insetting. The carbon claims' high social and environmental integrity will make them compatible with partners like roasters and coffee companies.
IDH-DCRD cooperation for verified sourcing areas in Central Highlands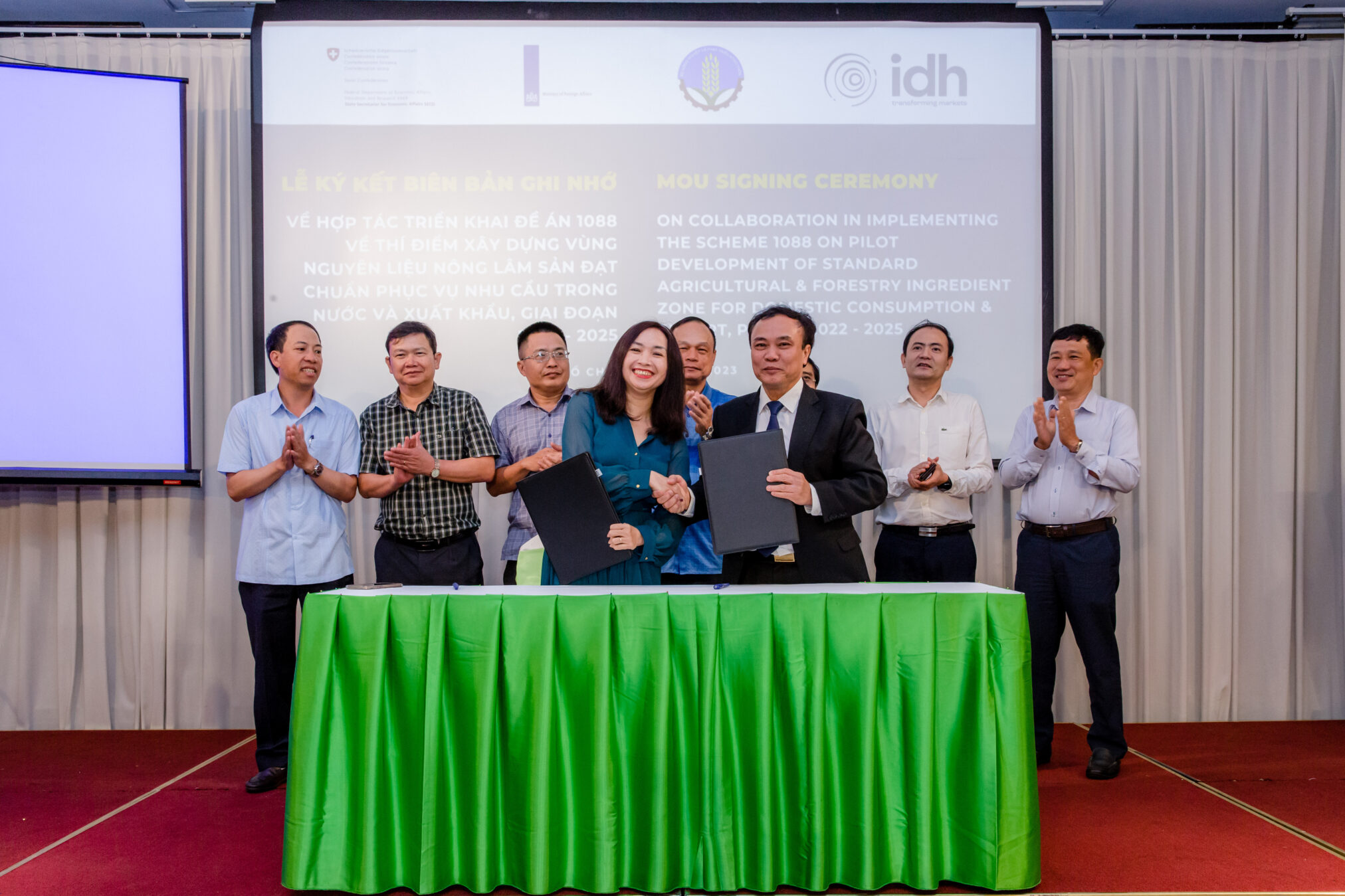 IDH and the Department of Cooperatives and Rural Development (DCRD) of Vietnam's Ministry for Agriculture and Rural Development (MARD) will cooperate on implementing the Scheme 1088 of pilot development of standard large scale agricultural and forestry sourcing area for export and domestic consumption, aligning with the MARD's vision and enhancing public-private partnership through a landscape approach and the SourceUp mechanism. The scheme plans to establish 5 large-scale sourcing areas to be carried out pilots in 13 provinces all over Vietnam, including the coffee sourcing area in the Central Highlands.
IDH is working to transform markets through scalable models for low-carbon sourcing for agricultural commodities produced in tropical countries. The recently launched projects and partnerships represent new solutions for the coffee sector and for local development. In doing so, IDH and its partners are contributing to the UN Sustainable Development Goals 13 (Climate Action) and 15 (Life on Land).