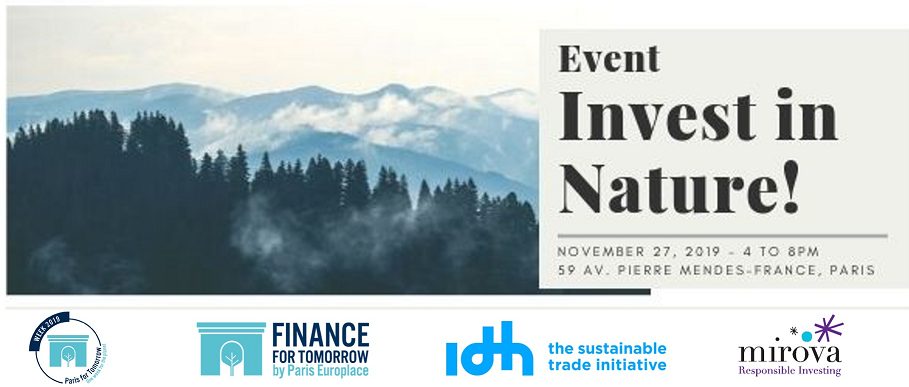 On Wednesday November 27th, ahead of  the Climate Finance Day in Paris, IDH, together with Mirova and Finance 4 Tomorrow, is co-organizing the side event "Investing in Nature". This event will showcase concrete actions and lessons learned from experience of natural capital investing, through agroforestry, agroecology and regenerative agriculture practices. The objective of the event is to raise awareness, promote innovation and best practices, and build common ground amongst actors to support the development of the natural capital asset class. During the event, IDH will share initial lessons learnt from its role as TA Facility Manager to the LDN TAF, and we'll hear from several panelists about their experiences in designing and strengthening the business- and investment case for sustainable land use to enable private sector involvement.
Date: Wednesday 27 November
Time: 16:00 – 20:00 (CET)
Place: NATIXIS, 59 Avenue Pierre Mendès-France, 75013, Paris
Investing in Nature
Given the scale of today's environmental challenges, the mobilization of private finance for sustainable land use and so-called 'Nature Based Solutions' will be essential to preserve biodiversity and climate. Biodiversity is critical to the sustainability of life on Earth, helping to stabilize the climate, and secure the well-being of human societies. Healthy ecosystems provide shelter, food and medicine, while forests and oceans act as huge carbon sinks. Unfortunately, natural habitats and unique landscapes are being destroyed at an alarming rate, and the cost of inaction is rising. Nature suffers from over-exploitation and under-investment.
As a result, there is an urgent need to mobilize finance at scale to invest in Nature Based Solutions to the ongoing climate and biodiversity crises.
On the international stage, global responses such as the "New Deal for Nature", including all stakeholders, need to be supported. The private sector has a key role to play, alongside scientists, civil society and governments. The meetings of IPBES in 2019 and IUCN in 2020 in France are intended to accelerate the momentum from the private sector, towards the COP15 of the Convention on Biological Diversity in China in 2020.
Program
Introductions. The New deal for Nature and the role of private capital
Session 1. Understanding the Natural Capital sector
Session 2. Underlying business models: lessons learned and perspectives
Session 3. How underlying business model fit with banking techniques and assets class?
Conclusions. What's next?
For more information visit Finance for Tomorrow Paris Week. For inquiries you can reach out to:
Program Director Landscapes Finance

Program Manager, Landscape Finance