Vietnam: Leading the Way in EU Deforestation Regulation Alignment
The European Commission (EC) supports transforming Vietnam into a global model of collaboration with the EU towards achieving sustainable development in alignment with the EU's Deforestation Regulations (EUDR).
On 18 September 2023, a delegation from the Ministry of Agriculture and Rural Development (MARD) of Vietnam, led by Minister Le Minh Hoan visited the European Commission (EC) headquarters in Brussels (Belgium). The visit aimed to boost cooperation between Vietnam and the EU in the sustainable development of the agricultural sector. Representing IDH, Ms. Tran Quynh Chi (Regional Director, Asia Landscapes) was present alongside the government delegation on this trip.
During the working sessions, Minister of Agriculture Le Minh Hoan shared Vietnam's message and willingness to comply with the EU regulation. This includes meeting the requirements for exporting coffee, rubber, timber, and wood products to the EU market as an opportunity to steer Vietnam's agriculture sector toward a strategic direction that is transparent, responsible, sustainable, and green. The EC greatly appreciated Vietnam's swift and proactive actions in adapting to the EUDR and noted that Vietnam's approach has sparked many ideas for the EC's cooperation with Vietnam, particularly with other countries in general.
Vietnam's message of turning challenges into opportunities has inspired the EC in its work with partners and has positioned Vietnam as a global model for adapting to the EUDR and sustainable development.
-Ms. Florika Fink-Hooijer, the Director-General for Environment
The EC encourages multinational companies and organizations like IDH to engage in collaborative endeavors with MARD through public-private partnerships. The goal is to efficiently build an information system, gather reliable data on cultivation areas, enable effective traceability, enhance monitoring systems, and provide livelihood diversification for farmers in high-risk areas. This is the foundation to ensure Vietnam is included in the low-risk group when implementing the EUDR, while also building reputation and brand value for Vietnamese agricultural products in the present and the future.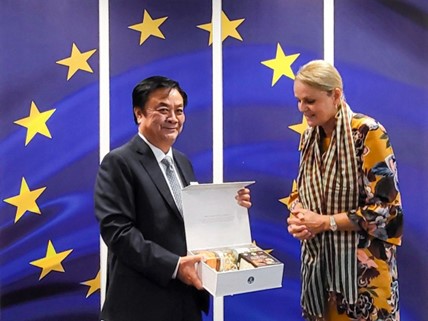 Considering that most stakeholders in Vietnam's commodity value chain operate on a small scale with limited resources, the Vietnamese Minister has suggested that EC agencies enhance their cooperation with Vietnam to strengthen its compliance with the EUDR requirements. In collaboration with IDH, MARD has presented the following recommendations to EC:
Swiftly issues technical guidance documents for affected industries to prepare for the EUDR implementation starting January 2025.
Initiative solutions to minimize costs for agents in the value chain when adapting to EUDR, especially in terms of Global Positioning System (GPS), Polygon, and traceability; clearly categorize production based on risk levels and minimize requirements for geolocation and traceability in safe areas.
Collaborates with MARD and global organizations like IDH in assessing the risk levels of Vietnamese coffee production areas to apply suitable measures to tackle these risks. This verification is based on the current level of general information.
Establish a strategic partnership between the EU and Vietnam in the agriculture sector, firstly making Vietnam a "test case" of EUDR implementation. This includes providing technical assistance to Vietnam in implementing the EUDR i.e. technical guidance, capacity building, establishing data and information systems, geolocation verification, traceability, etc.
Develop and pilot sustainable livelihood models for farmers in high-risk areas.
Suggests the establishment of a hotline for addressing matters about the implementation of EUDR requirements.
To conclude, the European Commission representatives greatly value the recommendations by MARD and encourage both parties to implement Vietnam's initiatives and recommendations promptly. This commitment will contribute to positioning Vietnam as a global exemplar in collaboration with the EU on environmentally friendly, sustainable development and adaptation to EUDR.
Background information:
On 29 June 2023, the Regulation on deforestation-free products entered into force. The main driver of these processes is the expansion of agricultural land that is linked to the production of commodities like soy, beef, palm oil, wood, cocoa, coffee, rubber, and some of their derived products, such as leather, chocolate, or furniture […].
Under the Regulation, any operator or trader who places these commodities on the EU market, or exports from it, must be able to prove that the products do not originate from recently deforested land or have contributed to forest degradation.
More on the EUDR here
This news was originally published in  EC highly appreciates Vietnam's quick EUDR adaptation (nongnghiep.vn)