Initiated in 2021, the goal of the Women's Safety Accelerator Fund (WSAF) program has been to build awareness and understanding of gender-based violence (GBV) and support the tea industry to put measures in place to strengthen prevention and response mechanisms. Workshops have been organized with different levels of the tea community- Management, Staff, Workers and Adolescent Groups for building safe tea estates and communities for women and girls across 50 tea estates in Assam and West Bengal.
A key part of the program has been in connecting the estates to relevant government stakeholders such as the District Social Welfare Department, District Legal Service Authority and the helpline numbers at the district level for strengthening the response mechanisms on gender-based violence. Stakeholders are visiting the tea estates for sensitizing the workers and community on services offered and how to access.
We are working with the management to codify and have a system to trace and tackle and build understanding on violence against women (VAW) and laws on Prevention of Sexual Harassment (POSH). The program is identifying and creating agents of change within the community like members of Mother's Club, adolescent and youth girls and boys who are being engaged in capacity building workshops to give leadership in prevention of violence against women. The women and youth are in turn sharing their learnings with the larger community by holding community meetings using posters, films, songs and Jhumur dance. The women leaders have been trained to conduct 'safety assessment' of their estates and come up with suggestions for the management to boost infrastructure for their safety needs.
To mark the 16 days of activism, beginning from November 25th until December 10th 2022, against Gender-Based Violence (GBV), the WSAF program is organizing an awareness caravan in close collaboration with the district administration of Assam and West Bengal. The awareness caravan that is being launched is using street theatre, audio stories and interactive discussions to build mass scale awareness and action towards prevention of gender-based violence and prevention of child labour, trafficking and abuse in Assam and West Bengal.
The caravan began on Nov 25th and is covering around 29 tea estates across Assam (in Dibrugarh, Tinsukia districts) and West Bengal (Jalpaiguri district) covering locations like labour lines, tea plantation areas, schools and colleges across these estates. As part of the 16 days activism, gender equality football matches are being organized in the estates with girls and boys participating together to denote that that there are no male or female sports but that everyone should be FREE to choose based on their aspirations and feelings.
We also use innovative approaches like street theatre and image theatre to increase awareness levels on forms of violence against women and girls, care, and protection mechanisms. Post watching the theatre shows, the audience are able to relate with the scenarios depicted in the show and are sharing that such incidents take place in the tea estates on a daily basis and were heartened to see that the tea estate management is placing importance and sensitivity on this issue and were happy to know about support services like DLSA, One Stop Centre and helpline numbers which they were not aware of earlier. They pledged that knowing this now they will not be afraid to offer or seek help to prevent violence.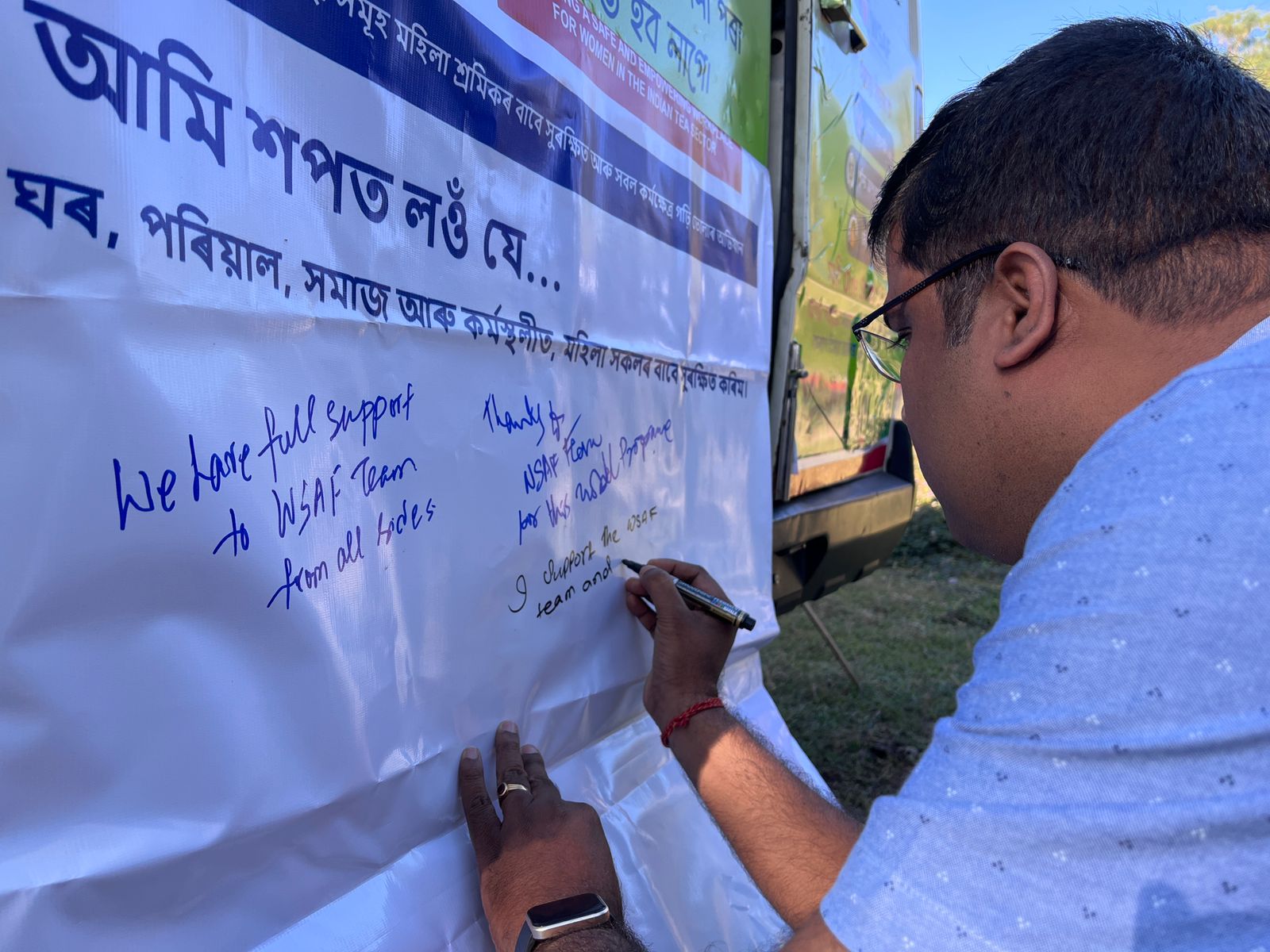 WSAF also organized district level stakeholder consultation meetings in Dibrugarh district on November 29th and Tinsukia district of Assam on December 1st 2022 for strengthening response mechanisms of external stakeholders towards prevention and protection of women from all forms of violence. Representatives of tea estates and the district administration participated in this meet. The district administration in Assam pledged their support towards preventing and eliminating different forms of violence against women and girls in a concerted manner across tea gardens in a multi-stakeholders' conference organized by the Women's Safety Accelerator Fund (WSAF) program to mark the16 days of activism against Gender-Based Violence.
A strong outcome from the district stakeholder meetings has been the formation of Gender Cells in the Tea Estates in Dibrugarh. Identified representatives (both men and women) from the government (VDP, ANM, AWW), leaders from tea garden workers' community (including union), and representatives from tea estate management are members of this cell. This program is building their capacity for responding to cases on violence against women in the tea estates, raising awareness on gender discriminatory practices and norms, and build linkages with government schemes and programs.