Ntui, Cameroon, 21 March 2023 – Nearly 100 trees have been planted today in Ntui, as part of the implementation of the ASCOKYB project, co-funded by IDH and Telcar.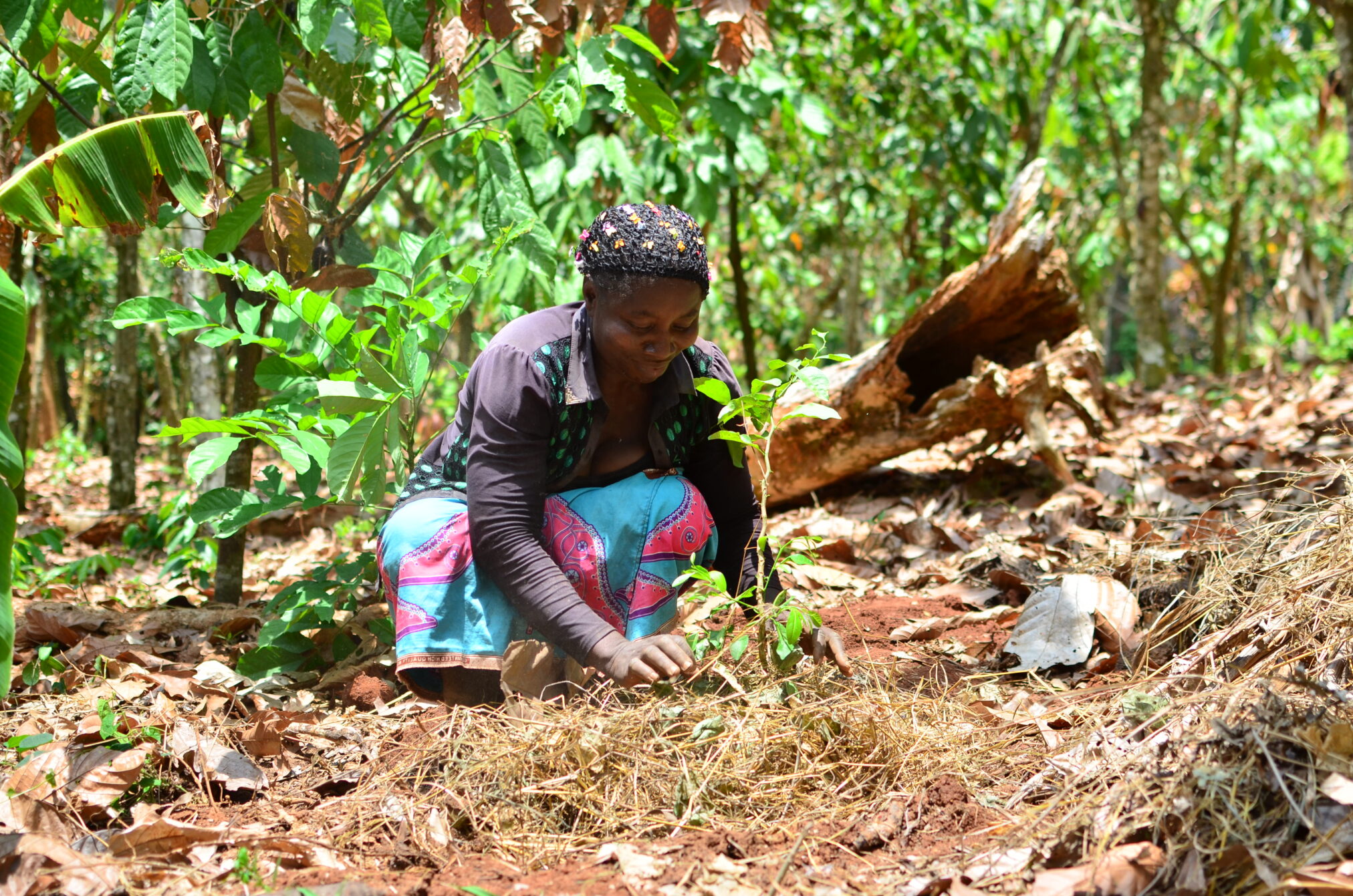 ASCOKYB, meaning "Kombé Yallongo and Bikong Community Association", is a project to help farmers diversify their income by planting high-value trees in their cocoa system while sustainably managing their community forests.
"The project has several stages and we are pleased that the step of tree planting coincides with the International Day of Forests", said Joël Owona, Program Manager at IDH Cameroon. He also added:
The activities will not be limited to this hundred trees planted. It is planned to  train 500 farmers on agroforestry so that they can implement it independently and run it as a business. 30,000 tree seedlings will be produced by community members and distributed amongst themselves. Other trees will be planted, in order to have an average of 35 trees/ha. Thanks to the follow up of our technical team, we target a survival rate of 80% of planted trees on-farm after year one, and annually going forward.
The trees planted today are from the nurseries of local producers.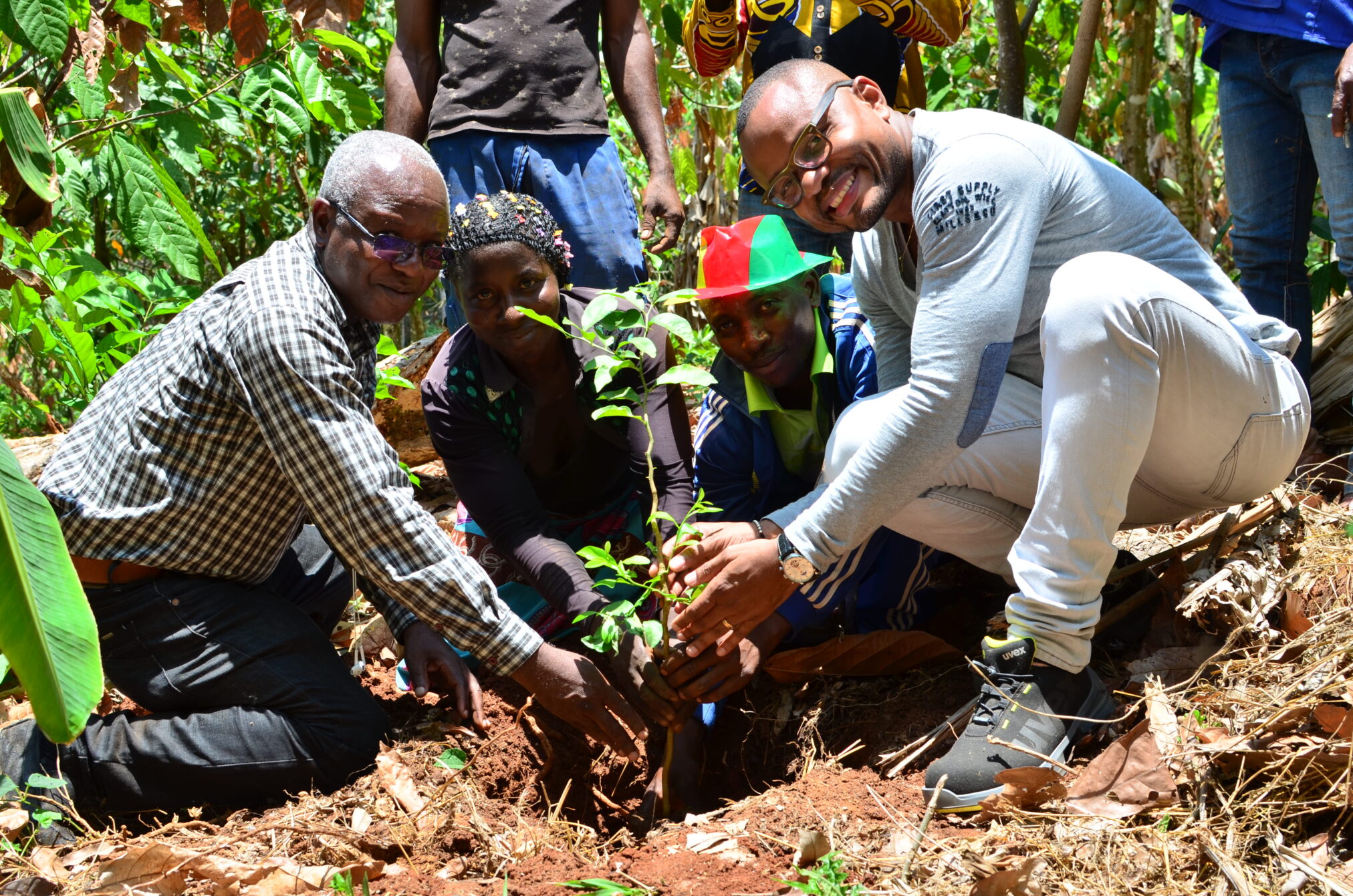 Increase in Income
Divine Foundjem Tita, of the International Council for Research in Agroforestry (ICRAF), one of the partners involved in the project explains:
The main goal of the project is to conserve the community forest while increasing the incomes of producers. That's why we taught them how to setup and manage the tree nurser, how to nurture these plants and how to integrate them into their fields. At the same time, we are helping women diversify their source of income by collecting some non-timber forest products. We also encourage them to engage in other activities such as cassava processing to sell.
Nicole Nga Marie, a farmer beneficiary of the project said with a big smile her face:
I am very happy with the implementation of this project. It is concrete and we are already seeing the results.  The project helped us to form a group. We collected and sold Djansan as a  group.  We were able to collect 200 kilograms of Djansan which we sold at 2200 Fcfa per kilogram. Whereas before, we sold a kilogram at 1800 Fcfa.
Patricia Tchuinang, Telcar Project Supervisor ended on the following note:
Women will be more involved in the management of trees in cocoa plantations. In terms of selling, it will be an additional source of income. At the production level, it will help them to feel more involved in orchard management.
Main targets
This project funded by IDH is extended in three villages in the Ntui municipality, from 2022 to 2024, and has six main targets:
Traceability
100% of the 3500 farms traceable to farm level in the Cargill-Telcar direct supply chain,including GPS Polygon Map.
Sustainable practices
80% of targeted farmers are involved in good agricultural practices, in line with appropriate standards.
Productivity
Farm-level productivity increases by at least 15%, from a yield of up to 500 kg/ha.
Monitoring of carbon storage
Participatory monitoring, reporting, and verification , for both forest and agroforestry.
Assessment of compatibility of project-level data collection with carbon standard schemes, example Version Control System or the Gold Standard Value Change Initiative.
Agroforestry promotion
500 farmers trained on agroforestry such that they can implement independently and run it as business
30,000 tree seedlings distributed
Average 35 trees/ha
Survival rate: 80% of planted trees on-farm after year 1, and annually going forward
Improved community forest management
Mapping of the forest: High conservation fareas , areas for cocoa-agroforestry development, area for other development purposes
Update of Community forest management plan