Partnering to expand environmental protection education in the SAVA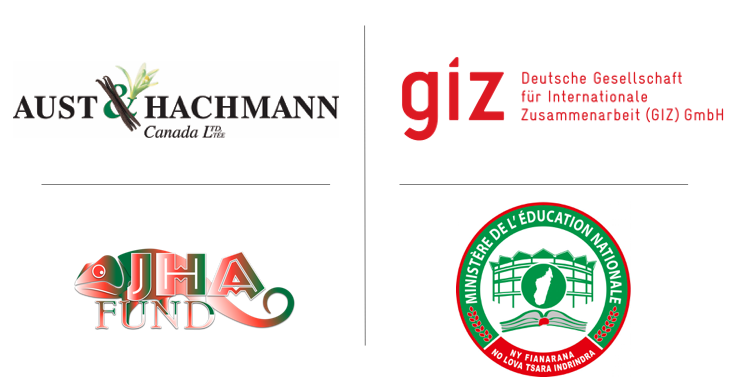 In 2015 when GIZ began offering "Train the Trainer" courses in "Kit Mad'ERE" to support teachers to introduce and improve environmental education in the SAVA, Aust &Hachmann's JHA Fund recognized the opportunity and enrolled three interested Madagascar National Park (MNP) tour guides with whom they had been working.  Those three tour guides trained small groups of teachers for four years when Aust & Hachmann decided to further invest in and expand the program.  In June 2020, Aust & Hachmann teamed up with GIZ, JHA Fund, and CISCO (Circonscriptions Scolaires/ Government School Districts of Madagascar) to train new trainers (and renew training for current trainers) through a certification course.  They increased the number of teachers trained and resourced with the aim to increase the amount of school children reached in the vanilla growing communities in which Aust & Hachmann works in the SAVA.
"KIT MAD'ERE" MAtériel Didactique pour l'Education Relative à l'Environnement (Educational Materials for Environmental Education), is a tool for primary schools developed by the GIZ and the École Normale Supérieure University of Antananarivo to improve teaching methods and introduce environmental education into the primary learning program.  The program aims to support primary school teachers to work more effectively by compiling teaching tools in one easy to carry satchel and equipping teachers with stimulating materials for their pupils, including effective visual aids that help them to introduce environmental education into the school curriculum.
Aust & Hachmann supports JHA Fund's environmental education goals as part of their  objective of mutual development, which values the insights and culture of the local farmers and their villages as key inputs to improving farming community livelihoods, local environment, and sustainable and quality vanilla. Teaching children in the SAVA to safeguard the environment will make it possible to continue growing the supply of quality sustainable / traceable vanilla to maintain and improve (longer-term) grower incomes, now and into the future.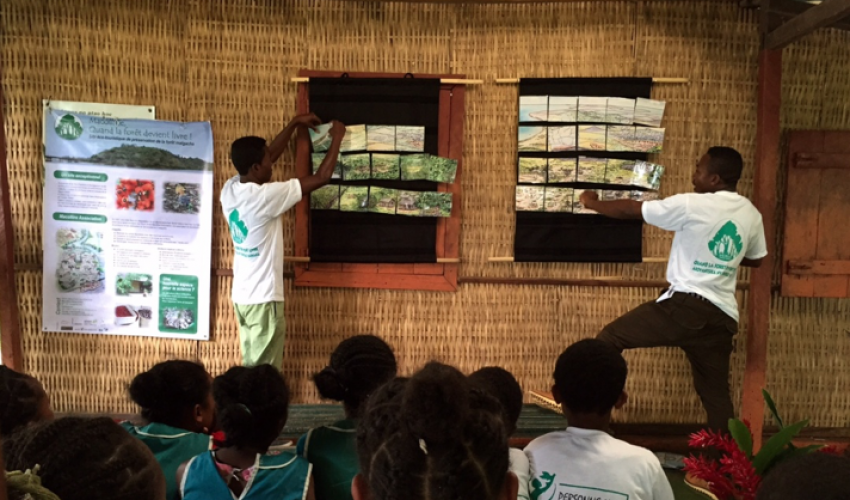 Madagascar's environment holds incredible diversity and beauty. The widespread clearance of forests, primarily for firewood and charcoal production, is jeopardizing the island's habitats. As a result, several unique species such, as lemurs and chameleons, that have evolved on the island nation over millions of years may become extinct before the end of the century.
Population growth reinforces the increased need for food, amplifying the practice of unsustainable farming activities. Every year the environment in Madagascar is badly destroyed by artificial fires. Burning lands and forests is a tradition in Madagascar ("slash and burn" locally known as tavy). The destruction of the environment will soon reach the point of no return and communities need to be supported to protect the environment. The best way to do this is through proper education, beginning in primary schools and continuing through to the university level.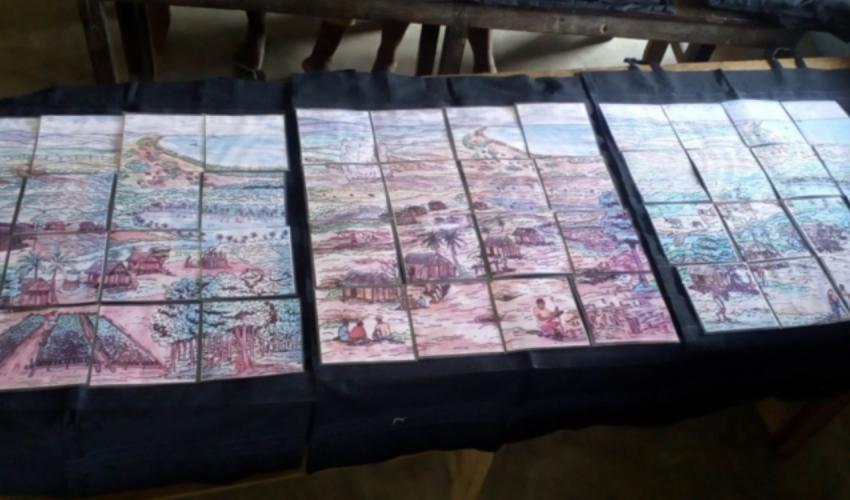 JHA Fund's trained trainers host 5-day workshops for interested local school teachers in the SAVA.  The teachers leave with training and a kit, filled with materials designed to be easily incorporated into school lessons, to teach their students year after year.  Two teachers share a kit during the course and at the end of the training, the KIT MAD'ERE satchels are allocated to the school at which they work.
The KIT MAD'ERE consists of 16 elements—made of simple, easy-to-find raw materials like cardboard, fabric, paper, wood, glue, velcro, pins, painting jars and colored pencils—inside a big zipped backpack, weighing around 10 kg. The posters included are used to initiate classroom discussions and educate pupils about environmental issues, while the pockets on the inside of the backpack hold hand drawn pictures on cardboard of flora, vegetation, community and environmental activities. Other pictures can be added by the students as they learn and participate. Capital and lower case letters of the alphabet and numbers are also kept inside these inner pockets of the bag. Creativity and enthusiasm are encouraged to heighten learning that transcends the classroom and improve  critical and creative thinking skills.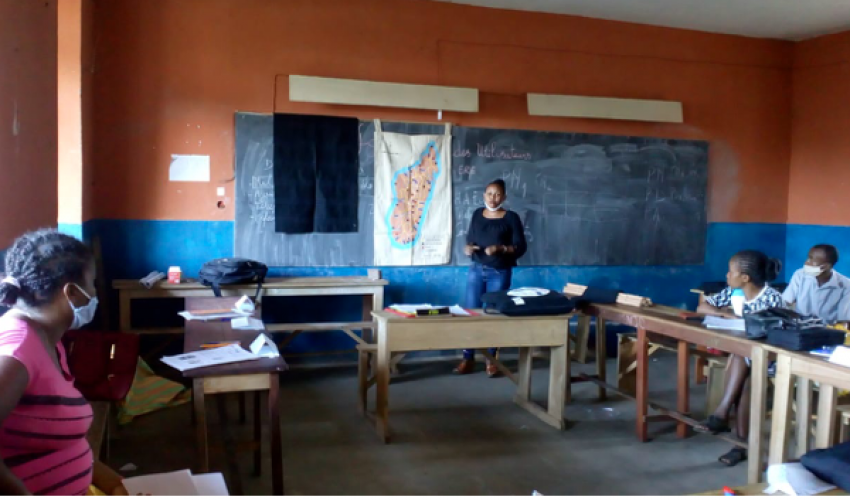 The project aims to strength the capacity of Malagasy communities to protect the environment, starting from the elementary school level.  In the long-term, the program hopes to create a generation of environmentally aware citizens that improve the forest and protected areas and help vanilla farms to thrive.
At least 100 teachers trained per school year
Over 6,000 students being exposed to this program per year (each classroom has approximately 50-80 students)
Long-term deforestation prevention and environmental protection as children are taught to value and protect the environment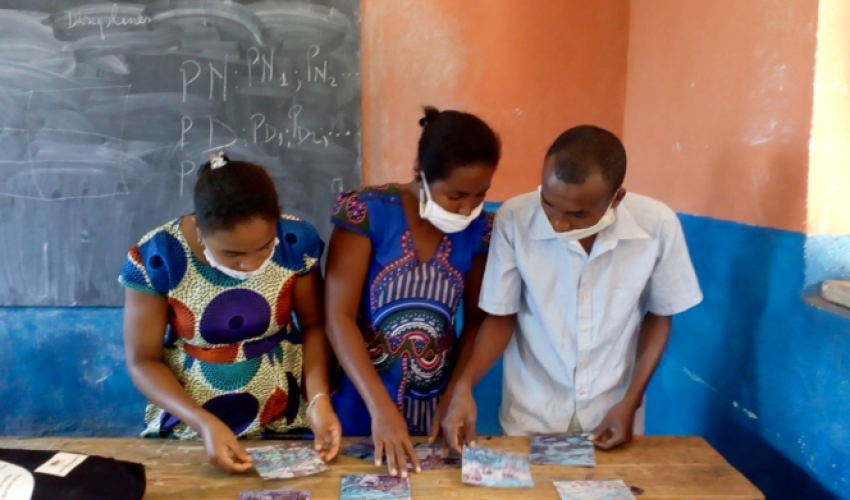 JHA Fund's continuation and expansion of the KIT MAD'ERE program began in June of this year, with JHA Fund's local representative Ertice Larozafy and his assistant Romela Razafindravanona, providing an intensive 5-day training course for 11 primary school teachers.  This month, they trained  22 more teachers in remote and under-resourced schools in the bush.
Each pair of teachers is given a new KIT MAD'ERE to take back to the classroom with them.  JHA fund representatives continue to follow up with the teachers to make sure that the Kits are complete, undamaged and used on a regular basis. Once the teachers have been trained and return to their students with the kits, the real learning begins. Children touched by the KIT MAD'ERE program will now be taught from a young age about the benefits of safeguarding biodiversity through forest cover maintenance and restoring degraded areas. The hope is that they will share this information with their parents, families and friends, thereby reinforcing the importance of protecting the environment as a societal norm.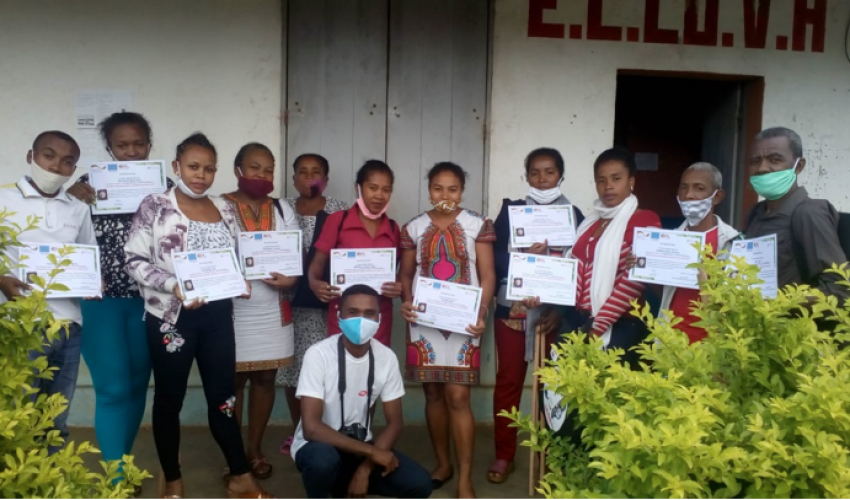 3 certified "train the trainers" of the KIT MAD'ERE Program
48 total elementary school teachers trained in the KIT MAD'ERE methodology since 2015
24 KIT MAD'ERE backpacks distributed and taken back to community classrooms in the SAVA
With the 49 trained teachers so far, this converts to around 3000 students per year being exposed to Kit Mad'ERE in the vanilla region this year (Primary level classes host anywhere from 50-80 students per classroom)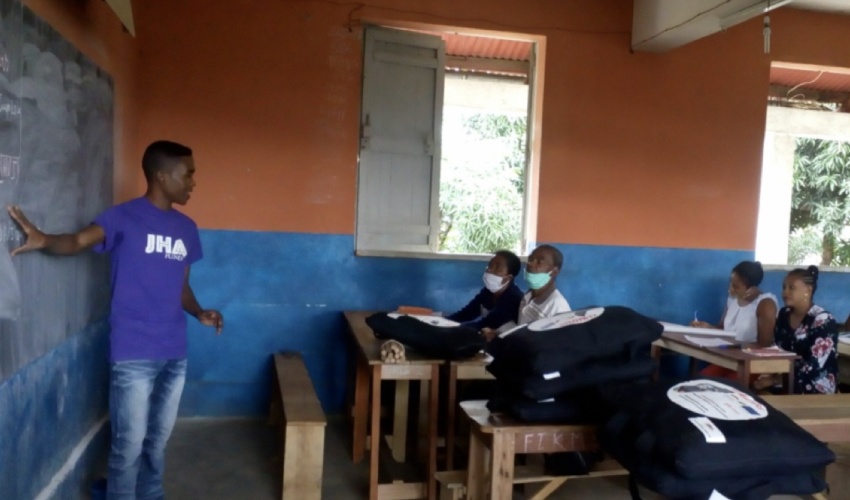 Aust & Hachmann trainers plan to continue expanded training, aiming to reach 100 teachers each year.  This is a great opportunity for the SAVA region's youth to be involved in a citizen project relating to sustainable living while learning to reduce threats to and pressures on biodiversity. The KIT MAD'ERE education builds knowledge and skills necessary to address complex environmental issues, as well as ways that they can take action to keep the atmosphere healthy and viable for the future.
Since 2013 JHA Fund has been working in Antalaha on adaptation to climate issues in the context of development co-operation and that has enabled them to integrate climate fixes both in their planning tools and in their development activities. This KIT MAD'ERE project with GIZ is just one more project that JHA Fund hopes to maintain for years to come. For more information on JHA Fund / Aust & Hachmann's other community projects in the SAVA, please see: https://jhafund.com/2020/10/29/aust-hachmann-canada-ltds-list-of-activities/.