IN Sustainable Textile and Apparel Parks (INSTEP) is a collaborative approach to step up the sustainable production of textiles and apparel via the scale of Industrial Parks, reaching multiple factories and shared facilities, with assessment and interventions to reduce environmental impact (better environment) and improve working conditions (better jobs).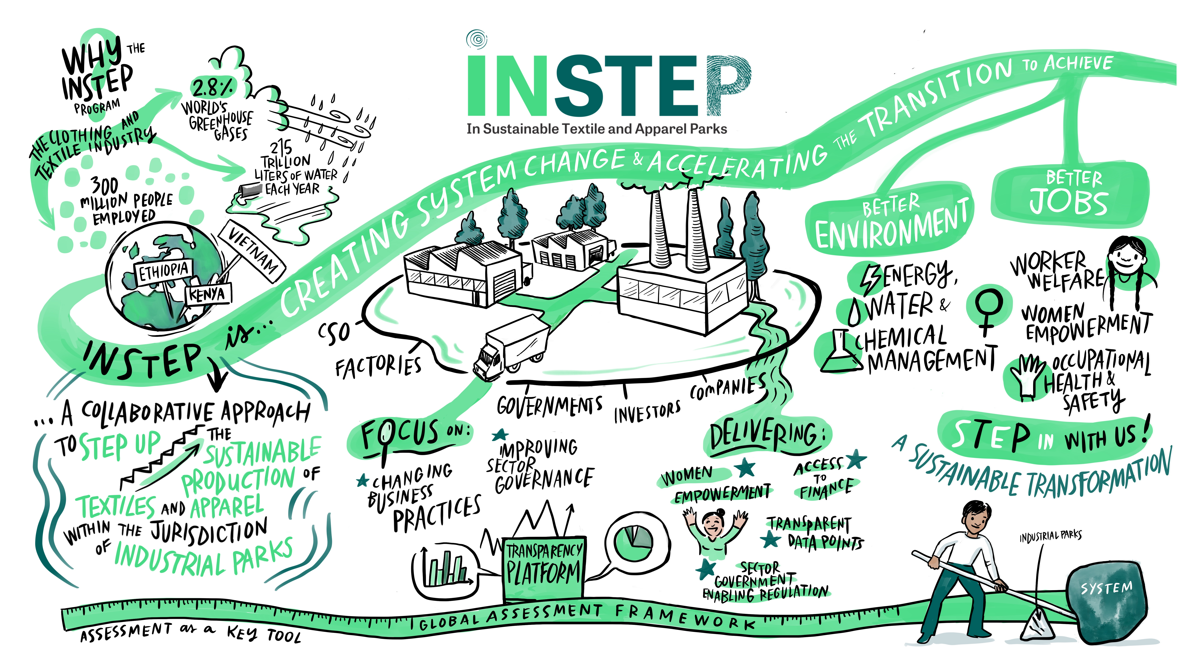 Industrial Parks are the supply chain's leverage point to provide the greatest impact on system change in a focused approach. The focus on system change will be on change in business practices and sector governance. Through the INSTEP program we will look to accelerate the transition to sustainable Apparel (including textiles & footwear) production by focusing at a park level rather than an individual factory.
The engagement with the Industrial Park will be underpinned by a global assessment framework (GAF) and an INSTEP portal that will support real time transparency on environmental and social conditions. The data points will support the brands and retailers' due diligence requirements.
Building on IDH experience in supporting responsible sourcing in the Apparel sector and other commodities. INSTEP takes the learning from our jurisdictional approach to the jurisdiction of the Industrial Park. To support the transition to sustainable production to support & sustain Better Jobs.  For more information on how you can support and sign up for the INSTEP program please visit the INSTEP webpage.
INSTEP aims to build socially and environmentally effective, efficient, and sustainable Industrial Parks through Improved Sector Governance, Improved Business Practices, and Proven Business Cases for field-level projects to achieve Better Jobs and a Better Environment.
The program will focus on the following key intervention area's
| | |
| --- | --- |
| Better Environment | Better Jobs |
| Energy | Worker Welfare |
| Water | Gender Empowerment |
| Chemical Management | Occupational Health & Safety |

The program will focus on 3 key Apparel sourcing destinations in Vietnam, Ethiopia, and Kenya in the period of 2021-2025. The key interventions will be localised to meet the needs and opportunities in each country given the diversity in the current situation.
The INSTEP stakeholder platforms in country will bring together Government, Brands & Buyers, Factory owners, Industrial Park management and civil society to to create joint action plans and commitments towards promoting sustainable production in the textile and apparel sector, while also enabling businesses to source responsibly.
The INSTEP program will deliver on
Transparent Data Points- Will enable ESG and Due Diligence requirements and provide a supporting environment for financial organizations.
Access to Finance- Attract Impact Investment and Banks to support sustainable production.
Gender Empowerment- focus on Better Jobs for women.
Sector Governance- enabling regulations and ecosystems for technical support.
The buying trends and responsible sourcing ambitions of the brands and retailers will define the expansion of the program into different markets.