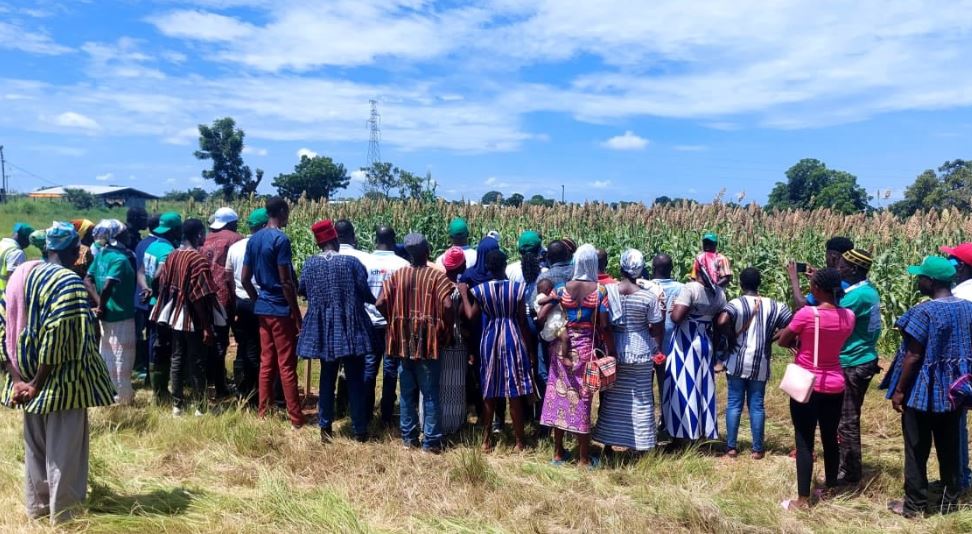 The Grains for Growth Program (G4G) team participated in a Green Field Day durbar in Bolgatanga, Ghana. The event was organised by U3 Agrinet, a sorghum-based SME under the G4G Program, in collaboration with IDH and the Ministry of Food and Agriculture (MoFA). 
With the proposal of "Rekindling the Production and Utilization of Sorghum—Our Traditional Crop for Economic Transformation", the event was an opportunity to showcase the superior performance of improved, high-yielding and drought-resistant seed varieties and regenerative agriculture, demonstrate good agricultural practices (GAPs), and encourage peer learning. 
Over 300 participants attended the event, including government representatives, traditional authorities, the private sector (including Guinness Ghana), agro-input and service providers, financial institutions, smallholder farmers (including Persons with Disabilities (PWDs), and community members. 
Participants were taken on a tour of model farms by beneficiary partners and in-grower block farms to showcase the performance, observe the regenerative agriculture model farm and discuss about good practices with beneficiaries and partners. 
U3 Agrinet is championing the revival of sorghum production in the Upper East Region under the G4G Program. As part of the intervention support for 2023, they received improved sorghum seed, fertilizer, mechanization services, access to finance opportunities, market linkage to Guinness, and GAPs support (including regenerative agriculture) from the program. Guinness Ghana has an annual sourcing demand of 45,000 metric tons. 
Guinness Ghana Commitment
The delegation from Guinness Ghana was particularly impressed with the implementation, the performance of the crops, the keen interest shown by the farmers and community members to commence or scale production, and the performance of the pilot regenerative agriculture sorghum fields—the first of its kind among their sourcing partners.

 

Guinness Ghana, one of the main off-takers under the G4G Program,

plans to scale up regenerative agriculture in their value chains as part of their core strategy in the next planting season and will engage IDH further on this in the coming weeks. Guinness Ghana also committed to buying all available sorghum grains at the time of harvest.
Authorities' commitment
The traditional authorities were also very pleased with the work of U3 Agrinet and the exposure to the opportunities and performance of the PAC 501 variety. They see the potential impact on the communities in creating more jobs and increasing farmers' revenues. 

 

They committed more than 680 acres of land (altogether) to produce sorghum for the next planting season

, especially for women and persons with disabilities who are incorporated in the U3 Agrinet block farming model.