Together, the three parties share the risk on a portfolio of cash and fertilizer advances to reach an estimated 53,000 smallholders. The Initiative was presented today in Hamburg at the head office of Neumann Kaffee Gruppe.
ABN AMRO provides USD 9 million-dollar funding, and IDH provides a first loss guarantee up to year 5, as part of a sustainable sourcing strategy from Neumann Kaffee Gruppe (NKG), the world's largest coffee trader. The cash and fertilizer advances to farmers are expected to be repaid through coffee sales to Ibero Uganda Ltd, Neumann´s export company in the country.

The initiative is called NKG BLOOM Uganda, which also includes education and training on good agricultural practices and financial literacy for smallholders. Besides the three parties involved in the financial structure behind the portfolio of advances, several other renowned organizations are involved in this initiative, including the Mastercard Foundation Fund for Rural Prosperity, IPC –Internationale Projekt Consult, Yara International, the Hans R. Neumann Stiftung and GIZ (the German Development organization).
Thousands of farmers can benefit the coming 5 years
After individual repayment-capacity assessments, access to cash and fertilizer advances will be offered over the next 5 years through the newly created Ibero Uganda Farmer Financing Unit initially to the approximately 53,000 farmers of the Uganda Coffee Farmers Alliance (UCFA). This shall enable farmers to increase their productivity and thus generate higher income, get access to a more transparent pricing structure, and develop a financial track record, which increases their bankability and ability to access local formal credit lines. Currently about 500 farmers have already received disbursements.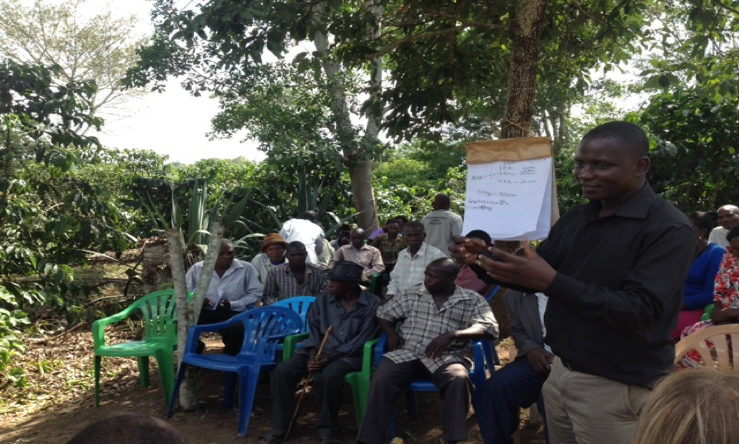 Sustainable business case
"Key to the success of this risk sharing partnership will be Neumann's ability to leverage existing infrastructure, knowledge and presence in the value chain." said Joost Oorthuizen, Executive Director of IDH. "We applaud value chain partners for taking innovative risk on their farmers, and ABN AMRO for providing long term debt to finance and upscale change. Together we have the ability to build sustainable and scalable business models that help farmers, help themselves out of poverty."
David Neumann, Managing Partner of NKG: "We are very pleased with the synergies created and professionalism brought together in NKG BLOOM. Together, our group of companies is the world's largest buyer of green coffee. As such, we are acutely aware that, in the long run, business must be economically sustainable for all participants in the value chain if it is to have a future. Coordinated and managed between NKG companies, this novel approach combining a solid business case and project based help-for-self-help will hopefully emerge as a model of NKG for other developing communities in other coffee producing countries."
Impact banking of ABN AMRO
Following the partnership with Root Capital in July of this year, this is ABN AMRO's second Impact Banking transaction. The bank aims to build a total impact banking portfolio up to EUR 50 million in the coming years.
Karin Kersten, Head of Trade & Commodity Finance at ABN AMRO: "We aspire to be a bank with impact. This transaction demonstrates the importance of assisting our clients in the transition to more sustainable business models. We are proud to be part of this innovative facility."