COVID-19 has exerted unprecedented stress on global value-chains, exacerbating risk for lives and livelihoods. It has also placed strain on our agricultural value chains, especially in developing economies, which have greater reliance on them. The crisis has caused both demand and supply side bottlenecks, paralyzing a large number of agribusinesses and traders.
As lockdowns continue to remain in place, it is important to stay vigilant of key stress points across the value chain and accordingly build resilience to secure the most vulnerable segments of the population. The lead challenge is currently the logistics bottleneck, blocking commodities from reaching the market. Restricted transport routes are also causing crops to not move from farms to markets, thereby straining the already limited storage and processing infrastructure. Additionally, large parts of farming operations are unorganized and rely on informal manpower, which is in shortage. Farmers are also facing financial and operational constraints in acquiring inputs.
A prime time for Agritech
While governments are working around the clock to prevent food shortages, there are selected agriculture technology use-cases which are addressing some of the key stress points across the value-chain and are expected to surge during and post lockdown.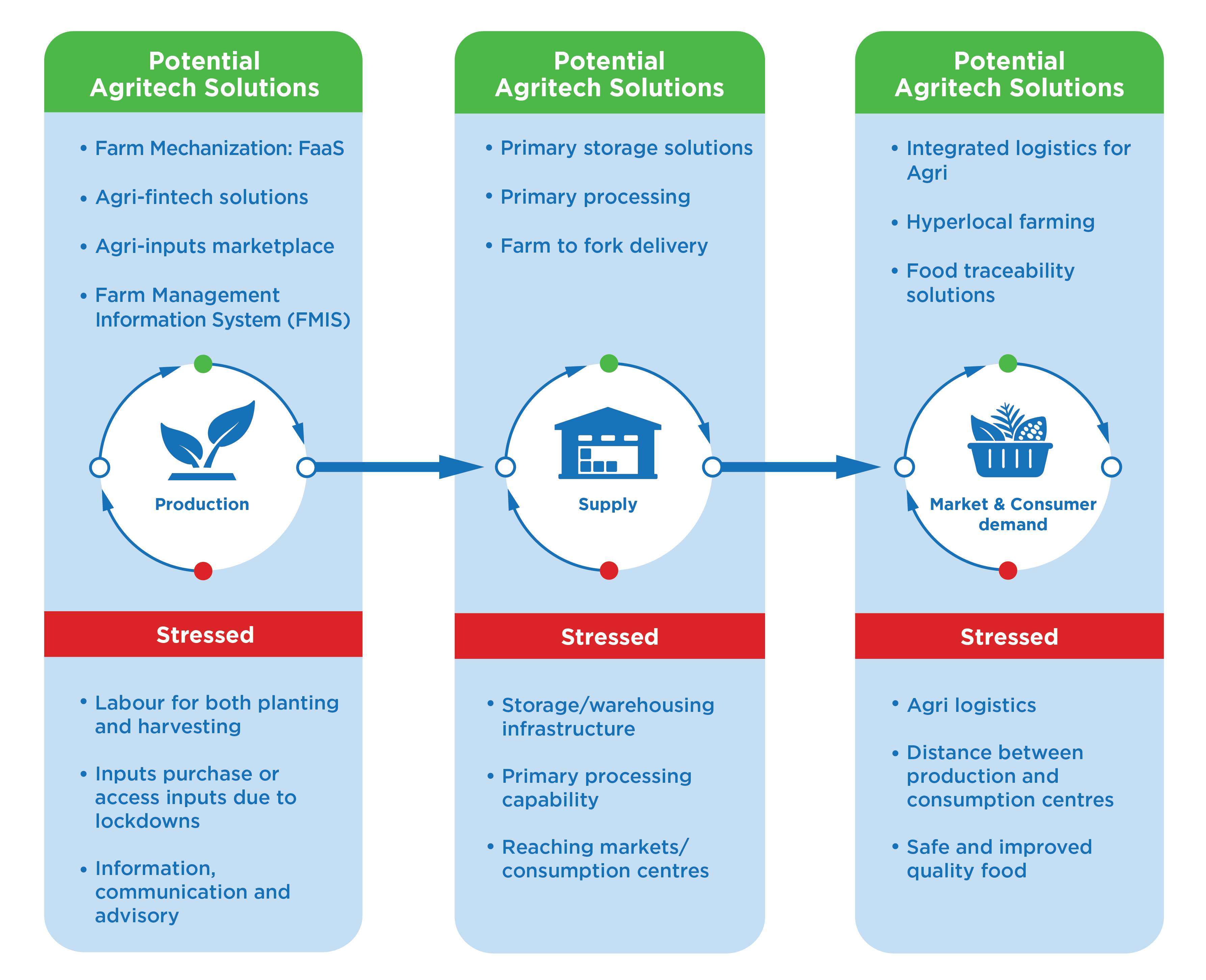 On the production side, mobile and online platforms that provide inputs and financing are supporting smallholders that have been unable to realize expected income from crop sales and are struggling to invest in inputs for the next crop season. At the same stage, farm-to-fork delivery platforms are rescuing farmers to make their produce reach the nearest markets. Some of these delivery platforms, which used to operate in a B2B mode, have pivoted to B2C model to circumvent the closure of their institutional customers such as eateries and hotels.
The COVID-19 crisis has also shed new importance on primary storage and processing solutions, traditionally a weak link in food value chain, especially in developing countries. During the pandemic, integrated agri-logistics providers have surfaced as frontrunners in keeping food supply chains running. As a result, storage and logistics are expected to receive increased attention from governments, entrepreneurs and investors moving forward. Within cities, hyperlocal value-chain solutions, providing services for locally sourced and produced goods such as vertical farming, will become more ubiquitous ensuring quality and origin through traceability solutions.
COVID-19 has reiterated that agribusinesses can no longer afford to provide services to producers which rely on manual and rudimentary information aggregating processes. Through digitization of databases, service distribution channels can bring greater smallholder knowledge related to farm-level and agricultural trade information. Financial institutions and fintechs can in turn partner with such agribusinesses to mitigate risk in lending and launch a wider set of affordable financial services for smallholders.
IDH is supporting this transformation, building on the data collected through IDH Farmfit, to provide advisory on tailored high potential tech use cases. These include identifying opportunities to gain efficiency and scale by embracing digital technology. We are assisting off-takers, end buyers, input and financial service providers in operationalizing this transition.
Get in touch to learn more about how we can partner with your business.
And check out our latest publication on the use of use of Farm Management Information Systems (FMIS). FMIS are digital systems that support farmers in making data- driven decisions about optimal distribution of farm resources, enabling them to enhance farm-level sustainability and profitability.