Beyond Chocolate is happy to welcome four new signatories to the partnership. During the Beyond Chocolate two-year event, Neuhaus, ECOM, Lady Agri and SIAT group signed the partnership and explained what sustainability and joining Beyond Chocolate means for their organization.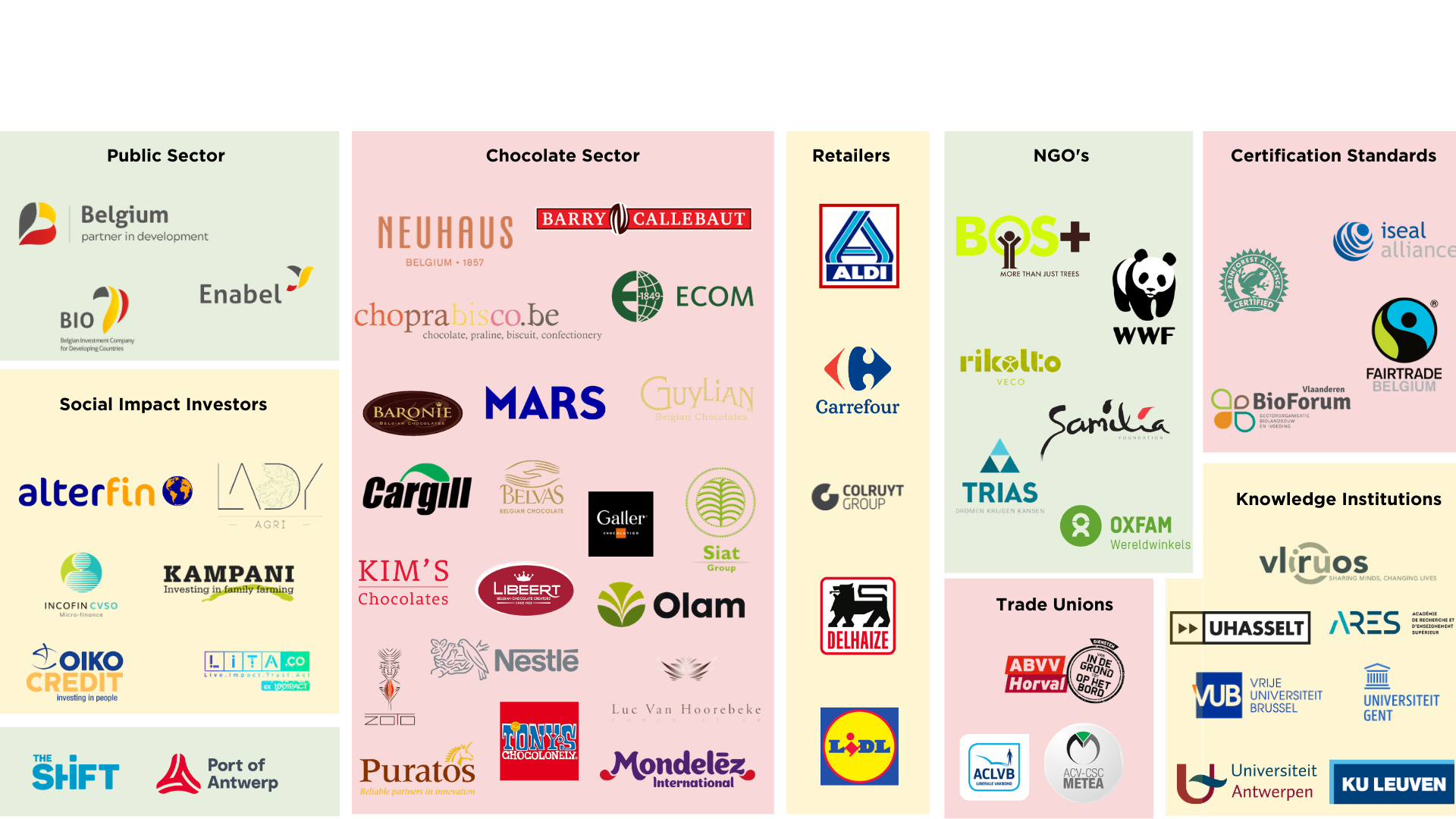 Neuhaus

is a famous Belgian producer of pralines, chocolates, and confectionary. Sustainability is high on the agenda for Neuhaus and the company is constantly looking to improve the social and environmental aspects of its product and processes. All ingredients used by Neuhaus are of natural origin. Palm oil and GMO's have been on the blacklist for a while now. The brand has also invested in their own cocoa plantation in Ecuador, where today, 36% of the company's beans are produced.
Ignace van Doorselaere, CEO of Neuhaus, said:
"By signing Beyond Chocolate, Neuhaus will push itself to reach the Beyond Chocolate end goals. Neuhaus chocolate is already 100% certified at this moment. We will make sure that by 2025, the cocoa production will be 100% traceable and compliant to the norms regarding livelihoods and deforestation. Neuhaus is proud to be a signatory of Beyond Chocolate, as this partnership reinforces our strong commitment to honest chocolate. We hope to lead by example by pledging additional commitments and delivering on these ambitious goals."
 Find out more about Neuhaus.
ECOM
is a large commodity trading and processing company that has been active in cocoa since the 1980's. ECOM is committed to conducting its business in an ethical, legal, environmentally and socially responsible manner and is continuously working to improve transparency and traceability of the supply chain. ECOM recognises that deforestation is one of the biggest causes of global warming and therefore is committed to achieving zero net deforestation in their supply chain. Their origin-based field teams focus on promoting agroforestry systems, intensifying production to avoid the need for further encroachment. ECOM interacts at a community level to raise awareness and to promote landscape approaches to avoiding deforestation, partnering with local governments to eliminate farming in protected areas. 
Wim Groen, CEO of the Cocoa Division of ECOM stated:
"Our cocoa bean and product businesses have a strong and long-standing relationship with the Belgian chocolate industry. At the same time, the cocoa supply chain faces significant social and environmental challenges. We believe it is our responsibility to address these issues which is why we are very pleased to support Beyond Chocolate. We look forward to working in partnership with the many stakeholders to achieve the important sustainability targets laid out in the initiative."
 Find out more about ECOM. 
The LadyAgri Impact Investment Hub
is a network of International and African professionals supporting women agri-entrepreneurs in Africa and Small Island Developing States. LadyAgri has experts across 30 African countries. Their boots on the ground approach allows them to have their fingers on the pulse of market fluctuations and the reality faced by agri-entrepreneurs. LadyAgri's international experts work in tandem with their local experts ensuring they are at the cutting edge of market requirements, local, regional and global. The importance of women in the cultivation of cocoa is often understated (cocoa nursery management, pruning,…). Lady Agri aims to make sure women are visible and valued in the supply chain.
Hilary Barry, Founder and Secretary General of the LadyAgri Impact Investment Hub stated:
"LadyAgri is bringing the 'Voice' of Women to the Beyond Chocolate Partnership. We firmly believe that women are the solution to the sustainability of the cocoa value chain.

LadyAgri invests in women in cocoa from 'bean to bar' from women farmers, women in cooperatives to women led SME's. Together we tackle the issues of aging farmers, land access, child labour, environmental degradation by providing women with technical, financial and market access support.
Investing in women is simply smart economics!
By working through women we are guaranteed deep social, economic and environmental impact. If we are gender smart we will reach the SDG's!"
 Find our more about LadyAgri. 
Siat Group
is a family-owned company specialized in the development and management of Oil Palm and Natural Rubber estates, as well as tropical crop R&D and production of calibrated ornamental plants for export markets through its subsidiary Deroose Plants. The group was founded 30 years ago by Pierre Vandebeeck, a Belgian agronomist with a long career in Tropical tree crops management.
SIAT Group has been working on the development of the Goin-Débe Sustainable Landscape Development Program.  Goin-Débé is a classified forest of approximately 133,000 ha and used to be listed among the largest primary forest parks in West Africa; 21.000 farmers cultivate illegally about 75,000 ha of cocoa farms within the forest perimeter, producing an estimated 20-25 kt of cocoa every year.  Total population occupying the forest is estimated at 100.000. To reverse the trend of deforestation and to restore and rehabilitate the Classified Forest of Goin-Débé (CF-GD), as well as 243 other protected areas, the Ivorian government has adopted a new forest policy called "National Policy for Preservation, Rehabilitation and Extension of Forests" (NPPREF).  Viewed as a Pilot for the operationalization of the new National Forest Policy (NPPREF), the program considers all elements of sustainability and encompasses key components like: (i) Preservation of natural forest mosaics;  (ii) Rehabilitation of areas of public servitude for ecological connectivity between relict natural forest mosaics and biodiversity reservoirs of the Taï-Grebo-Sapo ecological corridor across Côte d'Ivoire and Liberia; (iii) Extension of forest areas by reforestation of degraded areas; (iv) Agroforestry concessions for sustainable management (CAFAD) for cacao, rubber and forest plantations; (v) Social infrastructures, Utilities & Livelihood, as needed for sustainable settlements, to achieve a peaceful social climate and sustainable and inclusive local economic development, free of all forms of exploitation of children and women.
Mano Demeure, Chief Business Development Officer at Siat Group said:
"As a Belgian company passionate about sustainable development in Africa, we have been waiting ever since the launching of Beyond Chocolate until we had something meaningful to contribute to the sector; now that the program preliminary foundations are put in place, we are happy to sign and invite Belgian chocolate makers to join us in this journey."
Find out more about SIAT Group.